The Return Of Ilda and Robotman to the DC Universe in Metal Men #4 (Spoilers)
DC Comics Publisher Dan DiDio has been to Robocon. But today, in Metal Men #4, he is bringing Robocon to Metal Men.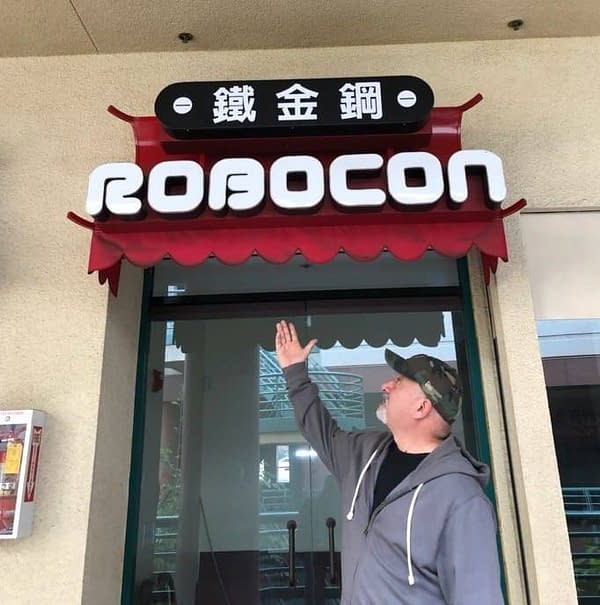 A convention of fans of robots, rather than a convention of robots themselves. And somewhere very welcoming to the two Metal Men who turn up, Tin and Lead.
But going to their tables, we get to see a couple of very old faces. That have yet to rust.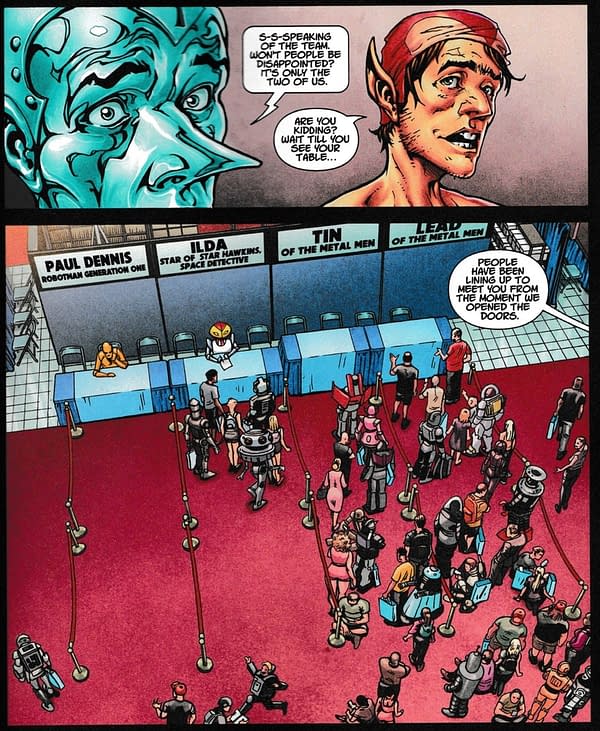 Paul Dennis and Ilda. Paul Dennis was the original Robotman – or rather his secret identity. Back in 1942, Jerry Siegel and Leo Nowak created Robert Crane as a scientist whose brain was placed inside a robotic body after he had been fatally shot, in Star Spangled Comics #7. Since Crane had to be legally dead for his assailants to be charged with murder, he created a civilian identity as Paul Dennis, accomplished with lifelike face mask and gloves. As Robotman, he was a member of the World War II-era team, the All-Star Squadron and also fought crime solo with help from his canine sidekick, Robotdog.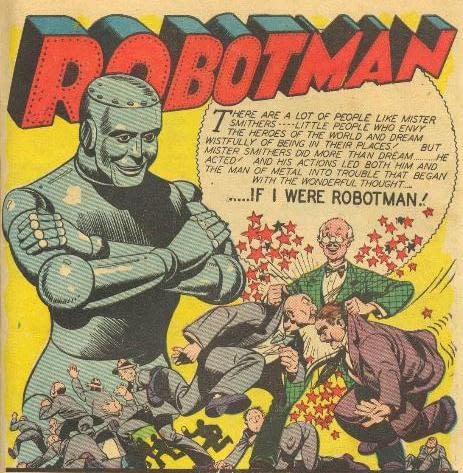 And later would be revealed as one of several other heroes involved in the first meeting of the charter members of the Justice League of America prior to the official forming of the team, an event which was suppressed from the public record, in an issue of the JLA #144 in 1977. Robotman's career came to an end when his former lab assistant, Charles Grayson, discovered that he was dying of a brain disease which left the rest of his tissues unharmed. He therefore bequeathed his body to Robotman to give him the possibility of a new life after having been trapped in suspended animation after being caught in a rockslide. No longer a cyborg, he resurfaced in the first issues of Stars and S.T.R.I.P.E. and lent Pat Dugan some components of his own disassembled robotic body in order to perfect the S.T.R.I.P.E. suit of armour. But now? Sorry Robert – or Paul. You seem to be back in the bot.
Ilda was created by John Broome and Mike Sekowsky, first appearing in Strange Adventures #114 in 1960. She was a robot receptionist in the year 2079 for private investigator Star Hawkins. Because Star is always short of money, Ilda is regularly pawned (although Star always promises that was the last time). Although a sharp detective with athletic skills, it was normally Ilda who exhibits the intelligence and power to solve the crime or was critical to defeating the 'zips' (criminals), using low-powered telepathic ability— 'standard equipment in all models the year of Ilda's manufacture' —or other robot powers.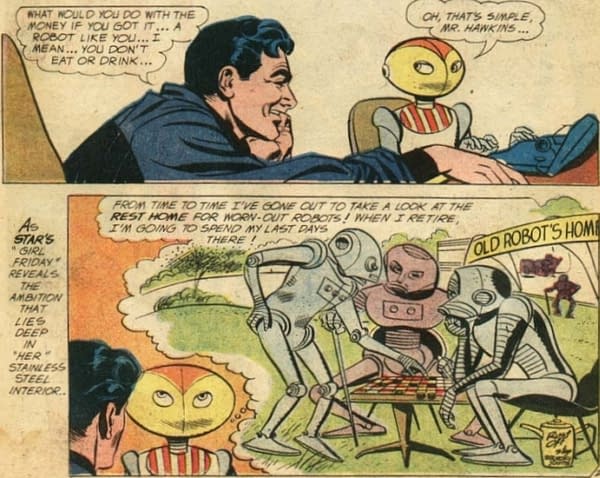 Ilda was also responsible for changes to robot rights. She is saved from being scrapped, having reached the end of her robot model's life, reprieved by the Government in recognition of her usefulness in crime-solving. Both her and Star receive a Medal of Valor and incidentally save all other robots of her model from the obsolescence law. When robots were classed as servants and not allowed in hotels but forced to stay outside, Ilda smuggled herself into the hotel so that she and Star could prevent a crime, for the law to be repealed. And when Star retires, all robots are given their freedom and the right to 'life-pairing' because of Ilda's heroism, leaving Ilda to marry Automan, and training robots as private detectives.
More recently Jim Starlin and Shane Davis in Mystery in Space in 2006 had a broken Ilda hanging in an alcoholic Star's apartment as a puppet, before Star is murdered. She was then revived by Keith Giffen and Tom Raney in the New 52 series Threshold, looking rather different.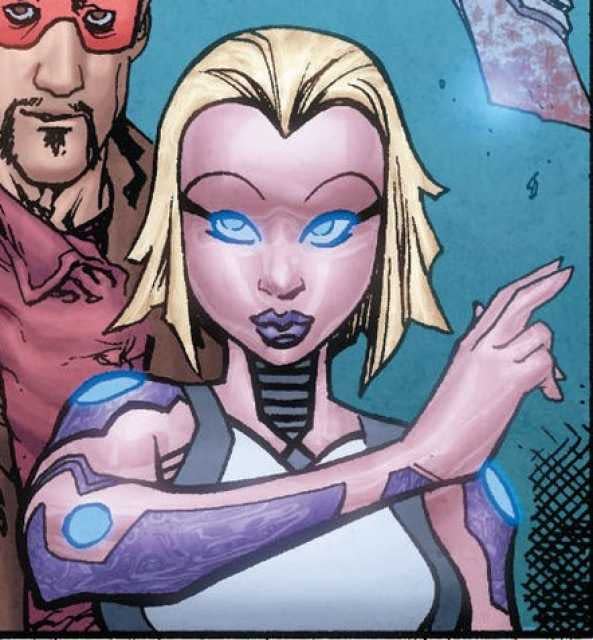 But now she is back with the original look. Though Robotman has lost his original colour scheme and has gone for the Doom Patrol version instead…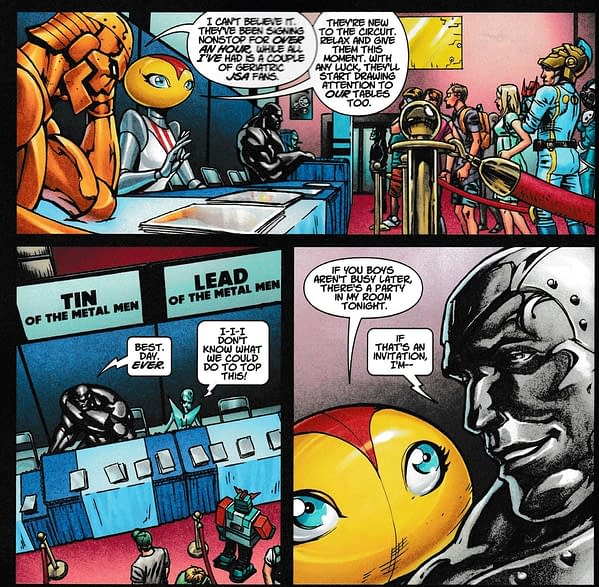 Oh dear… is that how Ilda ends up in Mystery In Space?
METAL MEN #4 (OF 12)
(W) Dan DiDio (A/CA) Shane Davis, Michelle Delecki
Whoa, what happened to Gold, and why does he look like that? It looks like Nth metal has given Gold true sentience-and it's threatening to do the same to the rest of the Metal Men against Doc Magnus's wishes! After all, Magnus already gave them sentience to begin with, right? Meanwhile, Lead and Tin are invited to Robot Con, where they meet their number one fan and other famous robots, including a special appearance by OMAC! Except he's not here for fun…In Shops: Jan 22, 2020
SRP: $3.99

Metal Men #4 is out today from DC Comics… I bought mine from Piranha Comics in Kingston-Upon-Thames. Piranha Comics is a small south London comic store chain with a small south-east store in Kingston-Upon Thames's market centre, which runs Magic The Gathering nights on Fridays, and a larger south-west store in Bromley, which also runs Magic nights and has an extensive back issue collection and online store. If you are in the neighbourhood, check them out.