Full Image Comics December 2018 Solicitations – Spawn Kills Everyone Too, Die, Hardcore, The Freeze, Self-Made
Image Comics has a tonne of new series starting in December, as well as the regular favourites.
They include Die from Kieron Gillen and Stephanie Hans, The Freeze from Bleeding Cool's Dan Wickline and Phil Sevy, Hardcore by Andy Diggle and Alessandro Vitti, Self-Made by Mat Groome and Eduardo Ferigato and Spawn Kills Everyone Too by Todd McFarlane and Will Robson…
Check them out…
DIE #1
WRITER: KIERON GILLEN
ARTIST / COVER: STEPHANIE HANS
VARIANT COVER: JAMIE MCKELVIE
DECEMBER 05 / 40 PAGES / FC / M / $3.99
THE WICKED + THE DIVINE writer KIERON GILLEN teams up with artist supernova STEPHANIE HANS (THE WICKED + THE DIVINE 1831, Journey Into Mystery) for her first ongoing comic! DIE is a pitch-black fantasy where a group of forty-something adults have to deal with the returning unearthly horror they barely survived as teenage role-players. If Kieron's in a rush, he describes it as "Goth Jumanji." That only captures a sliver of what you'll find in oversized debut issue—where fantasy gets all too real.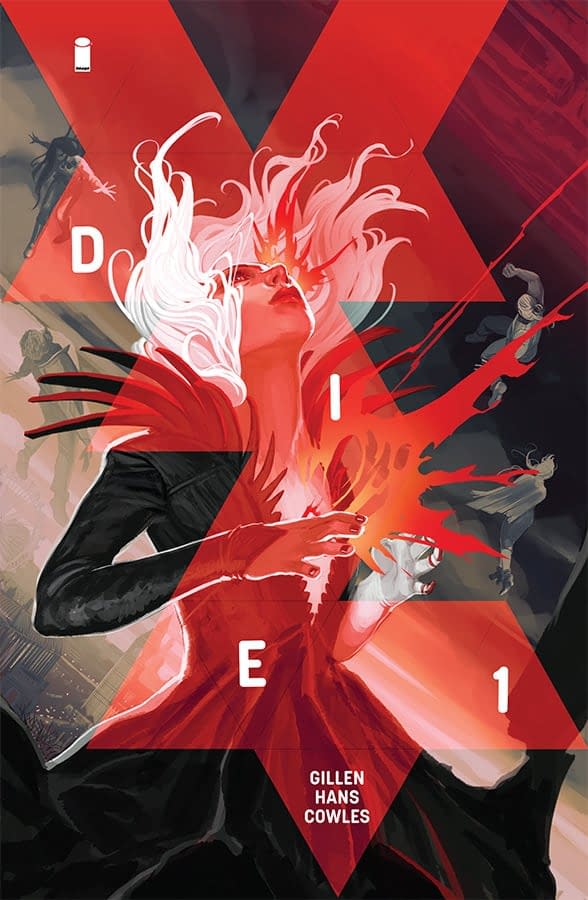 PRODIGY #1 (OF 6)
WRITER: MARK MILLAR
ARTIST / COVER: RAFAEL ALBUQUERQUE
VARIANT COVER: RAFAEL ALBUQUERQUE, JOHN CASSADAY
DECEMBER 05 / 32 PAGES / FC / M / $3.99
Edison Crane's not content being the world's smartest man and most successful businessman—his brilliant mind needs to be constantly challenged. He's a Nobel Prize-winning scientist, genius composer, Olympic athlete, an expert in the occult, and now international governments are calling on him to fix problems they just can't handle.
THE FREEZE #1
WRITER: DAN WICKLINE
ARTIST / COVER: PHIL SEVY
DECEMBER 05 / 32 PAGES / FC / T+ / $3.99
The entire human population is frozen by a mysterious global event… all except Ray, and only he has the power to unfreeze them. Now with the fate of the world in his hands, he must figure out what is going on, how to set things right again, and answer the question: does everyone deserve to be saved?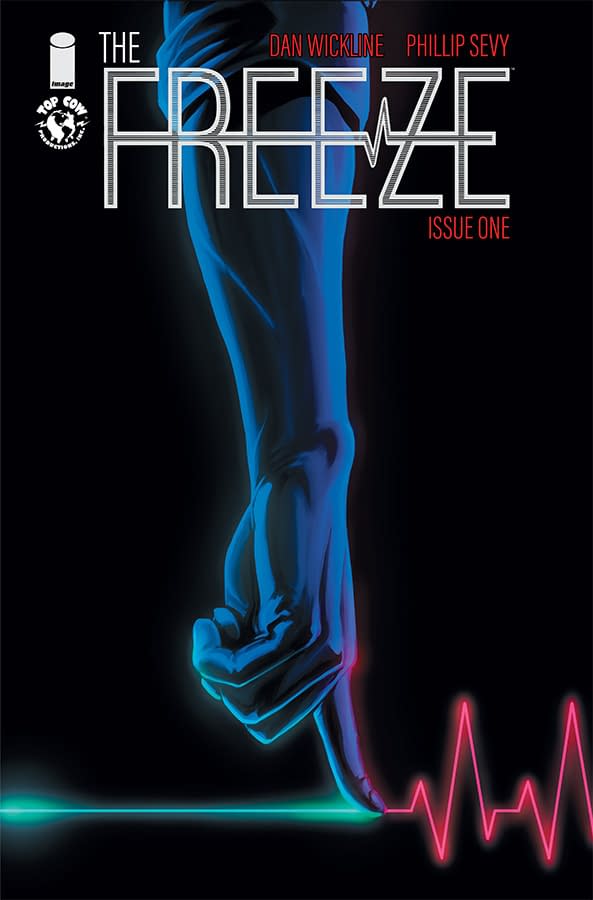 HARDCORE #1
WRITER: ANDY DIGGLE
ARTIST: ALESSANDRO VITTI, ADRIANO LUCAS
COVER: DAN PANOSIAN
DECEMBER 19 / 32 PAGES / FC / M / $3.99
Imagine being able to take over the body of anyone on Earth. Sound crazy? Not for Agent Drake and the Hardcore Program. They can turn any person into a human drone to get to targets that normal soldiers can't. Drake is the best soldier Hardcore has to offer. But when he gets stranded in a body with only 72 hours to discover who's hijacked the Program, he'll have to pull out all the stops against an enemy who could be literally anyone. From the creative minds of ROBERT KIRKMAN and MARC SILVESTRI, and presented by ANDY DIGGLE (THIEF OF THIEVES, Losers) and ALESSANDRO VITTI (Secret Warriors), comes a new Skybound Original that shows you how to save the world without getting your hands dirty.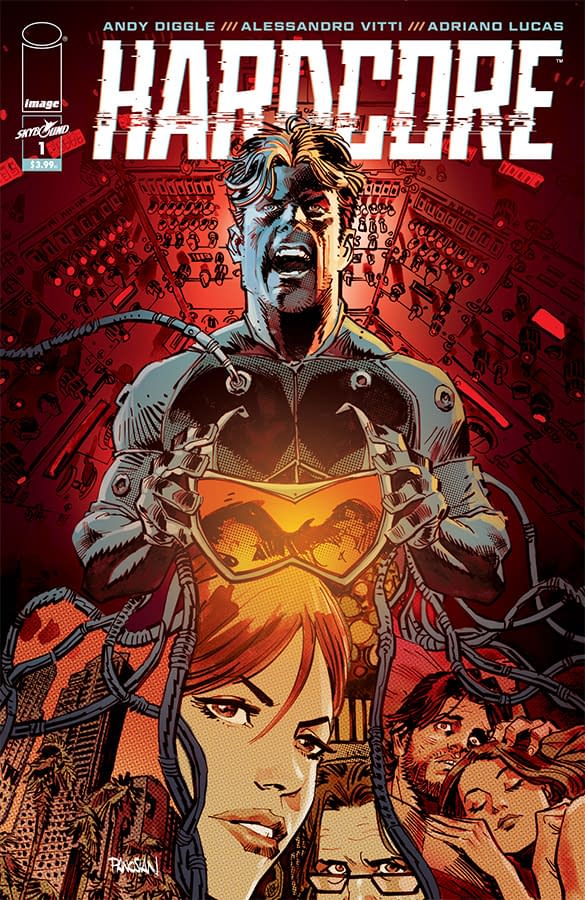 SELF/MADE #1
WRITER: MAT GROOM
ARTIST / COVER: EDUARDO FERIGATO, MARCELO COSTA
DECEMBER 05 / 32 PAGES / FC / M / $3.99
Introducing a new creative team everyone will be talking about—superstar talent writer MAT GROOM and artist EDUARDO FERIGATO. When chaos besieges the kingdom of Arcadia, warrior Amala Citlali sees it as her chance to escape her clearly-defined role—and to change her destiny. But she could never have predicted that it would also be her chance to confront her God. In his debut editorial role, comics veteran KYLE HIGGINS guides this intimate, worlds-spanning story of self-discovery.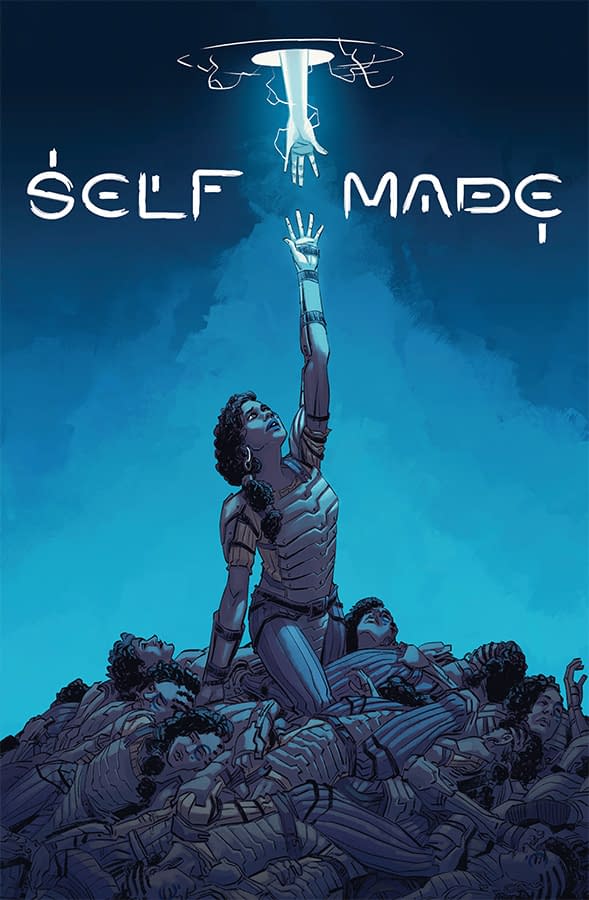 ARES IX: DARKNESS (ONE-SHOT)
WRITER: BRENDEN HODGON
ARTIST: BALAZS VALYOGOS
COVER: SARA KNAEPEN
DECEMBER 12 / 32 PAGES / FC / T+ / $3.99
AN ALL-NEW ONE-SHOT FROM TOP COW TALENT HUNT WINNERS! Witness the untold chapter of a Demi-God's story. After the Ascension of the IXs, Ares finds himself drawn to a mysterious catacomb. What he finds there will redefine his past, his future, and the entire IXth Generation!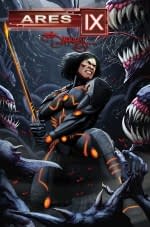 SPAWN KILLS EVERYONE TOO #1 (OF 4)
WRITER / COVER / VARIANT COVER: TODD MCFARLANE
ARTIST: WILL ROBSON
DECEMBER 19 / 32 PAGES / FC / T+ / $3.99
SPAWN KILLS EVERYONE is back in this four-part miniseries! MORE CUTENESS, MORE KILLING, MORE ISSUES!
APHRODITE V TP
WRITER: BRYAN HILL
ARTIST / COVER: JEFF SPOKES
DECEMBER 19 / 128 PAGES / FC / M / $9.99
In the near future, Los Angeles is a city on the brink of evolution, struggling with a new wave of terror powered by black market technology. Enter Aphrodite V: a fugitive from her masters, seeking individuality and purpose. She is the bleeding edge of biomechanics… and Los Angeles' best hope against a new enemy that seeks to become a god among machines. One machine wants to destroy the city. Another has come to save it. Only one will survive. Collects APHRODITE V #1-4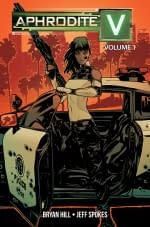 CHRONICLES OF HATE, COLLECTED EDITION OF BOOK 1 & 2 TP
WRITER / ARTIST / COVER: ADRIAN SMITH
DECEMBER 05 / 240 PAGES / BW / M / $29.99
In a world where the sun is frozen and the moon burns, an unlikely hero rises to free the Earth Mother from her chains. This isn't a world for the weak. All we know is HATE. Following the massively successful Kickstarter board game based on internationally recognized painter ADRIAN SMITH, CHRONICLES OF HATE is recollected in this oversized trade paperback. TRIM SIZE: 8"x12"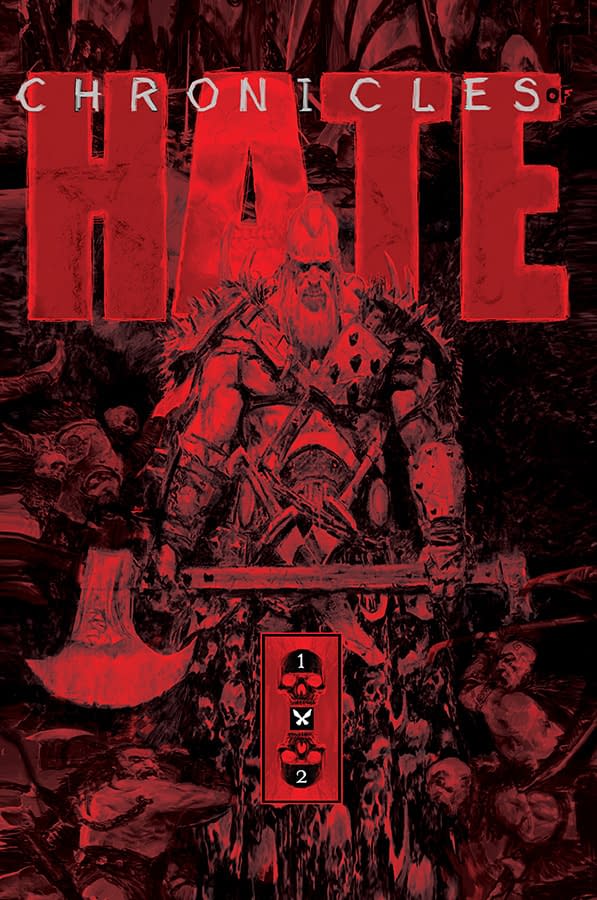 CREATURE TECH TP
WRITER / ARTIST / COVER: DOUG TENNAPEL
DECEMBER 19 / 224 PAGES / FC / T / $14.99
Good battles evil, and the world hangs in the balance! Resurrected by the Shroud of Turin, the zombified Dr. Jameson intends to finish what he started 150 years ago: destroying the earth with a giant space eel. Standing in his way is Dr. Ong, a would-be pastor-turned-scientist who now works in a government research facility infamously known as "Creature Tech." Aided by an unlikely cast of rednecks, symbiotic aliens, and a CIA-trained mantid, Dr. Ong embarks on a journey of faith, love, and self-discovery. All in a day's work at Creature Tech! From DOUG TENNAPEL, the creator of Earthworm Jim, GEAR, and Ghostopolis, comes this new edition of CREATURE TECH—in full color! TRIM SIZE: 6" x 9"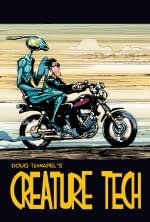 EVOLUTION, VOL. 2: ADAPT & DIE TP
WRITER: JAMES ASMUS, JOSEPH KEATINGE, CHRISTOPHER SEBELA
ARTIST / COVER: JOE INFURNARI, JORDAN BOYD
DECEMBER 19 / 128 PAGES / FC / M / $16.99
Faced with the fact that humanity's time—as we know it—is over, Abe crosses a line and becomes less human himself. Meanwhile, Hannah follows a trail of monsters to a secret facility in Italy, and Claire is caught up in a conspiracy that could endanger her girlfriend. Collects EVOLUTION #7-12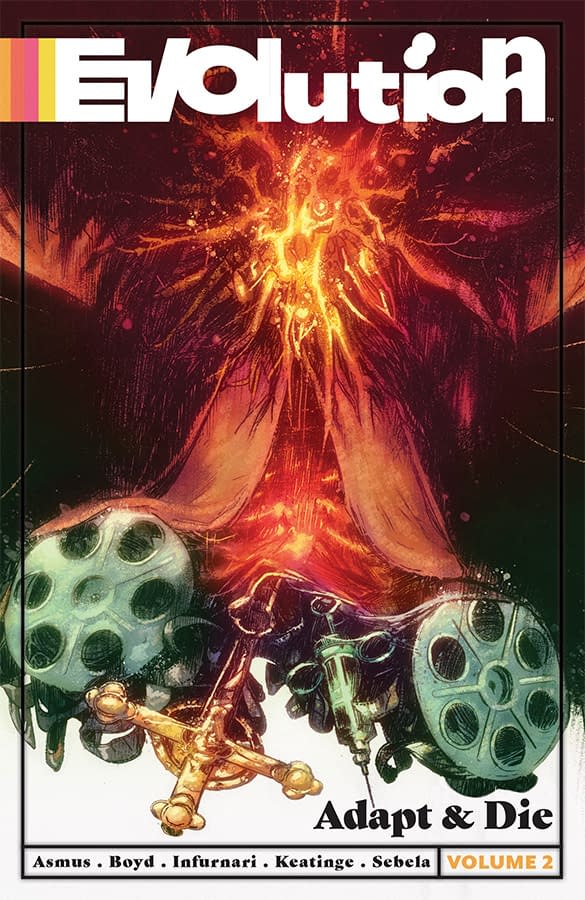 FARMHAND, VOL 1 TP
WRITER / COVER: ROB GUILLORY
ARTIST: ROB GUILLORY, TAYLOR WELLS
JANUARY 16 / 144 PAGES / FC / M / $9.99
Jedidiah Jenkins is a simple farmer. But his cash crop isn't corn or soy. He grows fast-healing, highly-customizable human organs. For years, Jed's organic transplants have brought healing to many, but deep in the soil of the Jenkins Family Farm something sinister has taken root. Today this dark seed will begin to sprout, and the Jenkins family will be the first to taste its bitter fruit. Collects FARMHAND #1-5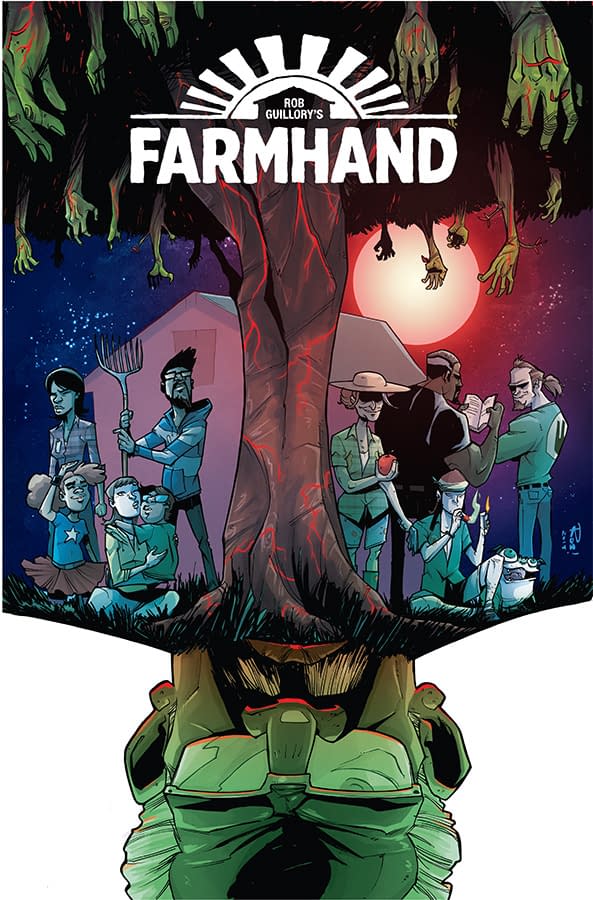 FEAR AGENT: FINAL EDITION, VOL. 4 TP
WRITER: RICK REMENDER
ARTIST: RAFAEL ALBUQUERQUE, PAUL RENAUD, FRANCESCO FRANCAVILLA, KIERON DWYER, CHRIS BURNHAM
COVER: TONY MOORE
DECEMBER 12 / 224 PAGES / FC / T+ / $19.99
Got a race of bottom-line-worshipping alien bureaucrats draining an entire sun of its power to feed their lust for profits, damning a whole solar system to death? You might be in need of a Fear Agent—extreme alien exterminators—like Heath Huston to set the record straight. Sure, he's usually half in a bottle of whiskey, he can't shoot all that straight anymore, and he cusses enough to make little green men blush, but in a universe this messed up he's just the man for the job. A compilation of tales from the FEAR AGENT universe, starring work from creators such as CHRIS BURNHAM (Batman), RAPHAEL ALBUQUERQUE (American Vampire), KIERON DWYER (XXXombies), FRANCESCO FRANCAVILLA (Archie), IVAN BRANDON (VS), ERIC NGUYEN (Halo), and many more!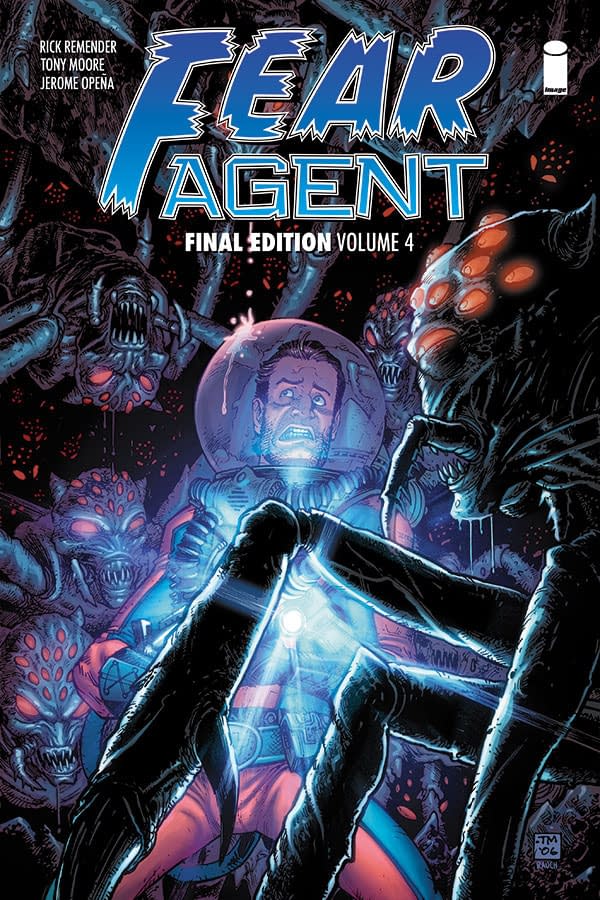 HACK/SLASH: RESURRECTION, VOL. 2: BLOOD SIMPLE TP
WRITER: TINI HOWARD
ARTIST: CELOR, K. MICHAEL RUSSELL
COVER: RICHARD PACE
DECEMBER 19 / 128 PAGES / FC / T+ / $16.99
After a team-up with Cat Curio and Pooch of Cat & Dog Investigations, Cassie and Vlad are drawn back to the ideal little town of Haverhill… except it's been turned into a stinking hellhole and it's chock full of vampires. As Cassie discovers a link between Haverhill and her past, Vlad reconnects with one ally who may be able to save them: VAMPIRELLA! Collects HACK / SLASH: RESURRECTION #7-12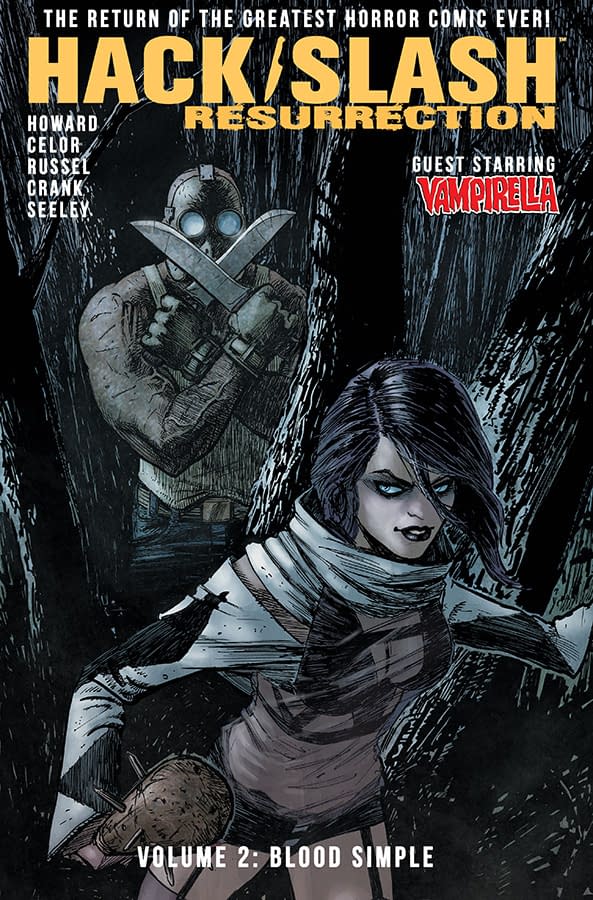 ICE CREAM MAN, VOL 2: STRANGE NEAPOLITAN TP
WRITER: W. MAXWELL PRINCE
ARTIST / COVER: MARTIN MORAZZO, CHRIS O'HALLORAN
DECEMBER 12 / 128 PAGES / FC / M / $16.99
The critically acclaimed series of not-so-sweet singular stories continues with four more tales of woe and wonder. Here: the ballad of a falling man; a three-flavored silent meditation; a young girl's quest with her dead best friend; a potpourri of suburban emergencies. Plus: more is revealed about the mischievous Ice Cream Man and his history with the dark cowboy, Caleb. Collects ICE CREAM MAN #5-8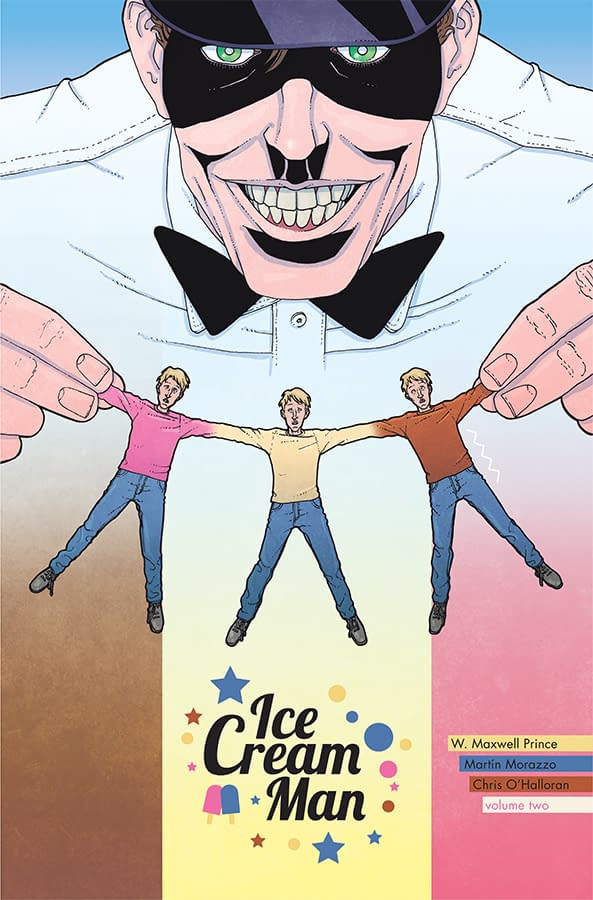 THE NEW WORLD TP
WRITER: ALES KOT
ARTIST: TRADD MOORE, HEATHER MOORE
COVER: TRADD MOORE, HEATHER MOORE, TOM MULLER
JANUARY 16 / 176 PAGES / FC / M / $17.99
The United States of America—after the Second Civil War. Two people meet and fall in love. One, a very orderly vegan hacker ready to make some mess. The other, a chaotic cop with a reality TV show that never stops. With the entire Republic of New California after them, they run. A ballistic sci-fi action romance miniseries in the vein of Mad Max and Romeo and Juliet by ALEŠ KOT, TRADD MOORE, and HEATHER MOORE. Collects THE NEW WORLD #1-5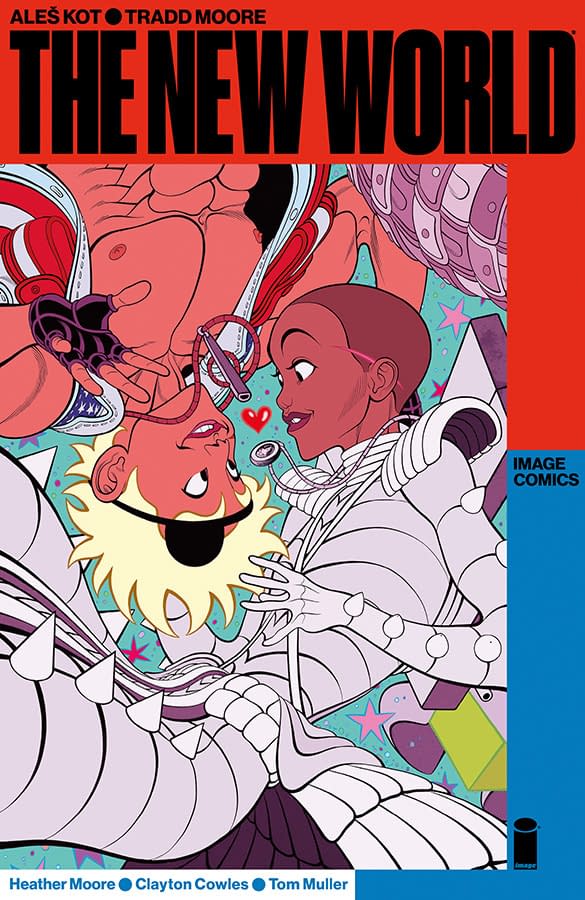 PAPER GIRLS, VOL. 5 TP
WRITER: BRIAN K. VAUGHAN
ARTIST: CLIFF CHIANG, MATTHEW WILSON
COVER: CLIFF CHIANG
DECEMBER 05 / 128 PAGES / FC / T+ / $14.99
BRIAN K. VAUGHAN, bestselling writer of SAGA, and CLIFF CHIANG, legendary artist of Wonder Woman, return with award-winning colorist MATTHEW WILSON and innovative letterer JARED K. FLETCHER for the darkly dramatic fifth volume of PAPER GIRLS. Can anyone escape fate? That's what Mac and her fellow newspaper delivery girls must discover as they travel from the year 2000 to a distant and dangerous future era of Cleveland, Ohio. Plus, the secret truth behind the mysterious "Grand Father" who's been pursuing the girls across time is finally revealed! Collects PAPER GIRLS #21-25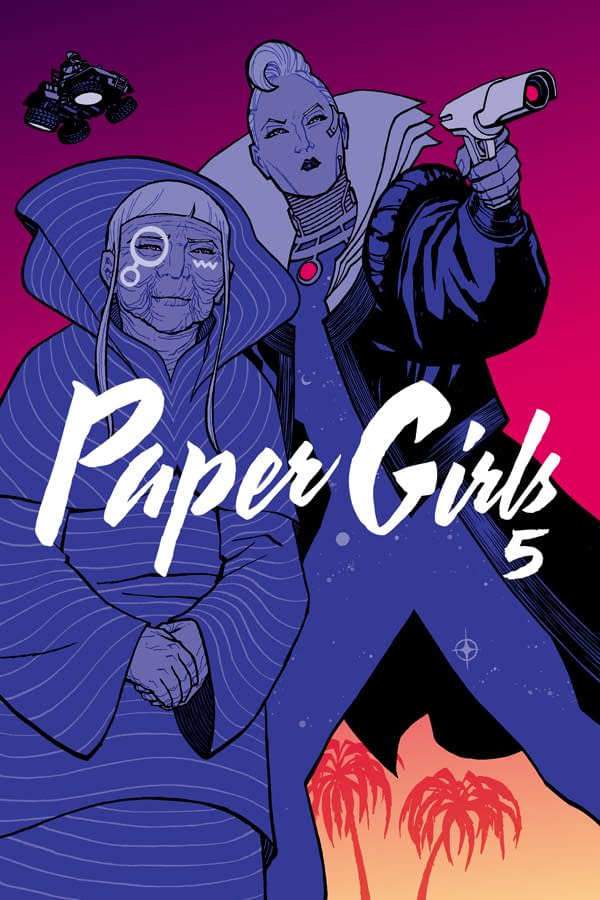 PARADISO, VOL. 2: DARK DWELLERS TP
WRITER: RAM V
ARTIST / COVER: DEV PRAMANIK, DEARBHLA KELLY
DECEMBER 05 / 136 PAGES / FC / M / $16.99
Before Jack Kryznan can venture further into the city, he will discover the depths of his connection with Paradiso. In this world, rumors and theories abound regarding the origins and the meaning of this living metropolis. As events rumble on the surface, Jack will find that the strangest truths of Paradiso lie deep beneath her streets—in a cityscape of warrens and tunnels, populated by the things that dwell within. Collects PARADISO #5-8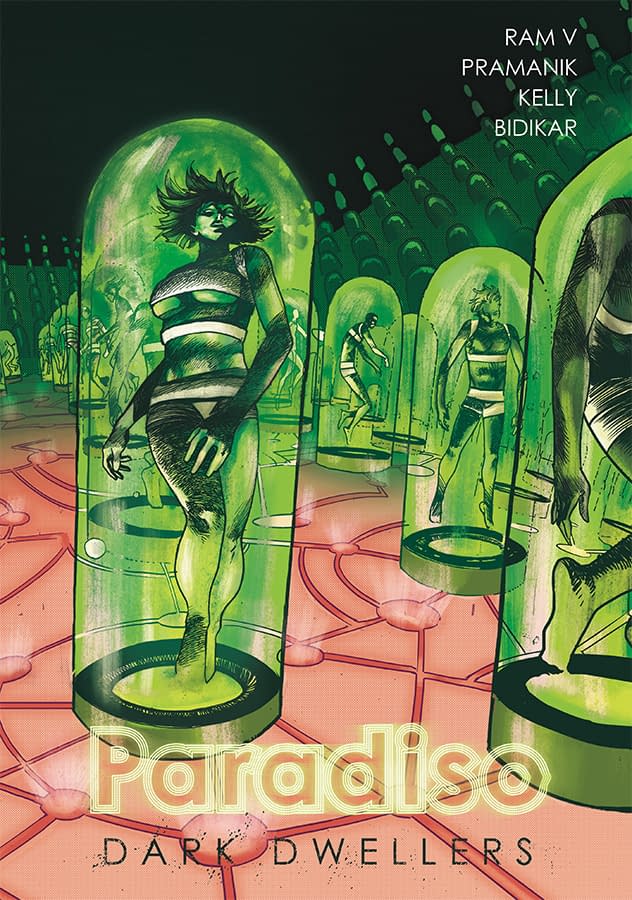 SEPTEMBER MOURNING, COMPLETE VOL. 1 TP
WRITER: DAVID HINE, EMILY LAZAR, MARIAH MCCOURT
ARTIST: TINA VALENTINO
COVER: MARC SILVESTRI
JANUARY 16 / 128 PAGES / FC / M / $16.99
In a world where Reapers prey on the souls of the living, imprisoning them in the shadow-land of Mortem, there is one last hope for humanity. Her name is September Mourning. Half human, half Reaper, she takes the souls of the wicked so the innocent can live again. September has joined forces with a woman who was murdered and restored to life, and a young blind girl who sees only the dead. Together, as The Trinity, they set out to fulfill a prophecy that will finally free all the lost souls trapped in Mortem. In conjunction with the release of this book, September Mourning will be releasing new music via Sumerian Records which will bring further life to the storyline. Collects SEPTEMBER MOURNING #1-4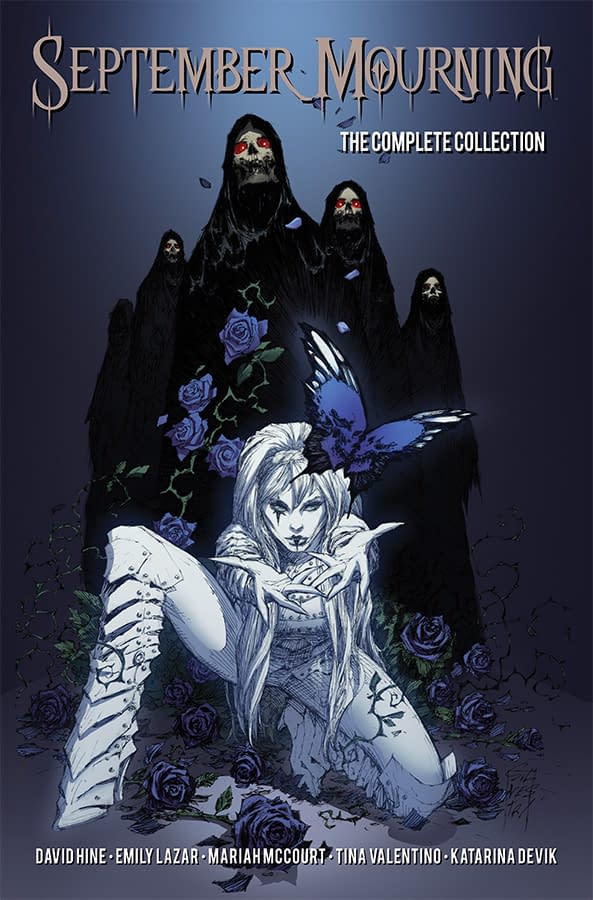 SEVEN TO ETERNITY, VOL. 3: RISE TO FALL TP
WRITER: RICK REMENDER
ARTIST / COVER: JEROME OPEÑA, MATT HOLLINGSWORTH
DECEMBER 12 / 128 PAGES / FC / T+ / $16.99
Adam Osidis walks a veiled path strewn with impossible choices and heartbreaking compromise. Between Adam and the cure for his wasting disease lies the Skylord Volmer and his thirst for revenge on The God of Whispers. Adam must now protect the man who murdered his father, but to what lengths will he go to achieve it? RICK REMENDER and JEROME OPEÑA bring the first chapter of the world of Zhal to a bone-chilling conclusion. Collects SEVEN TO ETERNITY #10-13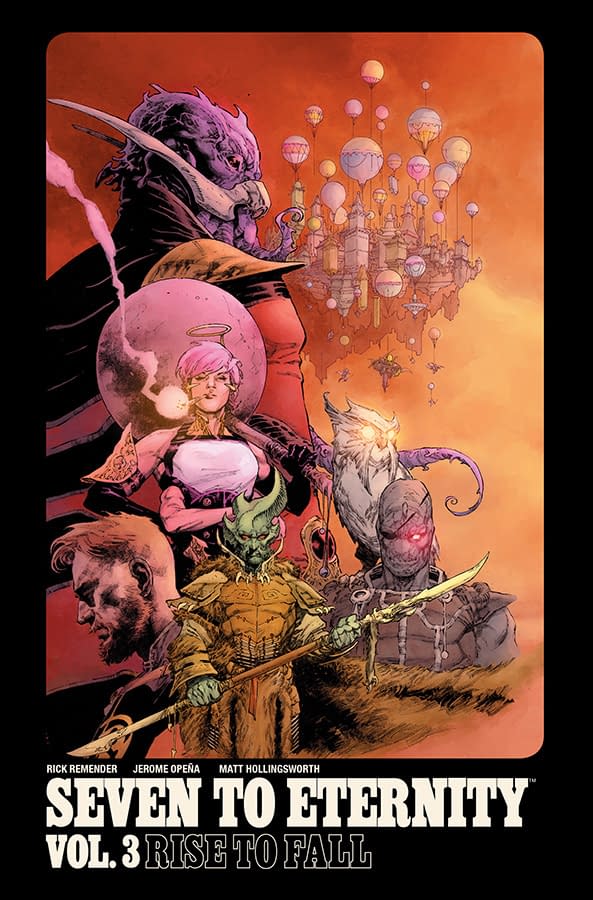 STELLAR TP
WRITER: JOSEPH KEATINGE
ARTIST / COVER: BRET BLEVINS
JANUARY 16 / 128 PAGES / FC / T+ / $16.99
Stellar was taken as a child and transformed into the ultimate weapon, one that would end an intergalactic war. She succeeded… at everything except finding peace. Reduced to working as a bounty hunter, she scours the worlds she's broken, searching for redemption. But there are other weapons loose in the galaxy, and some just can't leave the war behind them. JOSEPH KEATINGE (SHUTTER) and legendary artist BRET BLEVINS (New Mutants, Sleepwalker) will transport you to another dimension, filled with crashed spaceships, fast-talking aliens, and ageless wonders. Collects STELLAR #1-6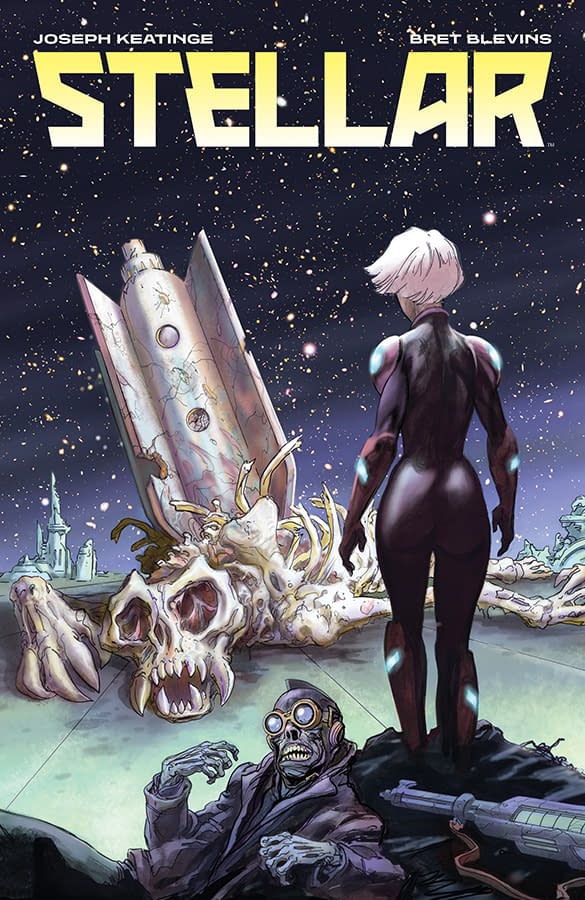 WAYWARD, VOL. 6: BOUND TO FATE TP
WRITER: JIM ZUB
ARTIST / COVER: STEVEN CUMMINGS, TAMRA BONVILLAIN
DECEMBER 05 / 152 PAGES / FC / M / $17.99
IMAGE'S SUPERNATURAL SENSATION CONCLUDES! The final battle, as the future of magic in our world hangs in the balance. JIM ZUB (Avengers, SKULLKICKERS) and STEVEN CUMMINGS (Dead Shot, Legends of the Dark Knight) conclude the WAYWARD saga with the same high-quality art and storytelling that's swept up tens of thousands of readers in its spell. This volume includes design artwork by artist STEVEN CUMMINGS and essays on mythical creatures by monster scholar ZACK DAVISSON. Collects WAYWARD #26-30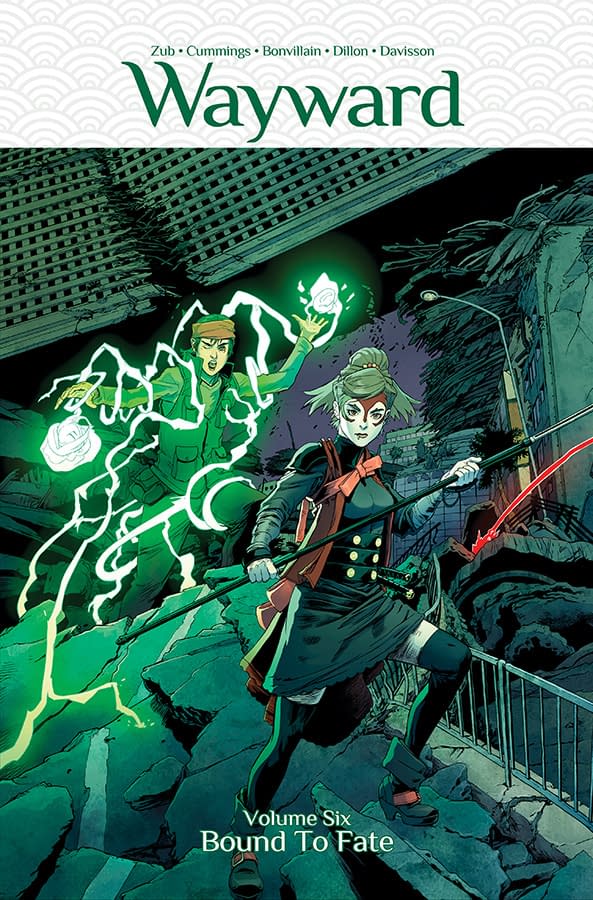 THE WICKED + THE DIVINE, BOOK 3 HC
WRITER: KIERON GILLEN
ARTIST / COVER: JAMIE MCKELVIE, MATTHEW WILSON
DECEMBER 05 / 400 PAGES / FC / M / $44.99
Ananke is dead. What do the gods do? Whatever they want. What can go wrong? Everything. Literally, everything. The bestselling, critically acclaimed comic by KIERON GILLEN, JAMIE McKELVIE, and MATTHEW WILSON reaches its Imperial Phase, with copious "making of" material and extensive director's commentary. Collects THE WICKED + THE DIVINE #23-33 TRIM SIZE: 7.25" x 10.875"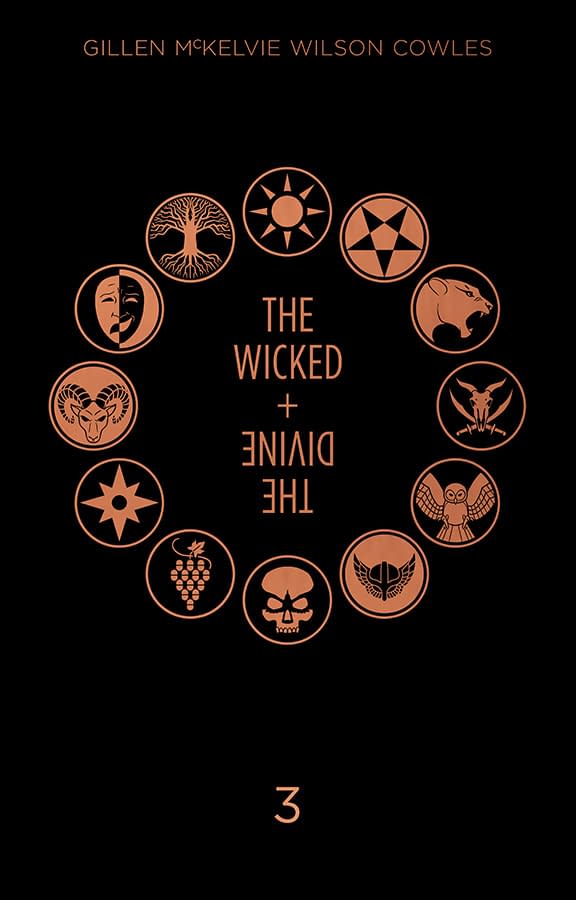 STREET ANGEL POWER PACK PENTATHLON HC BUNDLE!
WRITER: BRIAN MARUCA, JIM RUGG
ARTIST / COVER: JIM RUGG
NOVEMBER 21 / 40 PAGES / FC / T+ / $89.99
Too cool for school this season? Join the deadliest girl alive in the fight against LAME and stock up on the complete STREET ANGEL series. Only losers would miss out on Jim Rugg & Brian Maruca's street-fighting series. Available alongside the release of the latest in the Image Comics STREET ANGEL Collection, order up a bundle of Jesse "Street Angel" Sanchez's fist-flying adventures. Includes one copy each of: STREET ANGEL: AFTER SCHOOL KUNG FU SPECIAL HC THE STREET ANGEL GANG HC STREET ANGEL: SUPERHERO FOR A DAY HC STREET ANGEL GOES TO JUVIE HC STREET ANGEL VS NINJATECH HC OVERSIZED: 8.5" x 12"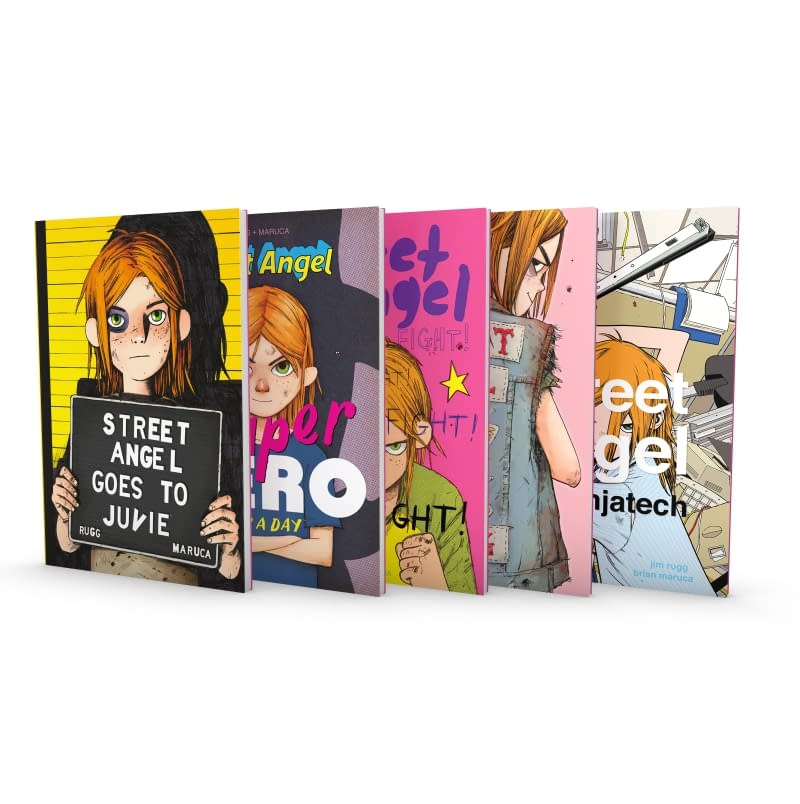 AUNTIE AGATHA'S HOME FOR WAYWARD RABBITS #2 (OF 6)
WRITER: KEITH GIFFEN
ARTIST / COVER: BENJAMIN ROMAN
DECEMBER 12 / 32 PAGES / FC / T / $3.99
The Agatha house is under attack by two goons named Naomi and Raquel. Their assignment is to get Agatha to sign over her estate, whether she likes it or not. Sawyer seeks the help of newly arrived Japanese exchange rabbit Ashoka to even out the odds.
THE BEAUTY #26
WRITER: JEREMY HAUN, JASON A. HURLEY
ARTIST: THOMAS NACHLIK
COVER: JEREMY HAUN, NICK FILARDI
VARIANT COVER: DANIELLE OTRAKJI
DECEMBER 12 / 32 PAGES / FC / M / $3.99
This arc concludes as Foster, Vaughn, Timo, and Ezerae fight to survive. And fight they will!
BIRTHRIGHT #34
WRITER: JOSHUA WILLIAMSON
ARTIST / COVER / VARIANT COVER: ANDREI BRESSAN, ADRIANO LUCAS
DECEMBER 12 / 32 PAGES / FC / T+ / $3.99
Brother vs. brother! Might vs. magic! Hollywood News: Skybound and Universal Pictures are currently adapting for film!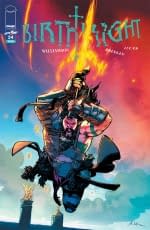 BITTER ROOT #2
WRITER: DAVID F. WALKER, CHUCK BROWN
ARTIST / COVER: SANFORD GREENE
VARIANT COVER: BILL SIENKIEWICZ, MICHAEL CHO, ASHLEY WOODS
DECEMBER 12 / 32 PAGES / FC / M / $3.99
An evil force stalks the streets of Harlem as Berg and Cullen face off against a deadly creature that may be more than they can handle. Meanwhile, in Mississippi, a mysterious stranger unleashes furious retribution in the name of justice. BITTER ROOT Cover As by SANFORD GREENE will be connecting through the first story arc.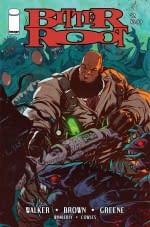 BLACKBIRD #3
WRITER: SAM HUMPHRIES
ARTIST / COVER: JEN BARTEL
VARIANT COVER: LOISH, MANDA SCHANK
DECEMBER 05 / 32 PAGES / FC / T+ / $3.99
Nina thought magic was just cool spells and hot guys. But magic turned out to be so much more. Don't miss this issue's heartbreaking cliffhanger!
BLACK SCIENCE #39
WRITER: RICK REMENDER
ARTIST: MATTEO SCALERA, MORENO DINISO
COVER: MATTEO SCALERA
VARIANT COVER: KEVIN MAGUIRE
DECEMBER 19 / 32 PAGES / FC / M / $3.99
"NO AUTHORITY BUT YOURSELF," Part One (of Four) His entire life, Grant McKay fought against conformity, preferring anarchy to submission. Now, with reality reeling from the aftershocks of the Pillar, every choice Grant makes might be his last. Dimensionauts steel themselves for their final adventure as RICK REMENDER and MATTEO SCALERA bring their seminal pulp science-fiction epic to a mind-shattering finale.
BULLY WARS #4
WRITER / VARIANT COVER: SKOTTIE YOUNG
ARTIST / COVER: AARON CONLEY
DECEMBER 05 / 32 PAGES / FC / E / $3.99
The war games are in full effect, and it's a bully free-for-all! With Edith and Ernie running the control room, Rufus has an edge—but Hock and his crew aren't quite dealt with, and Spencer gets caught in the crossfire.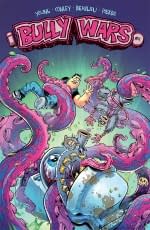 BURNOUTS #4
WRITER: DENNIS CULVER
ARTIST: GEOFFO
COVER: CHRIS BURNHAM
VARIANT COVER: GEOFFO, CHRIS MORENO
DECEMBER 19 / 32 PAGES / FC / M / $3.99
One of the Burnouts is possessed by an alien! But which one? Paranoia runs rampant, and Andy reveals he is no longer sure he even wants to be a Burnout—which is exactly what someone possessed by an alien would say! CEMETERY BEACH #4 (OF 7)
WRITER: WARREN ELLIS
ARTIST / COVER / VARIANT COVER: JASON HOWARD
DECEMBER 12 / 32 PAGES / FC / M / $3.99
Force recon expert Mike Blackburn has promised to get dissident Grace Moody out of a secret, private space colony and back to Earth to reveal what happened here a century ago. The oldest people in the colony are about to show they can still kill.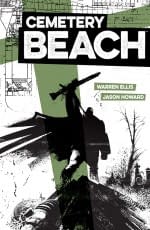 COLD SPOTS #5 (OF 5)
WRITER: CULLEN BUNN
ARTIST / COVER: MARK TORRES
DECEMBER 19 / 32 PAGES / FC / M / $3.99
Dan has found his missing daughter. She is in the clutches of a fiendish family that wishes to use her connection to the unquiet dead to raise something horrible from beyond the veil. This new spirit is so vicious… so malignant… that its presence could cast the world into the darkness of a supernatural ice age.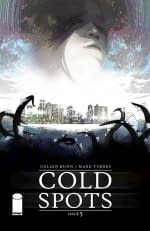 CROWDED #5
WRITER: CHRISTOPHER SEBELA
ARTIST / COVER: RO STEIN, TED BRANDT, TRIONA FARRELL
VARIANT COVER: PAULINA GANUCHEAU
DECEMBER 05 / 32 PAGES / FC / T+ / $3.99
Things go from bad to oh-crap as the Reapr-shaped net of bad hitmen and desperate civilians begins to close around Charlie and Vita. As their library hideout comes under assault and the campaign rolls past two million dollars, the Million Dollar Girl and the 1.4-Star Bodyguard have to make some hard choices. And quickly, because Trotter's master plan is finally unfolding, all with a little help from Circe.
CURSE WORDS #19
WRITER: CHARLES SOULE
ARTIST / COVER / VARIANT COVER: RYAN BROWNE
DECEMBER 19 / 32 PAGES / FC / M / $3.99
"THEM BLUE WIZARD BLUES," Part Four Jacques Zacques strikes! During his time in our world, Wizord has made some pretty powerful people pretty angry. It's time for them to get their due, via a surprise attack. A truly action-packed installment of the ongoing gonzo fantasy, offered with another "magical" variant cover!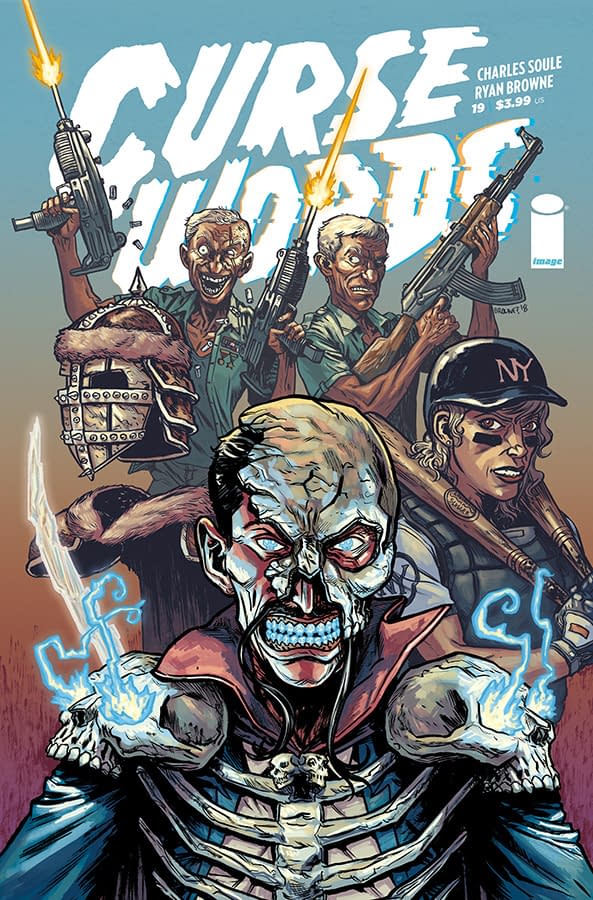 CYBER FORCE (2018) #9
WRITER: BRYAN HILL, MATT HAWKINS
ARTIST / COVER: ATILIO ROJO
DECEMBER 19 / 32 PAGES / FC / M / $3.99
It's the brutal man-machine hybrid Leviathan vs. Cyber Force as Morgan, Ripclaw, Velocity, and Aphrodite face off to save the fate of a country caught in the center of The New War for Technology. Who will own the future?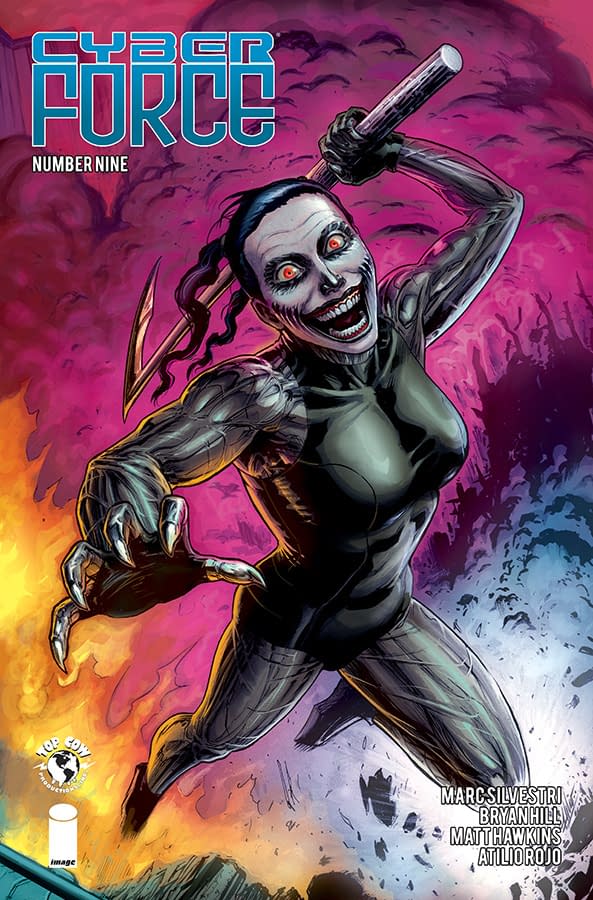 DAYS OF HATE #11 (OF 12)
WRITER: ALES KOT
ARTIST: DANIJEL ZEZELJ
COVER: DANIJEL ZEZELJ, TOM MULLER
DECEMBER 19 / 32 PAGES / FC / M / $3.99
The aftermath.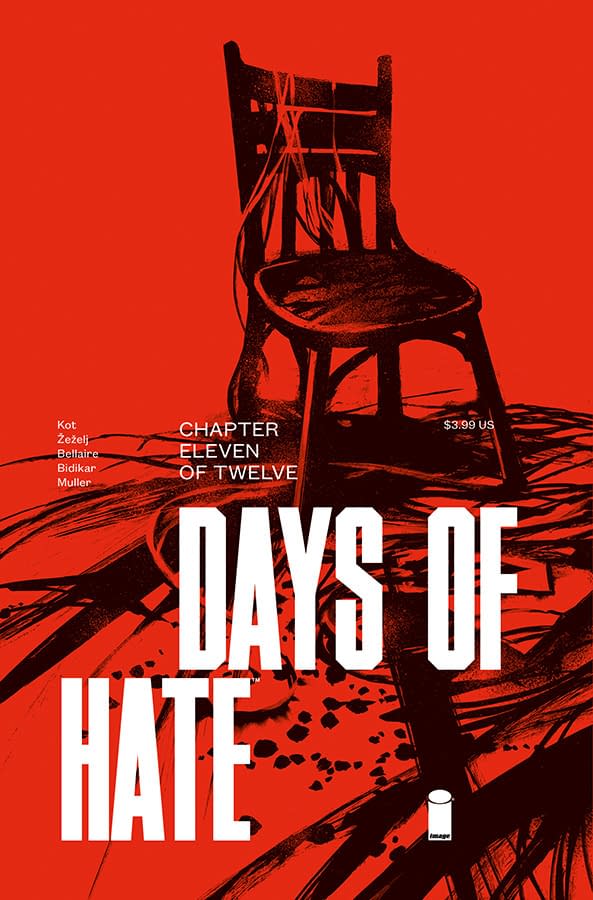 DEAD RABBIT #3
WRITER: GERRY DUGGAN
ARTIST / COVER: JOHN MCCREA
VARIANT COVER: TULA LOTAY
DECEMBER 05 / 32 PAGES / FC / M / $3.99
Dead Rabbit just wanted to put on a mask, rob from the rich and give to himself. But now his wife and his wheelman are in the hospital and the mafia is closing in to settle a beef with Rabbit. This issue guest stars laughing gas, an MRI machine, some pointy surgical instruments, the soft tissue of some bad men, and a depressed mafia soldier.
DEADLY CLASS #36
WRITER: RICK REMENDER
ARTIST: WES CRAIG, JORDAN BOYD
COVER: WES CRAIG
VARIANT COVER: KIM JUNG GI, DAVE MCCAIG
DECEMBER 05 / 32 PAGES / FC / M / $3.99
"NEVER GO BACK," Part One (of Five) Before Marcus can return to class he has to go on a different kind of journey. One fueled by regret, sorrow, and peyote. Only when he's faced the demons that lurk within his own soul can he hope to stand toe-to-toe with Master Lin and make good on his vow to bring an end to Kings Dominion forever. RICK REMENDER and WES CRAIG's darkly humorous look at the 1980s underground comes full circle. Hollywood News: Soon to be a SyFy TV series airing in 2019.
EAST OF WEST #41
WRITER: JONATHAN HICKMAN
ARTIST / COVER: NICK DRAGOTTA
DECEMBER 26 / 32 PAGES / FC / T+ / $3.99
"THE LAST TWO BROTHERS IN THE WORLD" The finals days of the Armageddon draw near. Hollywood News: Amazon Studios has put in development as an hourlong genre drama series from Jonathan Hickman. He is teaming with Robert Kirkman who will executive produce via Skybound Entertainment's first-look deal. The show will be created and executive produced by Hickman and Nick Dragotta and written by Hickman. Also executive producing alongside Skybound's Kirkman will be Dave Alpert, Sean Furst, and Bryan Furst (Dice).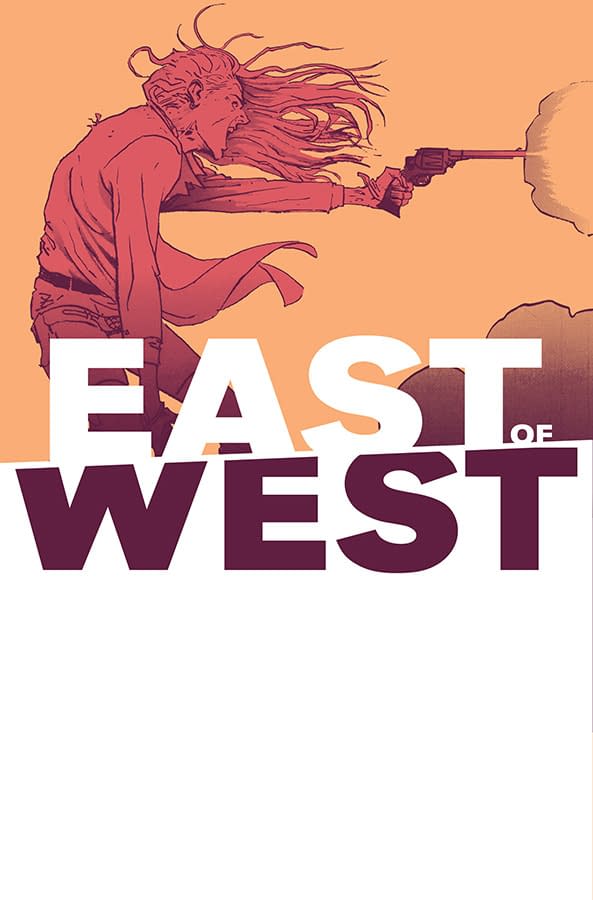 ERRAND BOYS #3 (OF 5)
WRITER: D.J. KIRKBRIDE
ARTIST / COVER: NIKOS KOUTSIS
DECEMBER 05 / 32 PAGES / FC / T / $3.99
The quick errand to snag some bird for a rich weirdo's personal zoo hasn't gone as planned. If Jace and Tawnk aren't eaten by dirt pirates, will they even get paid, what with Tawnk's pesky conscience getting in the way? Seriously though, Jace is failing at this whole responsible big brother thing.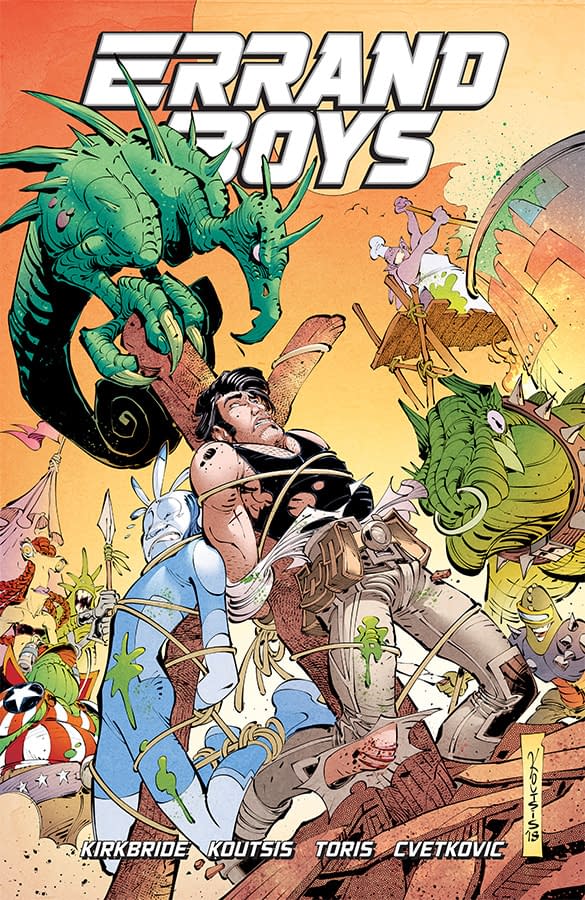 EXORSISTERS #3
WRITER: IAN BOOTHBY
ARTIST / COVER: GISÈLE LAGACÉ, PETE PANTAZIS
VARIANT COVER: FERNANDO RUIZ, ANWAR HANANO
DECEMBER 19 / 32 PAGES / FC / T+ / $3.99
There's nothing like a surprise visit from your ex. Cate's first boyfriend is back from Hell, bringing with him a very dark secret from her past that may alter the future.
GASOLINA #13
WRITER: SEAN MACKIEWICZ
ARTIST / COVER: NIKO WALTER, MAT LOPES
DECEMBER 05 / 32 PAGES / FC / M / $3.99
Amalia Rojas has faced monsters all her life. How did a Mexican farm girl grow up to be a cold-blooded killer? Life takes strange twists…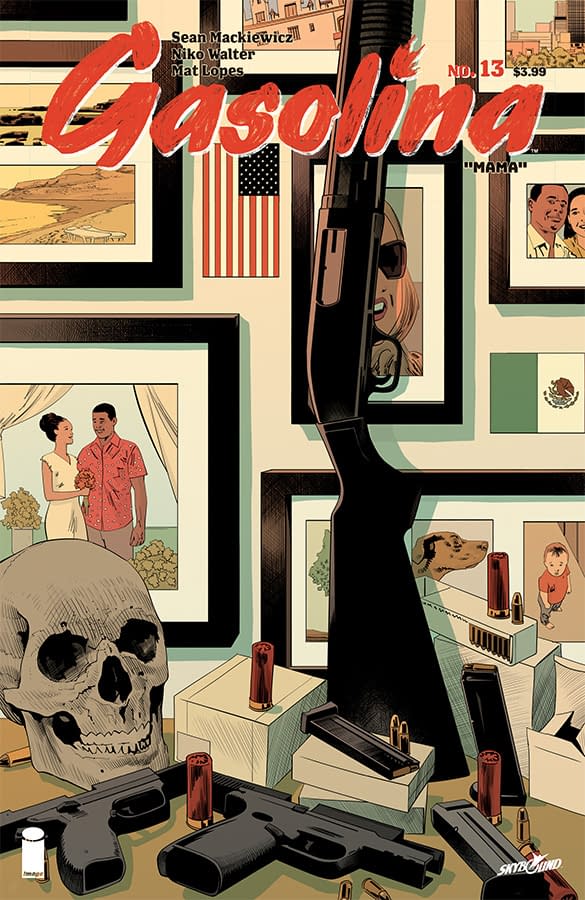 GIDEON FALLS #9
WRITER: JEFF LEMIRE
ARTIST / COVER: ANDREA SORRENTINO, DAVE STEWART
VARIANT COVER: JAMES O'BARR
DECEMBER 19 / 32 PAGES / FC / M / $3.99
"ORIGINAL SINS," Part Three As Norton spirals deeper into his own mind—or deeper into madness?—Father Fred entertains a visitor from his past who can't possibly be real. But Temptation comes in all shapes and sizes… Hollywood News: Picked up for TV by Hivemind after a multi-studio bidding war with long-time producing partners Sean Daniel and Jason Brown, Bad Robot veteran Kathy Lingg, and former Valiant Entertainment CEO & Chief Creative Officer Dinesh Shamdasani.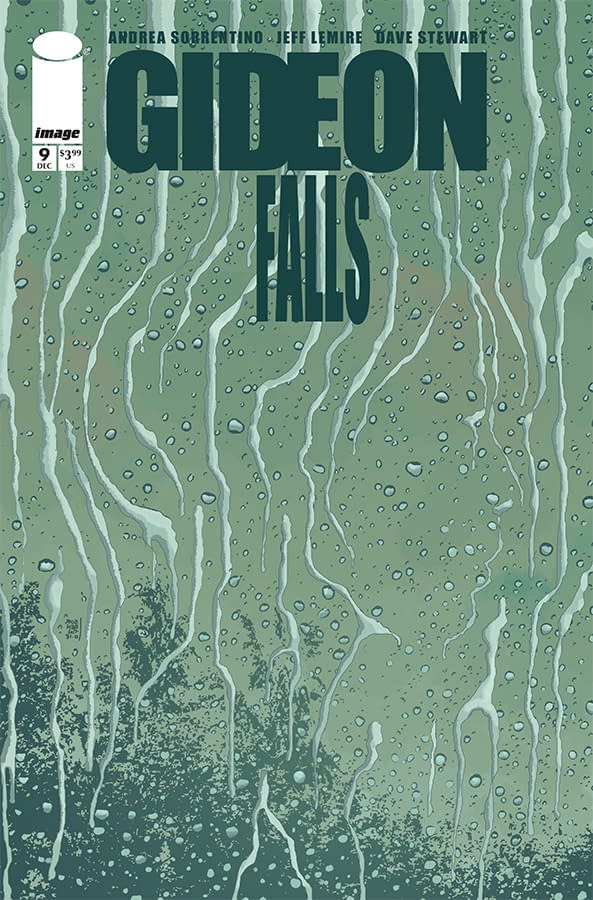 HEAD LOPPER #10
WRITER / ARTIST / COVER: ANDREW MACLEAN
VARIANT COVER: JEANNE D'ANGELO
DECEMBER 12 / 48 PAGES / FC / T+ / $5.99
The egg is cracking and war looms imminent over Venoriah. While Arlen and The Swords hold the wall, Norgal looks for answers in all the wrong places.
HEY KIDS! COMICS! #5 (OF 5)
WRITER / ARTIST / VARIANT COVER: HOWARD CHAYKIN
COVER: DON CAMERON
DECEMBER 12 / 32 PAGES / FC / M / $3.99
The innocent seduced… and the credulous corrupted. Stories inspired by the way it really was, in a business where con men and liars stole everything they could from perfectly willing victims, selling second-rate stories of low-grade morality to an audience they saw as suckers, while living lives founded on greed and exploitation. And that, kids, is comics for you.
HIT-GIRL #11
WRITER: RAFAEL ALBUQUERQUE, RAFAEL SCAVONE
ARTIST / COVER: RAFAEL ALBUQUERQUE
VARIANT COVER: RAFAEL ALBUQUERQUE, FRANCESCO FRANCAVILLA
DECEMBER 12 / 32 PAGES / FC / M / $3.99
Rome's most feared crime boss has Hit-Girl in her sights, and will stop at nothing to kill Mindy and seize the stolen relic for her own.
INFINITE DARK #3
WRITER: RYAN CADY
ARTIST / COVER: ANDREA MUTTI, K. MICHAEL RUSSELL
DECEMBER 12 / 32 PAGES / FC / T+ / $3.99
With only backup power available to the Orpheus and panic setting in, Deva returns to the Dark Sector to stop a mad techno-linguist from destroying the last pocket of reality… and risks directly exposing herself to the Entity outside.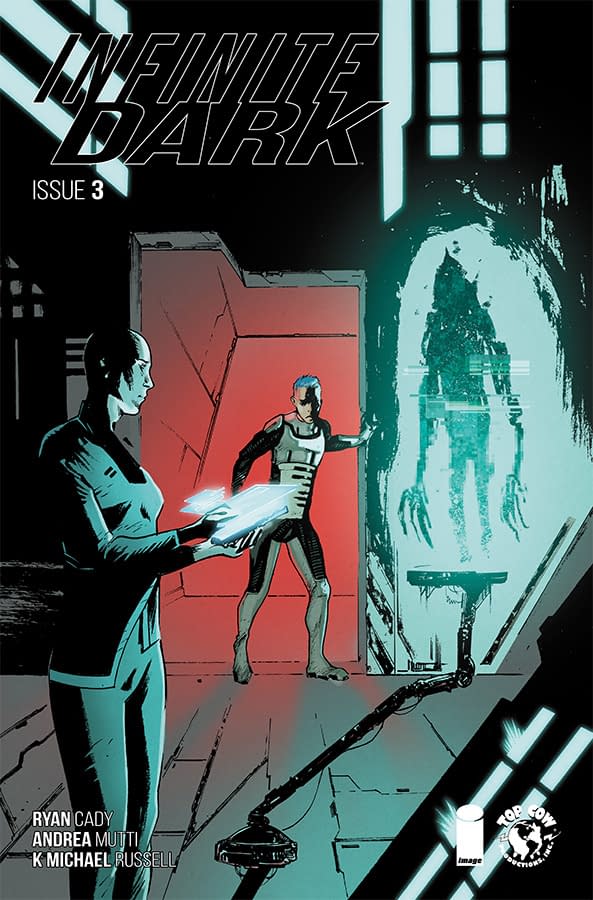 JOOK JOINT #3 (OF 5)
WRITER: TEE FRANKLIN
ARTIST / COVER: ALITHA E. MARTINEZ
DECEMBER 05 / 32 PAGES / FC / M / $3.99
Now it's Heloise's turn to show her husband how it feels to be beaten! It's the 1800s, and Mahalia gives us a glimpse into her past—and why revenge is important. Plus, this issue includes an original backup story by SHAWN PRYOR (F.O.R.C.E.) and GEORGE KAMBADAIS (THE DOUBLE LIFE OF MIRANDA TURNER)!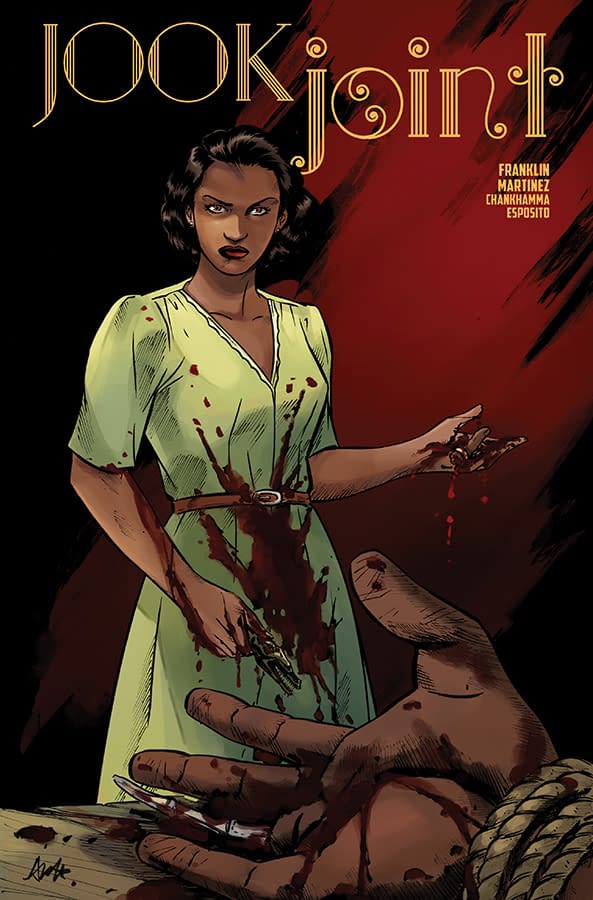 KICK-ASS #10
WRITER: STEVE NILES
ARTIST / COVER: MARCELO FRUSIN
VARIANT COVER: MARCELO FRUSIN, MIKE ALLRED
DECEMBER 05 / 32 PAGES / FC / M / $3.99
Kick-Ass is walking wounded. Struggling to maintain power, evade capture, and support her family, Patience fights to keep her head above water. Old enemies are coming out the woodwork, and her military training won't be enough to save her this time.
THE LAST SIEGE #7 (OF 8)
WRITER: LANDRY Q. WALKER
ARTIST / COVER: JUSTIN GREENWOOD
VARIANT COVER: ANDY SURIANO
DECEMBER 05 / 32 PAGES / FC / T+ / $3.99
As the King sends wave after wave of savage warriors against the castle walls, Lady Cathryn orders her few remaining soldiers to deploy the explosive secret weapon left behind by her father. Meanwhile, the stranger stands on the wrong side of the gates…
LEVIATHAN #5
WRITER: JOHN LAYMAN
ARTIST / COVER: NICK PITARRA, MICHAEL GARLAND
VARIANT COVER: PABLO TUNICA
DECEMBER 19 / 32 PAGES / FC / M / $3.99
"'TIL DEATH DO US PART," Conclusion Leviathan has returned! The end times are upon us! The apocalypse is here! The earth will perish in flames! Amid all this, who's got time for romance?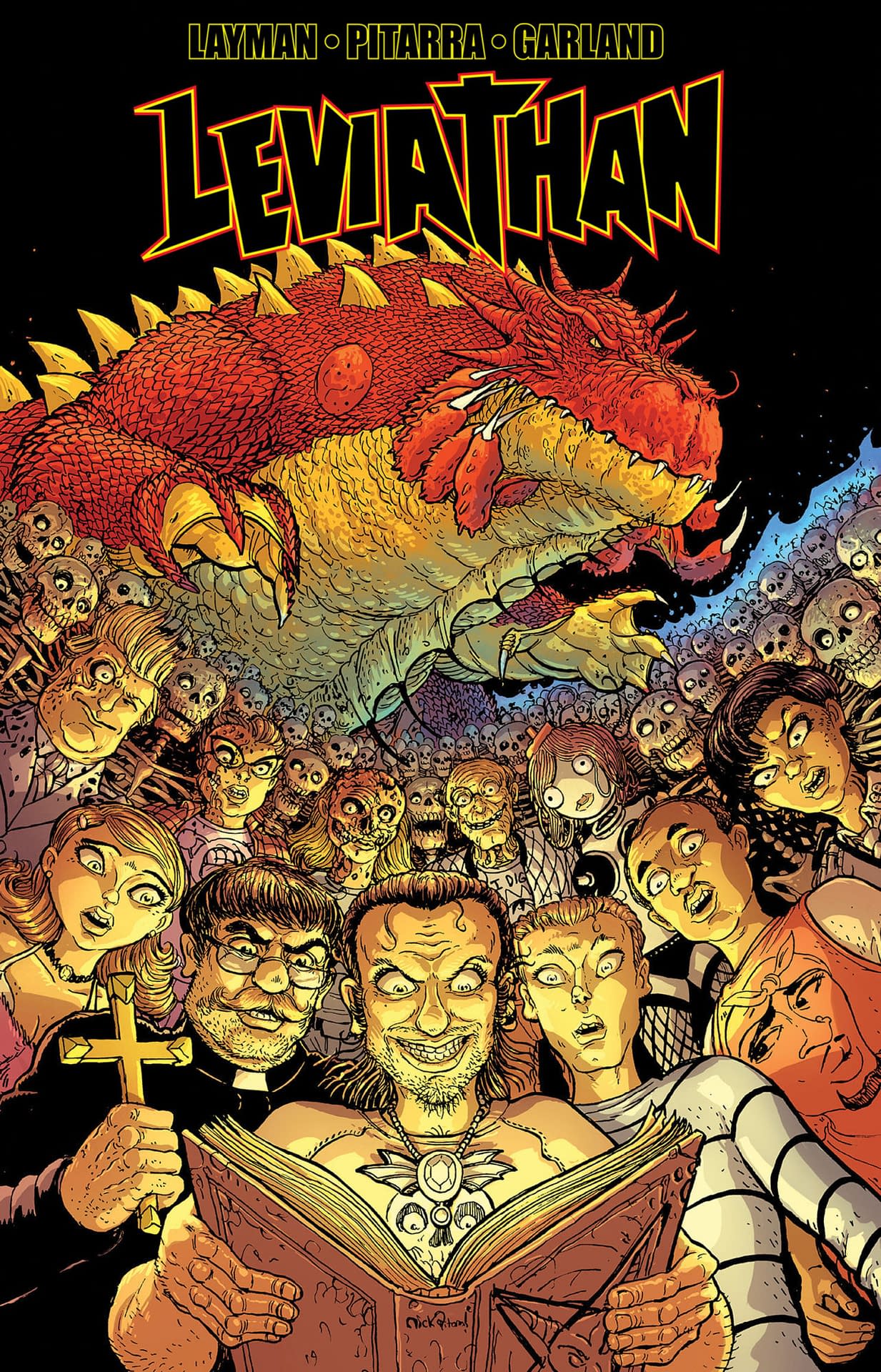 LOW #21
WRITER: RICK REMENDER
ARTIST: GREG TOCCHINI, DAVE MCCAIG
COVER: GREG TOCCHINI
VARIANT COVER: GREG TOCCHINI, ANDREW ROBINSON
DECEMBER 12 / 32 PAGES / FC / M / $3.99
"LAST EMBERS," Part Two (of Seven) Captured and placed on display as a curiosity of a dying world, Stel Caine must rekindle the glimmer of hope if humanity is to have any chance of surviving.
MAGE: THE HERO DENIED #14 (OF 15)
WRITER / ARTIST / COVER: MATT WAGNER
DECEMBER 12 / 32 PAGES / FC / T+ / $3.99
Inside the Umbra Sprite's stronghold, Kevin Matchstick must face an onslaught of opposition as he tries to rescue his family. While dark forces threaten to overwhelm Magda and Hugo, the arrival of an unexpected presence sows discord among the remaining Gracklethorns. Will The Pendragon's power be enough to face the challenges ahead? Only one more issue remains in the conclusion of this epic saga!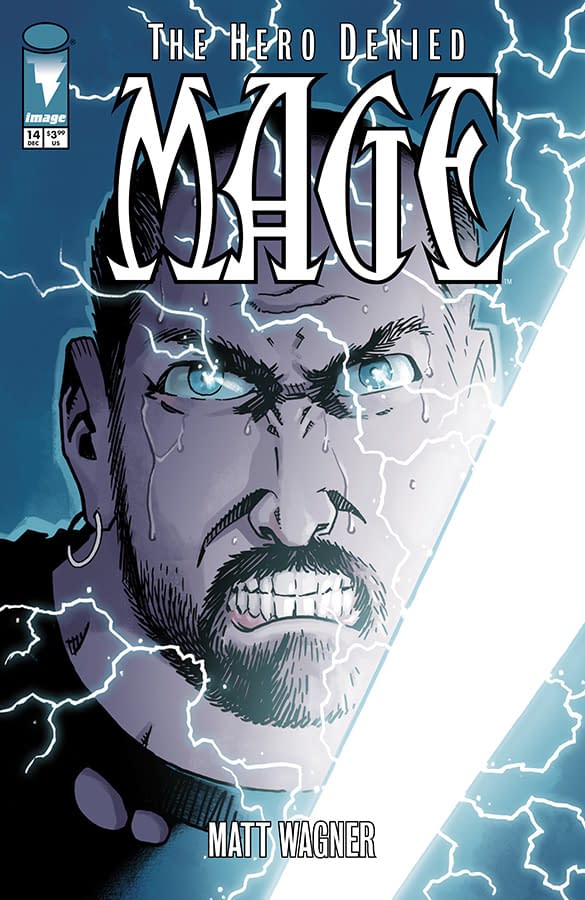 MAN-EATERS #4
WRITER: CHELSEA CAIN
ARTIST: KATE NIEMCZYK
COVER: LIA MITERNIQUE
DECEMBER 26 / 24 PAGES / FC / T+ / $3.99
"CAT FIGHT!" This exclusive special report will be a must-buy for MAN-EATERS fans and collectors, while also acting as a stand-alone entry point for those who are new to the series. "CAT FIGHT" is the illustrated cat defense manual you, and your customers, have been waiting for.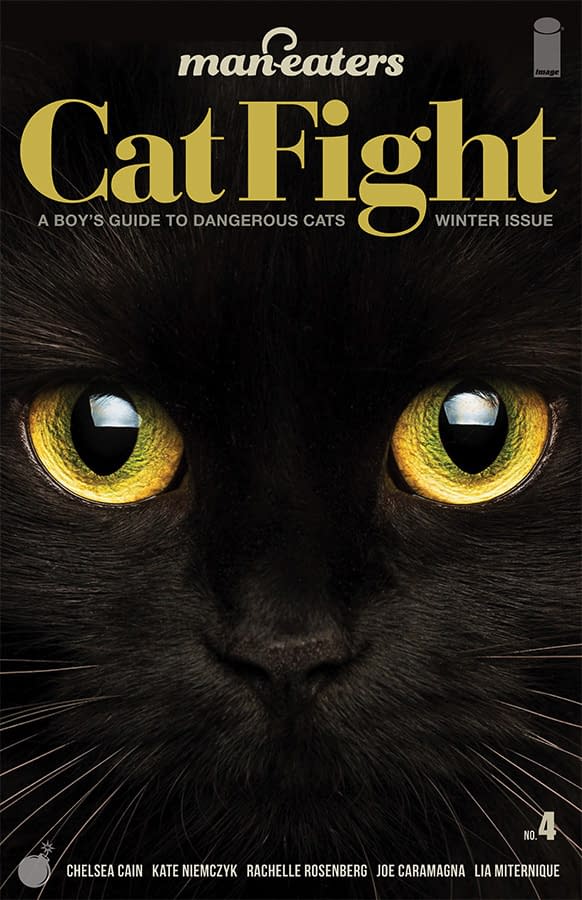 MIDDLEWEST #2
WRITER: SKOTTIE YOUNG
ARTIST: JORGE CORONA
COVER: MIKE HUDDLESTON
DECEMBER 19 / 32 PAGES / FC / M / $3.99
Stowaways! As Abel and Fox tumble out of Farmington they must quickly land on their feet. The protections of home are gone and they find themselves in a hungry, wild new world.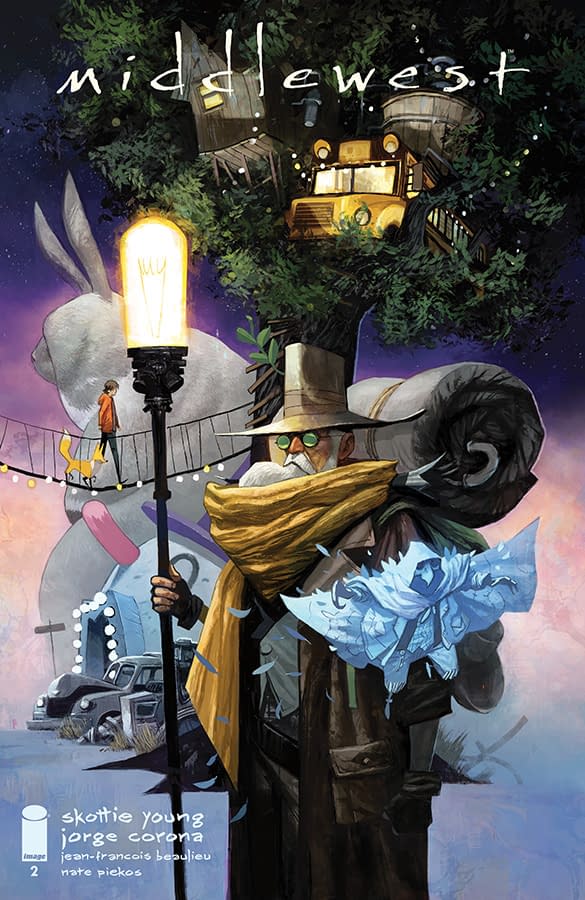 MURDER FALCON #3
WRITER: DANIEL WARREN JOHNSON
ARTIST / COVER: DANIEL WARREN JOHNSON, MIKE SPICER
DECEMBER 12 / 32 PAGES / FC / T / $3.99
Jake. Murder Falcon. Johann. Who's next to join the band? If they're going to defeat the Veldar, they're going to need someone to lay down a heavy beat.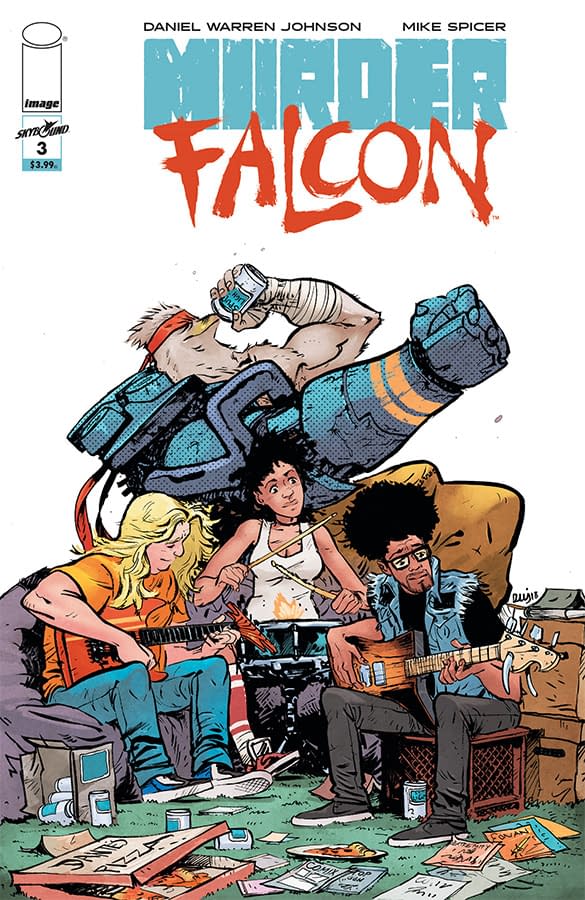 OBLIVION SONG BY KIRKMAN & DE FELICI #10
WRITER: ROBERT KIRKMAN
ARTIST: LORENZO DE FELICI, ANNALISA LEONI
COVER: LORENZO DE FELICI
DECEMBER 12 / 28 PAGES / FC / T+ / $3.99
The dangers of Oblivion are running free—but how?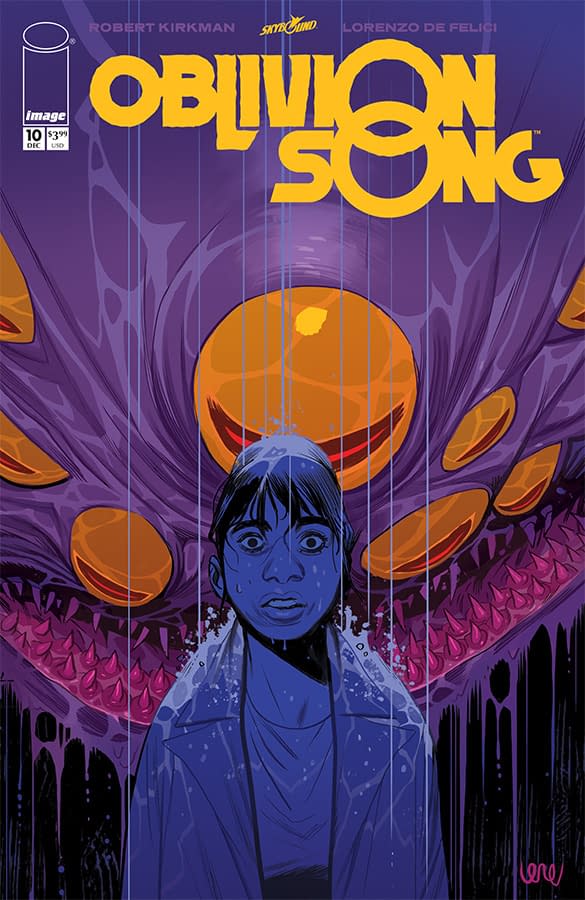 OUTCAST BY KIRKMAN & AZACETA #37
WRITER: ROBERT KIRKMAN
ARTIST / COVER: PAUL AZACETA, ELIZABETH BREITWEISER
DECEMBER 19 / 32 PAGES / FC / M / $3.99
At long last, Simon's story is told.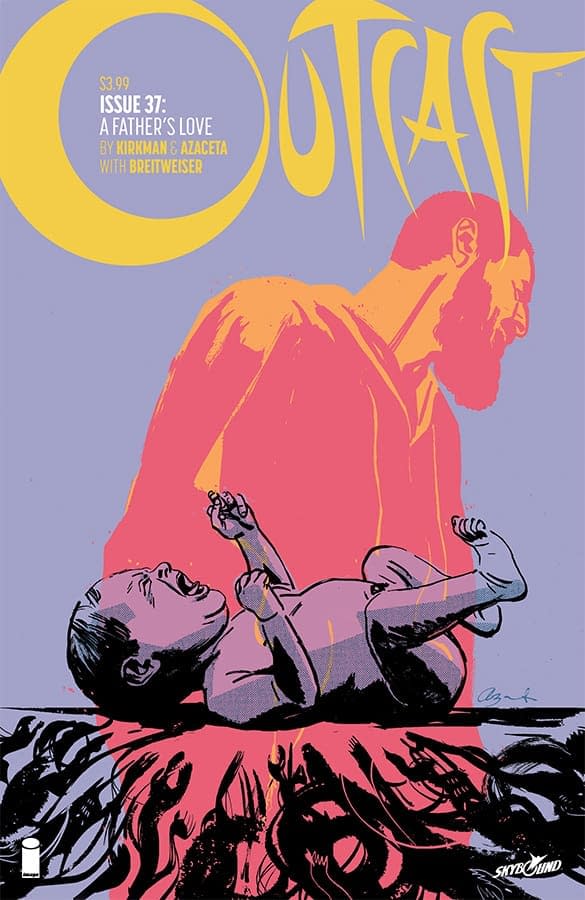 OUTER DARKNESS #2
WRITER: JOHN LAYMAN
ARTIST / COVER: AFU CHAN
DECEMBER 12 / 32 PAGES / FC / M / $3.99
From the creator of CHEW—a horrifying vision of space! Captain Rigg is prepared to test his new ship and crew by flying them straight into the heart of demon-infested space. One small problem: he didn't brief them beforehand…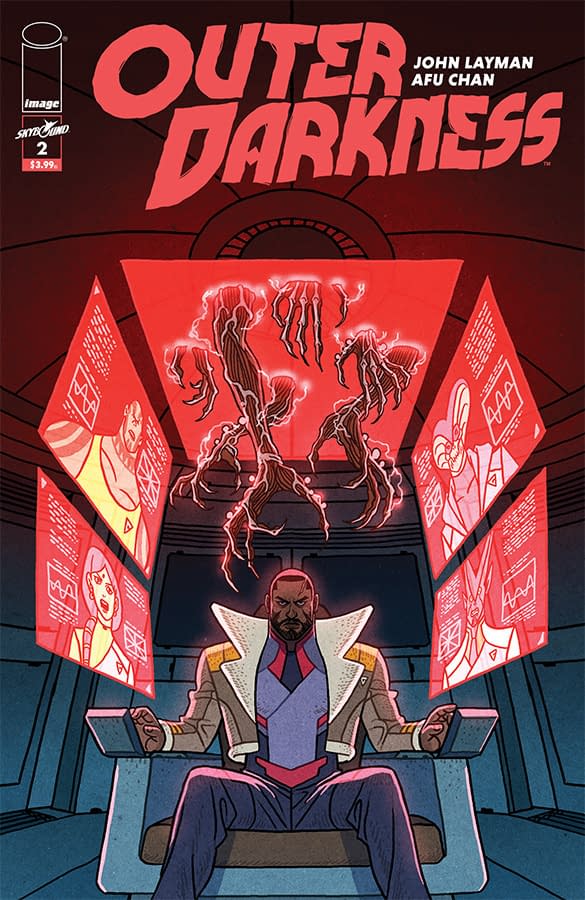 OUTPOST ZERO #5
WRITER: SEAN KELLEY MCKEEVER
ARTIST / COVER: ALEXANDRE TEFENKGI, JEAN-FRANCOIS BEAULIEU
DECEMBER 19 / 32 PAGES / FC / T+ / $3.99
Lyss is never going to be able to explore the Frost or have a truly important job… that's just how it is in the Outpost. But as Planning Team attempts to save everyone from the ice threatening to crush them all, Lyss has an unexpected opportunity to prove her worth.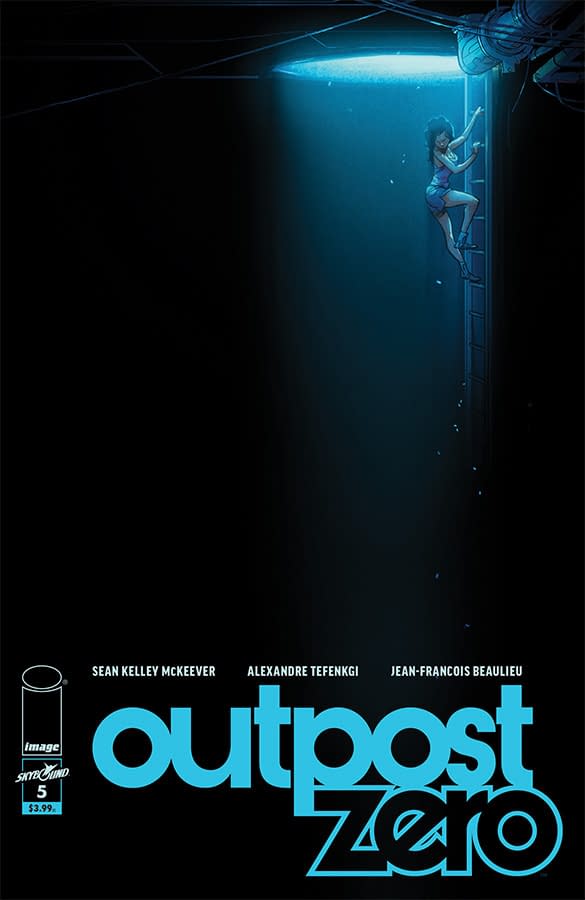 REDLANDS #9
WRITER / ARTIST: JORDIE BELLAIRE, VANESA DEL REY
COVER: VANESA DEL REY
DECEMBER 12 / 32 PAGES / FC / M / $3.99
While the witches are away from Redlands, The Devil's noose tightens around their necks and old enemies return to haunt Laurent in the swamp.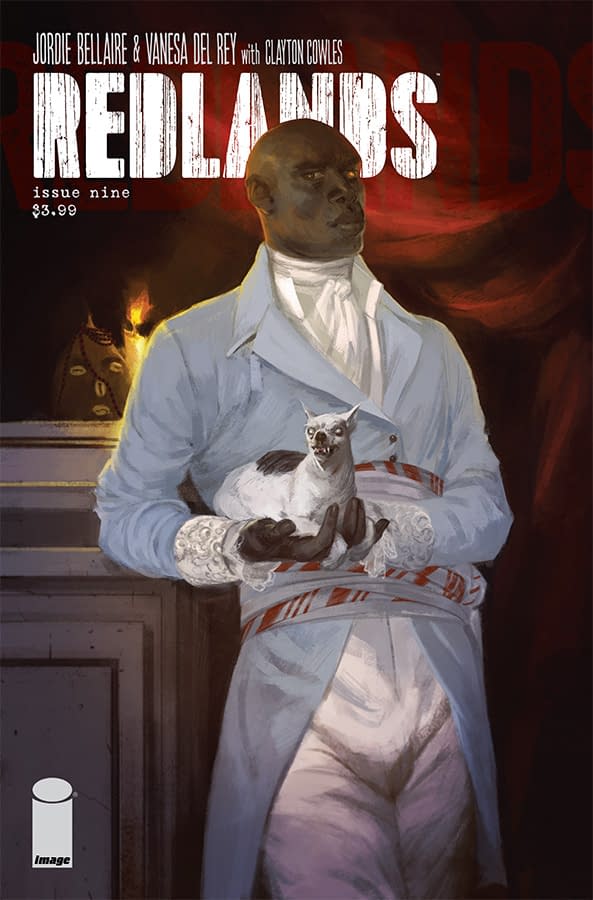 REDNECK #18
WRITER: DONNY CATES
ARTIST / COVER: LISANDRO ESTHERREN, DEE CUNNIFFE
DECEMBER 19 / 32 PAGES / FC / M / $3.99
Everyone dies. No one is safe.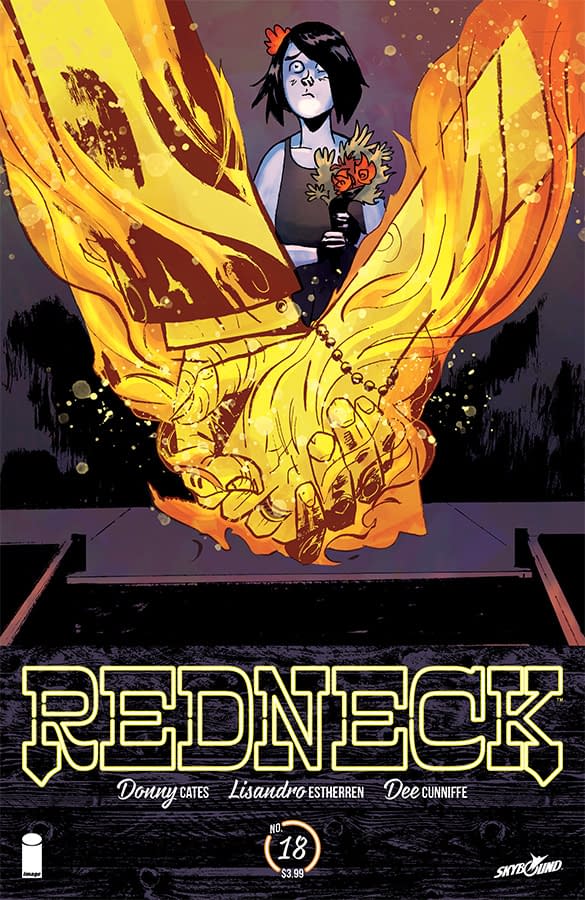 REGRESSION #14
WRITER: CULLEN BUNN
ARTIST: DANNY LUCKERT, MARIE ENGER
COVER: DANNY LUCKERT
DECEMBER 19 / 32 PAGES / FC / M / $3.99
Adrian and Molly are back together, but it is not a happy reunion. Molly hopes to break Gregory Sutter's influence over her friend, but the Valgeroti are on the move, and they would rather see both Adrian and Sutter dead than compromised by their enemies. In the present, Molly sows the first seeds of a resistance against the Valgeroti. In the future, this ragtag group of guerrillas makes preparations for the final offensive against their enemies. But the Valgeroti plans—in the past, present, and future—are more horrible than anyone imagined!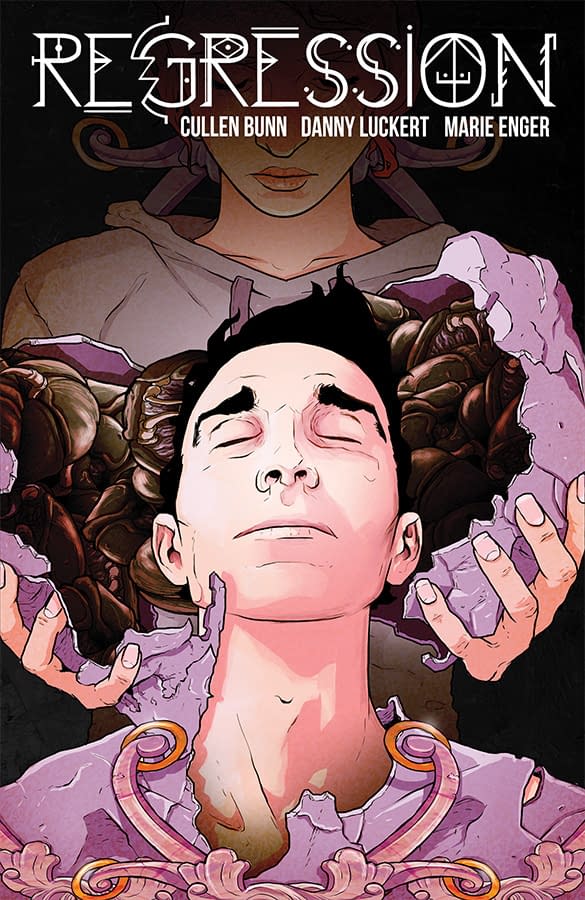 ROSE #15
WRITER: MEREDITH FINCH
ARTIST / COVER: IG GUARA
VARIANT COVER: JON LAM, GERALD LANGE
DECEMBER 12 / 32 PAGES / FC / T+ / $3.99
The battle for the people of Ttereve takes place in the heart and soul of one young woman. But is the sacrifice Rose fears she must make too great even for her?
RUMBLE (2017) #10
WRITER: JOHN ARCUDI
ARTIST: DAVID RUBIN, DAVE STEWART
COVER: DAVID RUBIN
VARIANT COVER: DAVE STEWART, TROY NIXEY
DECEMBER 19 / 32 PAGES / FC / M / $3.99
"TROUBLE IS MY BUSINESS" Someone posing as Rathraq is killing Esu monsters, and a very unlikely team turns to sleuthing to find out who it is.
SAVAGE DRAGON #241
WRITER / ARTIST / COVER: ERIK LARSEN
DECEMBER 19 / 32 PAGES / FC / M / $3.99
"THE CAPTAIN'S NAME IS… TOOTSIE!" From the Golden Age of comics comes the preeminent product pitchman: Captain Tootsie! The good Captain has taken on a new role—that of a government operative sent to Toronto to capture and retrieve Malcolm Dragon… but the son of Savage Dragon has other plans.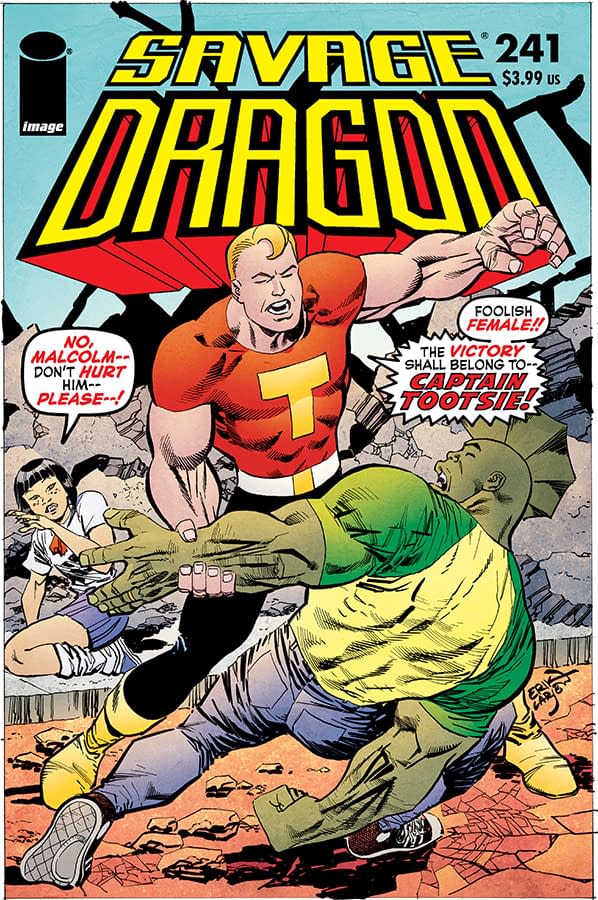 SKYWARD #9
WRITER: JOE HENDERSON
ARTIST: LEE GARBETT, ANTONIO FABELA
COVER: LEE GARBETT
DECEMBER 12 / 32 PAGES / FC / T / $3.99
"HERE THERE BE DRAGONFLIES," Part Four So… those Farmers who helped save Willa? Yeah, they may have some really bad stuff planned. Willa needs to choose whose side she's on as she tries to fulfill her father's dream—returning gravity to what it was! HOLLYWOOD NEWS! Picked up by Sony Entertainment with Henderson adapting and director Brad Peyton attached. Henderson will also executive produce alongside Peyton and Jeff Fierson.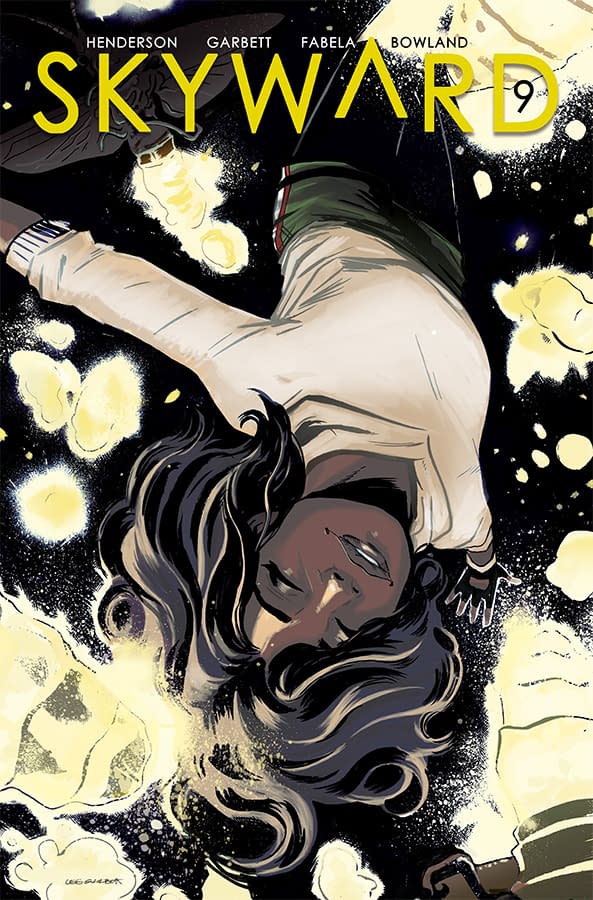 SLEEPLESS #10
WRITER: SARAH VAUGHN
ARTIST / COVER: LEILA DEL DUCA, ALISSA SALLAH
DECEMBER 12 / 32 PAGES / FC / T / $3.99
Poppy and Cyrenic discover the long-lost and troubling history of Harbeny, and must make critical decisions about their future. Will they escape to safety, or demand justice?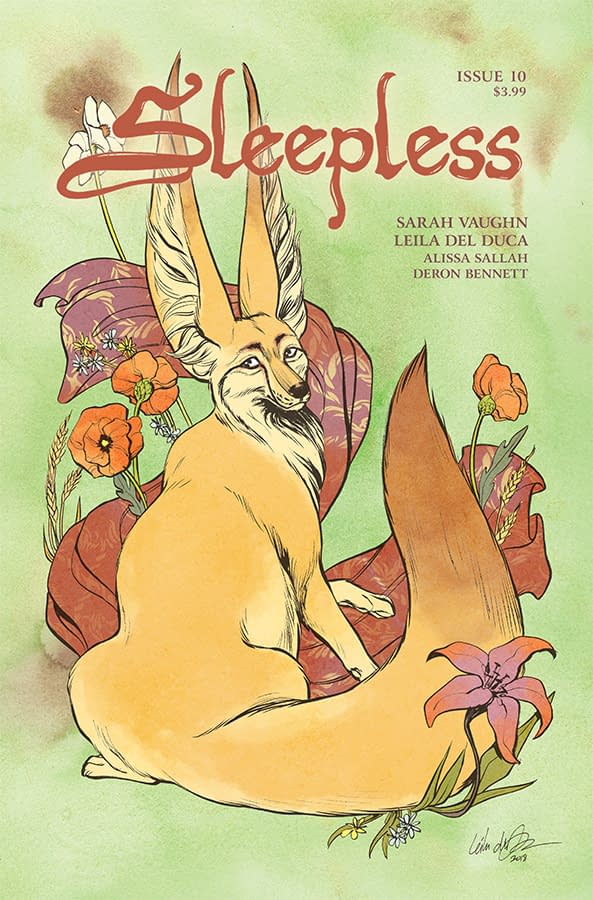 SPAWN #293
WRITER: TODD MCFARLANE
ARTIST: JASON SHAWN ALEXANDER
COVER: FRANCESCO MATTINA
VARIANT COVER: TODD MCFARLANE, FRANCESCO MATTINA
JANUARY 09 / 32 PAGES / FC / T+ / $2.99
The search for his wife's killer runs directly through his arch-nemesis, The Clown, and a battle royale between Spawn and The Violator sets in motion events that will culminate in the anniversary 300th issue of SPAWN. COVER C IS INKED BY TODD McFARLANE, WITH INTERIORS ENTIRELY IN BLACK AND WHITE! Hollywood News: Soon to be a major motion picture from Blumhouse Productions, directed by Todd McFarlane, and starring Jamie Foxx as Spawn and Jeremy Renner as Twitch.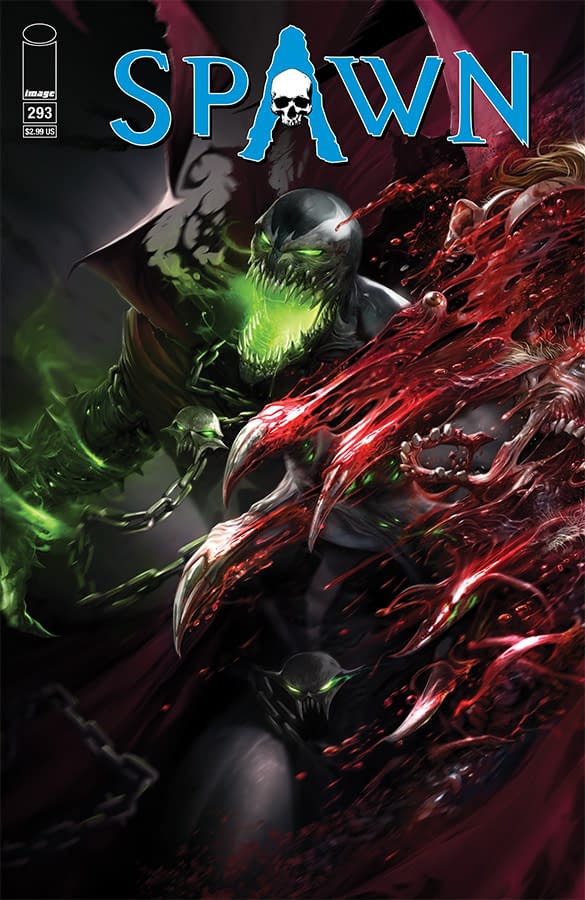 STRAY BULLETS: SUNSHINE & ROSES #41
WRITER / ARTIST / COVER: DAVID LAPHAM
DECEMBER 19 / 32 PAGES / BW / M / $3.99
The fate of Baltimore and beyond rests in the hands of the rapidly unraveling Kretchmeyer.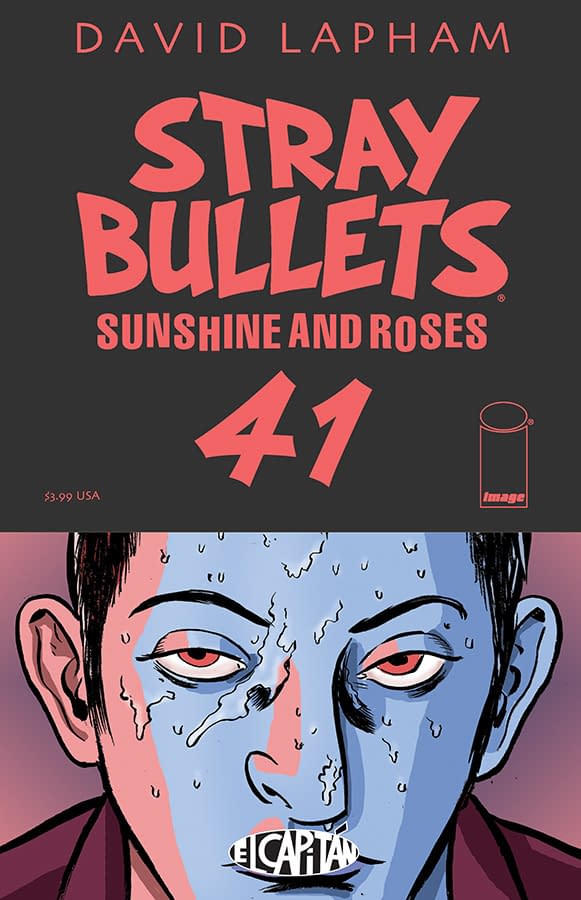 THIEF OF THIEVES #43
WRITER: BRETT LEWIS
ARTIST / COVER: SHAWN MARTINBROUGH, ADRIANO LUCAS
DECEMBER 05 / 32 PAGES / FC / M / $3.99
For the past six years, Conrad Paulson has done the impossible. Now, can the man who was once the greatest thief in the world pull off one final heist—and walk away scot-free?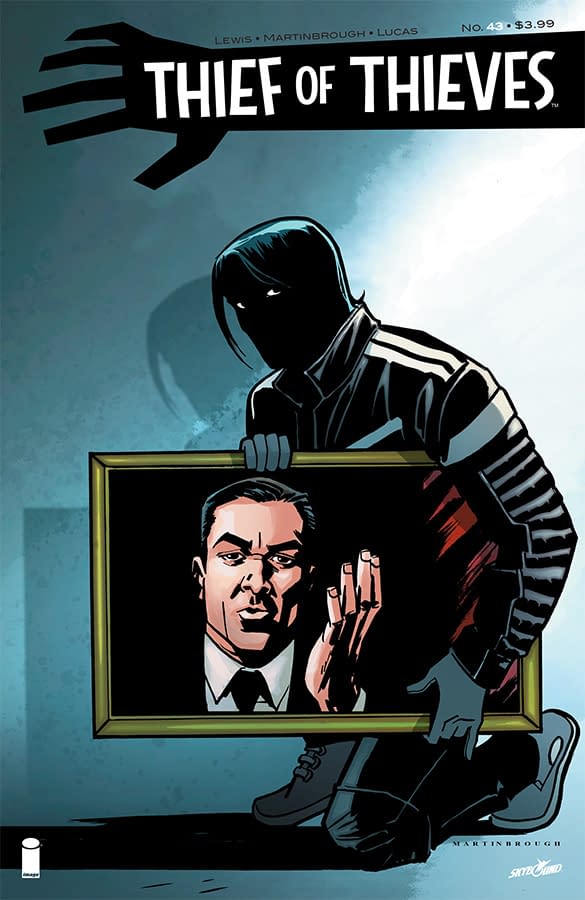 UNNATURAL #5 (OF 12)
WRITER / ARTIST / COVER: MIRKA ANDOLFO
VARIANT COVER: TANINO LIBERATORE
DECEMBER 05 / 32 PAGES / FC / M / $3.99
THE SECOND ACT OF MIRKA ANDOLFO'S SUMMER SENSATION BEGINS HERE! Leslie is on the run! Unjustly hunted by the government for the murder of her best friend Trish, she can't help but trust that hooded wolf who's been snooping on her since the very first issue. Who is he? What does he really want from her? And is he somehow related to that steamy lupine creature from Leslie's dreams?
THE WALKING DEAD #186
WRITER: ROBERT KIRKMAN
ARTIST: CHARLIE ADLARD, STEFANO GAUDIANO, CLIFF RATHBURN
COVER: CHARLIE ADLARD, DAVE STEWART
VARIANT COVER: BILL SIENKIEWICZ
DECEMBER 05 / 32 PAGES / BW / M / $3.99
The powder keg: once it goes off, it can't be contained.
THE WARNING #2
WRITER / ARTIST / COVER: EDWARD LAROCHE
DECEMBER 19 / 32 PAGES / FC / M / $3.99
"GLADIATOR TWO-SIX" The invasion continues as the super soldiers of the Quiet Knife program make their way to ground zero.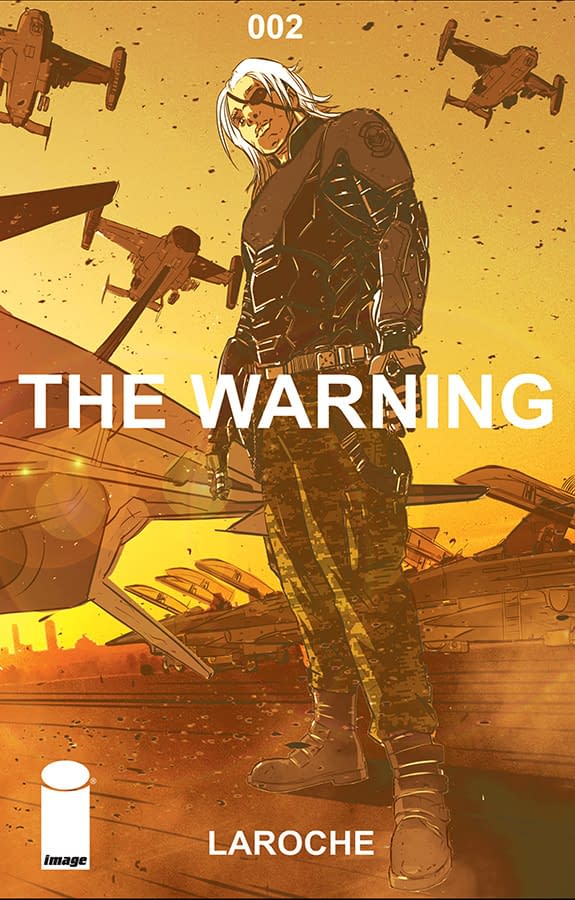 THE WICKED + THE DIVINE #40
WRITER: KIERON GILLEN
ARTIST / COVER: JAMIE MCKELVIE, MATTHEW WILSON
VARIANT COVER: CLAIRE ROE, RAY FAWKES
DECEMBER 05 / 32 PAGES / FC / M / $3.99
"OKAY," Part One The pop-obsessed sensation starts its final arc. Yup, you read it right. We're rushing toward the climax. Are you really going to stop now? C'mon. Stay with us. We've got a five-years-in-the-making conclusion to be getting on with.
WITCHBLADE (2017) #11
WRITER: CAITLIN KITTREDGE
ARTIST / COVER: ROBERTA INGRANATA, BRYAN VALENZA
DECEMBER 19 / 32 PAGES / FC / M / $3.99
"GOOD INTENTIONS," Part Five N-GEN makes a move, Alex makes a choice, and everyone she loves suffers the fallout.