In One Week, In Two Weeks – From Half Past Danger To X-Men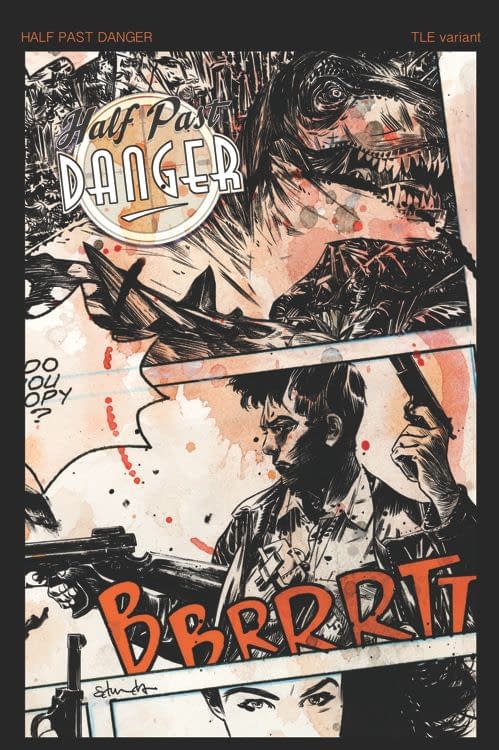 Next week sees the launch of Half Past Danger from IDW, Bounce from Image, Akaneiro from Dark Horse, Green Team and a big expensive Green Lantern #20 from DC, Occupy Comics from Black Mask and Tank Girl from Titan.
The week after that? Wake #1 and X-Men #1!
DARK HORSE COMICS
AKANEIRO #1
$3.99
DARK HORSE PRESENTS #24 (MR)
$7.99
DEEP SEA ONE SHOT
$2.99
HOUSE OF GOLD & BONES #2 ALEXANDER CVR
$3.99
HOUSE OF GOLD & BONES #2 KYLE HOLTZ CVR INCV
$3.99
LOBSTER JOHNSON SATAN SMELLS A RAT ONE SHOT
$3.50
MASSIVE #12
$3.50
MIND MGMT #11
$3.99
STAR WARS DAWN O/T JEDI PRISONER OF BOGAN #5 (RES)
$2.99
STAR WARS LEGACY #3
$2.99
DC COMICS
ALL STAR WESTERN #20
$3.99
AQUAMAN #20
$2.99
AQUAMAN #20 VAR ED
$2.99
ARROW #7
$3.99
BATMAN BEYOND UNLIMITED #16
$3.99
BATMAN INCORPORATED #11
$2.99
BATMAN INCORPORATED #11 BLACK & WHITE VAR ED
$2.99
BATMAN INCORPORATED #11 COMBO PACK
$3.99
BATMAN INCORPORATED #11 VAR ED
$2.99
BATMAN LIL GOTHAM #2
$2.99
BATMAN THE DARK KNIGHT #20
$2.99
BATMAN THE DARK KNIGHT #20 VAR ED
$2.99
DEMON KNIGHTS TP VOL 02 THE AVALON TRAP (N52)
$14.99
FLASH #20
$2.99
FLASH #20 VAR ED
$2.99
FURY OF FIRESTORM THE NUCLEAR MAN #20
$2.99
GREEN LANTERN #20 (WRATH) (NOTE PRICE)
$7.99
GREEN LANTERN #20 COMBO PACK (WRATH)
$8.99
GREEN LANTERN #20 VAR ED (WRATH)
$7.99
GREEN LANTERN NEW GUARDIANS #20 (WRATH)
$2.99
GREEN LANTERN NEW GUARDIANS #20 VAR ED (WRATH)
$2.99
GREEN TEAM #1
$2.99
GREEN TEAM #1 VAR ED
$2.99
GRIFTER TP VOL 02 NEW FOUND POWER (N52)
$16.99
JUSTICE LEAGUE #20
$3.99
JUSTICE LEAGUE #20 BLACK & WHITE VAR ED
$3.99
JUSTICE LEAGUE #20 COMBO PACK
$4.99
JUSTICE LEAGUE #20 VAR ED
$3.99
JUSTICE LEAGUE DARK #20
$2.99
RED LANTERNS #20 (WRATH)
$2.99
RED LANTERNS #20 VAR ED (WRATH)
$2.99
SAVAGE HAWKMAN #20
$2.99
SUPERMAN #20
$2.99
SUPERMAN #20 VAR ED
$2.99
TALON #8
$2.99
TALON #8 VAR ED
$2.99
TEEN TITANS #20
$2.99
TEEN TITANS #20 VAR ED
$2.99
UNWRITTEN #49 (MR)
$2.99
IDW PUBLISHING
BORDERLANDS ORIGINS TP [DIG]
$17.99
CHASING THE DEAD TP
$17.99
DOCTOR WHO VOL 3 #9 [DIG/P+]
$3.99
GHOSTBUSTERS #4 [DIG/P+]
$3.99
GI JOE COBRA FILES #2 [DIG/P+]
$3.99
GI JOE COMPLETE COBRA COMMAND TP
$34.99
GI JOE COMPLETE COLL HC VOL 02
$49.99
GODZILLA HALF CENTURY WAR TP
$19.99
HALF PAST DANGER #1 [DIG/P+]
$3.99
HALF PAST DANGER #1 SUBSCRIPTION VAR
$3.99
JUDGE DREDD #7 [DIG/P+]
$3.99
KISS SOLO #3 THE CELESTIAL [DIG]
$3.99
STAR TREK JOHN BYRNE COLLECTION HC
$49.99
TMNT VILLAIN MICROSERIES #2 BAXTER STOCKMAN
$3.99
TMNT WORKS HC VOL 01
$49.99
TORPEDO TP VOL 03 [DIG]
$17.99
TRANSFORMERS ROBOTS IN DISGUISE #17 [DIG/P+]
$3.99
TRUE BLOOD ONGOING #13 [DIG/P+]
$3.99
IMAGE COMICS
ACTIVITY #13 [DIG]
$3.50
ARTIFACTS TP VOL 05 [DIG]
$16.99
BOUNCE #1 (MR) [DIG]
$2.99
DIA DE LOS MUERTOS #3 (MR) [DIG]
$4.99
FIVE GHOSTS HAUNTING OF FABIAN GRAY #3 [DIG]
$2.99
INVINCIBLE UNIVERSE #1 2ND PTG
$2.99
MINIATURE JESUS #2 (MR) [DIG]
$3.99
NOWHERE MEN #5 [DIG]
$2.99
REVIVAL #10 [DIG]
$2.99
SEX #3 (MR) [DIG]
$2.99
MARVEL COMICS
A PLUS X #8 NOW
$3.99
A PLUS X TP VOL 01 EQUALS AWESOME
$17.99
AGE OF ULTRON #4 2ND PTG HITCH VAR
$3.99
ALL NEW X-MEN #10 2ND PTG IMMONEN VAR NOW
$3.99
AMAZING SPIDER-MAN #700 4TH PTG STEGMAN VAR
$7.99
AVENGERS #12 AVENGERS 50TH ANNIVERSARY VAR NOW
$3.99
AVENGERS #12 NOW
$3.99
CABLE AND X-FORCE CLASSIC TP VOL 01
$34.99
DAREDEVIL #26
$3.99
DAREDEVIL #26 RIVERA VAR
$3.99
DEADPOOL #10 NOW2
$2.99
FANTASTIC FOUR #8 NOW2
$2.99
FEARLESS DEFENDERS #4AU NOW
$3.99
FF BY JONATHAN HICKMAN TP VOL 04
$19.99
IRON MAN #258.3
$3.99
JIM FEATURING SIF TP VOL 01 STRONGER THAN MONSTERS NOW
$15.99
JOURNEY INTO MYSTERY #652 NOW
$2.99
MARVEL UNIVERSE ULTIMATE SPIDER-MAN #14
$2.99
MMW FANTASTIC FOUR TP VOL 09
$24.99
MMW FANTASTIC FOUR TP VOL 09 DM VAR ED 53
$24.99
POWERS BUREAU #4 (MR)
$3.95
SCARLET SPIDER #17
$2.99
SCARLET SPIDER #17 DELLOTTO VAR
$2.99
SECRET AVENGERS BY RICK REMENDER TP VOL 02 AVX
$24.99
SUPERIOR SPIDER-MAN #10 NOW
$3.99
ULTIMATE COMICS WOLVERINE #4
$3.99
UNCANNY AVENGERS #8AU NOW2
$3.99
UNCANNY X-MEN #6 NOW
$3.99
UNCANNY X-MEN BY KIERON GILLEN TP VOL 04 AVX
$19.99
WOLVERINE BEST THERE IS TP COMPLETE SERIES
$29.99
X-MEN LEGACY #11 NOW2
$2.99
YOUNG AVENGERS #5 CHEUNG VAR NOW
$2.99
YOUNG AVENGERS #5 NOW
$2.99
12-GAUGE COMICS
ANTI #4
$3.99
ACTION LAB ENTERTAINMENT
DOUBLE JUMPERS #4 (MR) [DIG]
$3.99
AMAZE INK (SLAVE LABOR GRAPHIC
ZOMBIES CALLING GN
$9.95
AMRYL ENTERTAINMENT
CAVEWOMAN UNCOVERED PINUP BOOK (MR)
$3.99
CAVEWOMAN UNCOVERED PINUP BOOK SP ED NUDE (A)
$8.00
ANTARCTIC PRESS
GOLD DIGGER #200 SERIES SPECIAL [DIG]
$3.99
NAZI ZOMBIES TP
$14.95
STEAMPUNK SNOW WHITE ONE SHOT [DIG]
$5.99
VICTORIAN SECRET COLLECTION TP [DIG]
$14.95
ARCANA STUDIO
A NINJA NAMED STAN SC [DIG/P+]
$14.95
BLACK LIST GN [DIG/P+]
$14.95
KONI KONFIDENTIAL GN
$9.95
ZOO DOT COM GN [DIG/P+]
$9.95
ARCHIE COMIC PUBLICATIONS
ARCHIES 1000 PG COMICS DIGEST TP
$14.99
SABRINA THE TEENAGE WITCH MAGIC WITHIN TP VOL 02
$10.99
SONIC UNIVERSE TP VOL 05 TAILS ADVENTURE
$11.99
WORLD OF ARCHIE DOUBLE DIGEST #29 [DIG/P+]
$3.99
ASPEN MLT INC
JIRNI #2 ASPEN RESERVED CVR
$3.99
JIRNI #2 DIRECT MARKET CVR [DIG]
$3.99
AVATAR PRESS INC
CROSSED BADLANDS #28 (MR)
$3.99
CROSSED BADLANDS #28 RED CROSSED ORDER INCV CVR (MR)
$3.80
CROSSED BADLANDS #28 TORTURE CVR (MR)
$3.99
CROSSED BADLANDS #28 WRAP CVR (MR)
$3.99
BLACK MASK COMICS
OCCUPY COMICS #1
$3.50
BLUE JUICE COMICS
ACCELERATORS #1
$3.99
BONGO COMICS
BART SIMPSON COMICS #83
$2.99
BOOM! STUDIOS
ADVENTURE TIME #16 MAIN CVRS
$3.99
ADVENTURE TIME FIONNA & CAKE #5 MAIN CVRS
$3.99
BRAVEST WARRIORS #1 LONG BEACH COMIC CON VAR
$9.99
HELLRAISER DARK WATCH #4 MAIN CVRS (MR) [DIG]
$3.99
REGULAR SHOW #1 COMPLETE CVR BOX SET
$24.99
STEED AND MRS PEEL ONGOING #8 [DIG]
$3.99
SUPURBIA ONGOING #1 LONG BEACH COMIC CON VAR
$9.99
BROADSWORD COMICS
SCHOOL BITES INDEPENDENT STUDIES COLL TP [DIG]
$19.99
CINEBOOK
ANTARES TP VOL 01 EPISODE 1
$15.95
BETELGEUSE TP VOL 02 CAVES
$11.95
BLAKE & MORTIMER GN VOL 12 ATLANTIS MYSTERY
$15.95
LUCKY LUKE TP VOL 29 GRAND DUKE
$11.95
LUCKY LUKE TP VOL 30 DALTONS ESCAPE
$11.95
THORGAL GN VOL 07 MASTER OF MOUNTAINS
$11.95
D. E.
DAMSELS #7
$3.99
DARK SHADOWS YEAR ONE #2
$3.99
FLASH GORDON TP VOL 01 ZEITGEIST
$29.99
MASKS #7
$3.99
RED SONJA #75 GEOVANI CVR
$3.99
RED SONJA #75 JONES CVR
$3.99
RED SONJA #75 RUBI CVR
$3.99
VAMPIRELLA ARCHIVES HC VOL 07 (MR)
$49.99
DRAWN & QUARTERLY
MY DIRTY DUMB EYES GN (MR)
$22.95
PROPERTY HC (MR)
$24.95
DYNAMIC FORCES
DF AMAZING SPIDER-MAN #700 STAN LEE SGN ED
$700.00
DF MY LITTLE PONY FRIENDSHIP IS MAGIC #1 SIX COPY SET
$100.00
DF MY LITTLE PONY FRIENDSHIP IS MAGIC #6 EXC CVR
$10.00
DF MY LITTLE PONY MICRO #3 EXC CVR
$10.00
DF TEENAGE MUTANT NINJA TURTLES #21 EXC CVR
$10.00
EUROTICA
PEANUT BUTTER VOL 07 (A)
$11.99
HERMES PRESS
PHANTOM COMP SERIES HC CHARLTON YEARS VOL 02
$49.99
HEY DRUDE PRODUCTIONS
SPACE HUSTLERS GN
$9.95
INKLIT
PATRICIA BRIGGS CRY WOLF GN VOL 02
$24.95
KETTLEDRUMMER BOOKS
ROCKY & HUDSON GAY COWBOYS
$19.95
MOONSTONE
AVENGER ROARING HEART NOVEL HC LTD
$32.95
AVENGER ROARING HEART NOVEL SC
$18.95
RED MENACE NOVEL SC
$6.99
ONI PRESS INC.
SCOTT PILGRIM COLOR HC VOL 03
$24.99
SIXTH GUN #31
$3.99
WASTELAND #45 (MR)
$3.99
OSSM COMICS
XENOGLYPHS #2
$3.99
PAPERCUTZ
NINJAGO GN VOL 07 STONE COLD
$6.99
NINJAGO HC VOL 07 STONE COLD
$10.99
SLOTH PUBLISHING LTD
BOOYAH GN
$7.99
TITAN COMICS
DMC DEVIL MAY CRY VERGIL CHRONICLES #1
$3.99
SOLID STATE TANK GIRL #1
$3.99
VANGUARD PRODUCTIONS
WALLY WOOD EERIE TALES OF CRIME & HORROR DLX SLIPCASED
$69.95
WALLY WOOD EERIE TALES OF CRIME & HORROR HC
$39.95
WALLY WOOD EERIE TALES OF CRIME & HORROR SC
$24.95
VIZ MEDIA LLC
SATURN APARTMENTS TP VOL 07
$12.99
SUNNY HC VOL 01
$22.99
ZENESCOPE ENTERTAINMENT INC
GFT HUNTERS SHADOWLANDS #1 A CVR SPAY (MR)
$2.99
GFT HUNTERS SHADOWLANDS #1 B CVR SIQUEIRA (MR)
$2.99
GFT WEREWOLVES HUNGER #1 A CVR SPAY (MR)
$3.99
GFT WEREWOLVES HUNGER #1 B CVR KROME (MR)
$3.99
And in two weeks…
DARK HORSE COMICS
AMALAS BLADE #2
$3.50
ANGEL & FAITH #22 REBEKAH ISAACS VAR CVR
$2.99
ANGEL & FAITH #22 STEVE MORRIS CVR
$2.99
BPRD VAMPIRE #3
$3.50
DRAGON AGE UNTIL WE SLEEP #3
$3.99
GARY BASEMAN COASTER SET
$9.99
GARY BASEMAN MAGNET SET
$8.99
KING CONAN HOUR O/T DRAGON #1
$3.50
KING CONAN HOUR O/T DRAGON #1 SANJULIAN VAR CVR
$3.50
LAST OF US AMERICAN DREAMS #1 (2ND PTG)
$3.99
LAST OF US AMERICAN DREAMS #2
$3.99
STAR WARS OMNIBUS WILD SPACE TP VOL 01
$24.99
DC COMICS
ABSOLUTE TOP TEN HC
$99.99
ADVENTURES OF SUPERMAN #1
$3.99
ADVENTURES OF SUPERMAN #1 VAR ED
$3.99
BATMAN NOIR EDUARDO RISSO DELUXE ED HC
$24.99
BATMAN THE DARK KNIGHT ANNUAL #1
$4.99
CATWOMAN ANNUAL #1
$4.99
EARTH 2 ANNUAL #1
$4.99
INJUSTICE GODS AMONG US #5
$3.99
JUSTICE LEAGUE OF AMERICA #4
$3.99
JUSTICE LEAGUE OF AMERICA #4 BLACK & WHITE VARIANT ED
$3.99
JUSTICE LEAGUE OF AMERICA #4 COMBO PACK
$4.99
JUSTICE LEAGUE OF AMERICA #4 VAR ED
$3.99
LUCIFER TP VOL 01 (MR)
$29.99
NEW TEEN TITANS OMNIBUS HC VOL 03 (RES)
$75.00
PHANTOM STRANGER TP VOL 01 A STRANGER AMONG US (N52)
$14.99
RED HOOD AND THE OUTLAWS ANNUAL #1
$4.99
SMALLVILLE SEASON 11 SPECIAL #1
$4.99
SUPERBOY TP VOL 02 EXTRACTION (N52)
$14.99
WAKE #1 (MR)
$2.99
WAKE #1 VAR ED (MR)
$2.99
WATCHMEN THE DELUXE ED HC
$39.99
DC COMICS/DC COLLECTIBLES
BATMAN ARKHAM ASYLUM ARMORED BATMAN AF
$22.95
BATMAN ARKHAM ASYLUM HARLEY QUINN AF
$22.95
BATMAN ARKHAM ASYLUM JOKER WITH SCARFACE AF
$22.95
BATMAN ARKHAM ASYLUM POISON IVY AF
$22.95
BATMAN ARKHAM ASYLUM SCARECROW AF
$22.95
BATMAN ARKHAM CITY THE JOKER STATUE
$124.95
GREEN LANTERN 1:1 SCALE POWER BATTERY PROP W RING
$199.95
IDW PUBLISHING
COMICS ABOUT CARTOONISTS HC LTD SKETCH ED
$40.00
CROW SKINNING THE WOLVES TP
$17.99
DEFINITIVE FLASH GORDON & JUNGLE JIM HC VOL 03
$75.00
DOCTOR WHO PRISONERS OF TIME #5 [DIG/P+]
$3.99
GI JOE #4 [DIG/P+]
$3.99
GI JOE FIELD MANUAL SC VOL 02
$19.99
GODZILLA ONGOING #12 [DIG/P+]
$3.99
JERICHO SEASON 4 #3 [DIG/P+]
$3.99
JINNRISE #5 [DIG/P+]
$3.99
KILL SHAKESPEARE TIDE OF BLOOD #4 [DIG/P+]
$3.99
MY LITTLE PONY FRIENDSHIP IS MAGIC #2 4TH PTG
$3.99
STAR TREK CLASSICS TP VOL 04 BEGINNINGS
$19.99
STAR TREK ONGOING #21 AFTER DARKNESS PT 1 [DIG/P+]
$3.99
TARZAN RUSS MANNING NEWSPAPER STRIPS HC VOL 01 1967-1970
$49.99
TMNT CLASSICS TP VOL 05
$19.99
TMNT ONGOING #22
$3.99
TMNT ONGOING HC VOL 01 RED LABEL ED
$100.00
TMNT ULTIMATE COLLECTION HC VOL 02 RED LABEL ED
$100.00
TRANSFORMERS ART OF FALL OF CYBERTRON HC RED LABEL ED
$80.00
TRANSFORMERS IDW COLLECTION HC VOL 02 RED LABEL ED
$100.00
TRANSFORMERS IDW COLLECTION HC VOL 08
$49.99
TRUE BLOOD HC VOL 05 SHAKE FOR ME
$24.99
IMAGE COMICS
CHEW #34 (MR) [DIG]
$2.99
CLONE #7 [DIG]
$2.99
DARKNESS #113 (MR) [DIG]
$2.99
EAST OF WEST #2 2ND PTG
$3.50
ELEPHANTMEN #48 (MR) [DIG]
$3.99
FIVE WEAPONS #4 [DIG]
$3.50
LOST VEGAS #3 10 COPY FRANCAVILLA INCV
$3.50
LOST VEGAS #3 CVR A LEE [DIG]
$3.50
LOST VEGAS #3 CVR B FLEECS
$3.50
MIND THE GAP #10 CVR A ESQUEJO [DIG]
$2.99
MIND THE GAP #10 CVR B OBACK
$2.99
MORNING GLORIES #27 CVR A EISMA (MR) [DIG]
$3.99
MORNING GLORIES #27 CVR B FRISON (MR)
$3.99
MORNING GLORIES #27 CVR C GUILLORY (MR)
$3.99
MORNING GLORIES #27 CVR D MARTINBROUGH (MR)
$3.99
MORNING GLORIES #27 CVR E MCKELVIE (MR)
$3.99
MORNING GLORIES #27 CVR F PITARRA (MR)
$3.99
MORNING GLORIES #27 CVR G RIOS (MR)
$3.99
MORNING GLORIES #27 CVR H WARD (MR)
$3.99
THIEF OF THIEVES #14 (MR) [DIG]
$2.99
WITCHBLADE REBIRTH TP VOL 03 [DIG]
$16.99
MARVEL COMICS
AGE OF ULTRON #5 2ND PTG HITCH VAR
$3.99
ALL NEW X-MEN PREM HC VOL 02 HERE TO STAY
$24.99
AVENGERS COMPLETE COLL BY GEOFF JOHNS TP VOL 01
$29.99
AVENGING SPIDER-MAN #21
$3.99
CAPTAIN AMERICA #7 NOW2
$3.99
CAPTAIN UNIVERSE HERO WHO COULD BE YOU
$7.99
DARK AVENGERS #190
$2.99
DEADPOOL TP VOL 01 DEAD PRESIDENTS NOW
$15.99
DOCTOR STRANGE TP OATH NEW PTG
$19.99
FURY MAX #12 (MR)
$3.99
GAMBIT #13
$2.99
HAWKEYE #9 2ND PTG AJA VAR
$2.99
INDESTRUCTIBLE HULK #8 NOW
$3.99
IRON MAN #258.4
$3.99
MARVEL NOIR TP SPIDER-MAN PUNISHER
$34.99
MONSTERS INC DIGEST TP
$9.99
MORBIUS LIVING VAMPIRE #5 NOW
$2.99
NEW AVENGERS #6 NOW
$3.99
PUNISHER TP ENTER WAR ZONE
$16.99
SAVAGE WOLVERINE #5 JOHNSON VAR NOW
$3.99
SAVAGE WOLVERINE #5 NOW
$3.99
SPIDER-MAN 2099 TP VOL 01 NEW PTG
$24.99
SUPERIOR SPIDER-MAN TP VOL 01 MY OWN WORST ENEMY NOW
$17.99
THOR GOD OF THUNDER PREM HC VOL 01 GOD BUTCHER
$24.99
ULTIMATE COMICS X-MEN BY BRIAN WOOD TP VOL 01
$19.99
UNCANNY X-FORCE #5 MANARA VAR NOW
$3.99
UNCANNY X-FORCE #5 NOW
$3.99
UNCANNY X-MEN #4 2ND PTG BACHALO VAR NOW
$3.99
VENOM #35
$2.99
WOLVERINE AND X-MEN #30
$3.99
X-MEN #1 50TH ANNIVERSARY VAR NOW
$3.99
X-MEN #1 BLANK VAR NOW
$3.99
X-MEN #1 DEADPOOL VAR NOW
$3.99
X-MEN #1 DODSON VAR NOW
$3.99
X-MEN #1 MANARA VAR NOW
$3.99
X-MEN #1 NOW
$3.99
X-MEN #1 YOUNG VAR NOW
$3.99
BONGO COMICS
FUTURAMA COMICS #67
$2.99
SIMPSONS SUMMER SHINDIG #7
$4.99
D. E.
GREEN HORNET LEGACY #37
$3.99
JENNIFER BLOOD FIRST BLOOD #5 (MR)
$3.99
RED SONJA #76
$3.99
SHADOW YEAR ONE #3 CVR A WAGNER
$3.99
SHADOW YEAR ONE #3 CVR B ROSS
$3.99
SHADOW YEAR ONE #3 CVR C SAMNEE
$3.99
SHADOW YEAR ONE #3 CVR D CHAYKIN
$3.99
SHADOW YEAR ONE #3 TORRES SUBSCRIPTION VAR
$3.99
WARLORD OF MARS #25 (MR)
$3.99
ZENESCOPE ENTERTAINMENT INC
GFT REALM KNIGHTS ONE SHOT A CVR REYES (MR)
$5.99
GFT REALM KNIGHTS ONE SHOT B CVR TOLIBAO (MR)
$5.99
GFT REALM KNIGHTS ONE SHOT C CVR QUALANO (MR)
$5.99
GFT WONDERLAND #11 A CVR CUMMINGS (MR)
$2.99
GFT WONDERLAND #11 B CVR BROOMALL (MR)
$2.99