'Ineffable' Trademarked In Neil Gaiman & Sir Terry Pratchett's Names
"Ineffable" means something is so extraordinary or extreme that it cannot be described in words. It gained recent popularity in the book Good Omens by Neil Gaiman and the late Sir Terry Pratchett, especially when adapted by the BBC and Amazon Prime Video. The book and TV show make several references to God's unknowable and "ineffable" plan for them all.
Well, two things happened recently. Firstly the word 'ineffable' was trademarked under the names of Neil Gaiman and the company managing the estate of the late Sir Terry Pratchett, with both US and UK governments. And secondly, the BBC began taking down Etsy listings of people selling products using the word 'ineffable.' Neil Gaiman didn't seem to know anything about it. A couple of years ago, Gaiman had even stated, "I'm glad that the artists and the Etsy folk have made Good Omens things. I just imagine a world in which we had cool things it would take more resources to make. Like a proper little burning Bentley." Though Gaiman did provide some qualifications, saying, "There are people out there selling stuff (like the posters) they didn't create in industrial quantities. And there are cool crafty people making art on eg, Etsy. I hope that the former will be discommoded while the latter will continue to make stuff with love."
Now, remember, this is about the registration and defence of a trademark, not a copyright. A business registers the right to trade under a mark, even if that was a preexisting word. No one can sell books if they call themselves Amazon these days. Or broadband with the word Virgin. Or medicine using the word Boots. And Neil Gaiman seems unaware that an "ineffable" trademark was made in his name and that the BBC is enforcing it. It appears to have been actioned by Dunmanifestin, the company charged with looking after the estate of Sir Terry Pratchett. So, apparently, they have a plan to use that word in commerce. An ineffable plan, one might say.
Gaiman tweeted out that "I'm afraid the BBC owns the merchandising rights to the Good Omens TV series and can do things like this. @terryandrob and I have suggested they do not focus on fans... If we did there would, I like to think, have been a lot more legitimate merchandise than one set of Funko Pops."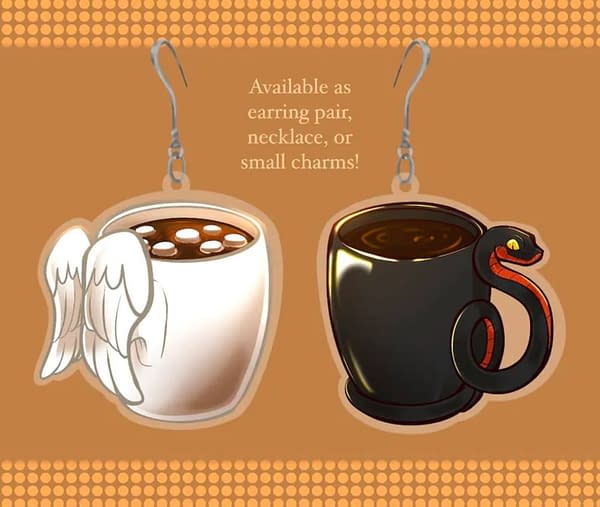 Etsy sellers have repeatedly reported that the BBC has legally challenged anyone selling anything on Etsy using the words Good Omens, Crowley, Aziraphale, or Ineffable, with the #ineffablehusbands getting the brunt of it. I mean, there are still plenty up there, such as these charming earing mug charms, but there are only so many lawyers who can dance on the head of a Pinterest.
Indeed, you could understand a challenge against another TV show calling itself Good Omens. Or even someone with a Good Omens merchandise line, calling itself Good Omens Fluffy Hats, there might be a case to be made. But "Ineffable?" The TV show is not called Ineffable. The second season is not called Good Omens: The Ineffable Years. The only official merchandise so far is from Funko POP, and they don't use the word. No one seems to be making official Ineffable Shirts. Yet.
Neil Gaiman has posted that he is looking into it. Of course, he may be a little busy right now.