Marvel Comics have gone out of their way to remind retailers that Infinity Countdown Prime #1 contains a full 30-page story by Gerry Duggan and Mike Deodato Jr. Apparently some had seen it as a reference comic, a reprint comic, a catch-up comic, or somesuch. This is as opposed to the beginning of the Infinity Countdown story, which will count down to Infinity — hence the name.
It's just that it will then have bonus content on top.
But what Marvel haven't told retailers is that it's basically a Wolverine book. As in Logan, not X-23, Daken, Ultimate Wolverine, or Old Man Logan. I mean, he is an old man; he's been around since the 19th century, but he doesn't look it. Middle-aged Logan.
Logan in the woods. Logan drinking beer. Logan popping claws. Logan hunting deer. Logan fighting foes. Lots and lots of Logan.
Oh, yes, and Loki.
There are lots of other cosmic characters doing cosmic character things as well. And Marvel has issued preview pages featuring some of them.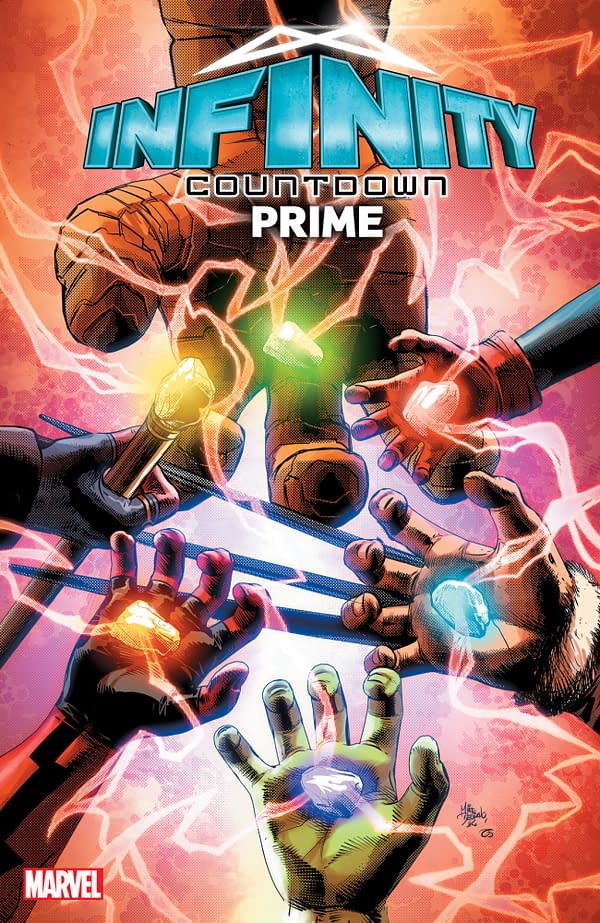 INFINITY COUNTDOWN PRIME #1 LEG
(W) Gerry Duggan (A/CA) Mike Deodato
Contains 30 pages of all-new story from Gerry Duggan and Mike Deodato Jr, with additional bonus content! This brand-new story is the beginning of the saga fans won't want to miss.

The Infinity Stones. Individually, they grant their wielder great power. Together, they grant the power of a god. Newly reformed and scattered throughout the universe, these artifacts allow the ones who claim them their heart's desire. Now, as their locations are discovered, forces converge for a battle that will begin the universe down a dark path to the END. Jump onto this exciting ride that will lead to the biggest Infinity yet! Plus: The saga of the Infinity Stones-what they are and how they came to be! From creation to destruction to re-creation, this prose primer will tell you everything you need to know about the legendary cosmic gems!
Rated T+In Shops: Feb 21, 2018
SRP: $4.99
Just in none of the pages they have shown does it give the impression that the most prominent character in this comic is Logan. And he really is. The cover also shows many hands, but in the comic, one one on most of the pages is the one with claws sticking out.
And probably what all these "Where's Wolverine" appearances in Marvel comic books for the next few months are leading up to. This is your Big Return of Wolverine comic book of 2018, folks.
Enjoyed this article? Share it!