Following his promotion to Senior Editor at Marvel last week, Marvel X-Editor Jordan White chose not to test his claims that he could get Bleeding Cool to publish an article about anything he tweets on a Monday, instead posting the traditional #XMenMonday previews from upcoming X-books, which of course we're also going to make an article out of. Additionally, White took things a step further, posting eight preview images for "big things coming" in 2019, and invited readers to guess where they're from.
And here's some more #XMenMonday teases for 2019! How many can you tell what they're from? pic.twitter.com/OEJkV58EiE

— Jordan D. White (@cracksh0t) January 7, 2019
Several of the previews seem to be from Uncanny X-Men or the upcoming Age of X-Manevent… but that one in the top left of the second tweet looks like it may be from Rob Liefeld's teased huge X-Men crossover (or, we suppose, from Deadpool Badder Blood). In any case, it also looks to be the adult version of Cable who was recently killed during Extermination. Is Liefeld bringing back his second greatest creation? Speculate! Speculate! Speculate!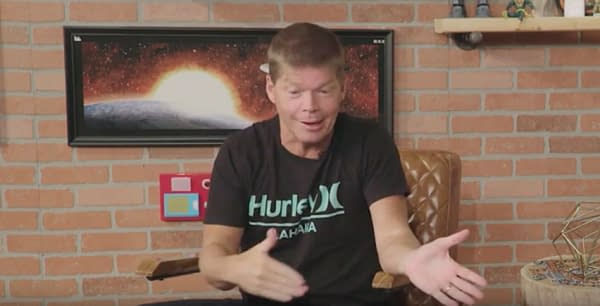 Here's what Liefeld had to say about that crossover back in September:
Here's the deal. Since the X-Men movies came out and Disney didn't have them, I don't know if you've ever paid attention, but Marvel kind of turned the volume down on the X-Men for almost 20 years. Now that they have them more, what was told to me was, 'Oh yeah. Our budgets on the X-Men books are back up to what they used to be because now we own them all.'

I have a new project, 2019, it's a huge X-Men crossover…It's awesome…Marvel called me up last Thanksgiving and said, 'We want you to do a big story.' I said well, let's see if they'll go for this, and I tried to do something no one has done before. So I gave them this pretty aggressive proposal for an event and I can't say what it is, I can't say what it involves, got a lot of new stuff.
So what we saw above could very well be our first look at it!
Check out bigger versions below:
White also said he planned to read old X-Men comics to celebrate the holiday, so for once, someone in the X-offices might know a little bit about continuity.
I might not get through all of it tonight—it's a long one. But There's always another #XMenMonday to keep reading it.

— Jordan D. White (@cracksh0t) January 7, 2019
In addition, #XMenMonday also brought us teases from the Thompson twins, Zac and Kelly.
Here's a single panel preview of AGE OF X-MAN ALPHA for your eyeballs this #XMenMonday. pic.twitter.com/Wa9LNOdGZe

— 👁Zac Thompson👁 (@ZacBeThompson) January 7, 2019
https://twitter.com/79SemiFinalist/status/1082342681093664768
Happy #XMenMonday, everyone! Hope you survive the experience!
Enjoyed this article? Share it!