Jae Lee IndieGoGo-ing Red Sonja #13 Variant Cover
Comic book writer and artist Jae Lee has a new project listed on IndieGoGo, dubbed "Jae Lee's Secret New Project!' stating that the 'Eisner Award-Winning Artist has a VERY Special IndieGoGo campaign coming. Sign up here to be the first to know about it!"
Well, you know how Bleeding Cool likes to get things early. And looking at the HTML code of the page, it reveals "Hellshock artist Jae Lee delivers a stark Red Sonja #13 collectible cover for the new arc!" So basically it's a cover for Red Sonja #13 from Dynamite Entertainment, provided direct through IndieGoGo, with a premium on the price. Oh, and we get a better look at the visual too. You can sign up for when it goes official right here.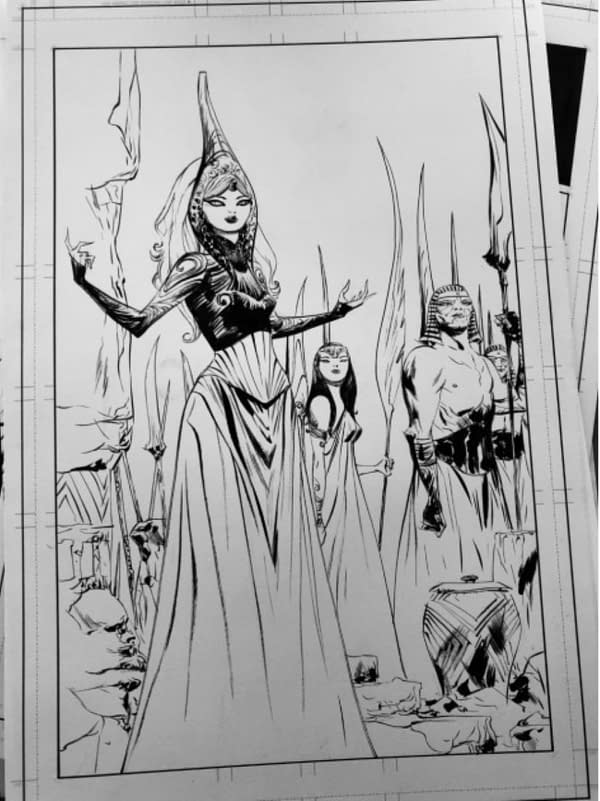 Jae Lee is a Korean American comics artist known for his interior illustration and cover work for various publishers, including Marvel Comics, DC Comics, Image Comics, and Dynamite Entertainment. He first rose to prominence in the industry in 1992 for his work on Marvel's Namor the Sub-Mariner, taking over the art duties from John Byrne. As penciller of X-Factor, Lee was one of the artists of the X-Cutioner's Song storyline which ran throughout the X-Men titles in 1992. The following year, Lee drew the three-issue Youngblood Strikefile for Rob Liefeld's Extreme Studios at Image Comics and the three-issue WildC.A.T.s Trilogy for Jim Lee's WildStorm, another founding Image Comics studio. In 1994, Jae Lee produced a creator-owned Image Comics series, Hellshock, a story about a fallen angel that he wrote and illustrated, which he also rebooted for a bit a decade later.
In 1998, Lee and writer Paul Jenkins crafted an Inhumans limited series, for which they won the 1999 Eisner Award for Best New Series. They later reteamed on The Sentry. Lee and writer Grant Morrison produced the four-issue miniseries Fantastic Four: 1234, which garnered Lee a nomination for a 2002 Eisner Award as Best Cover Artist. In 2003, Lee, writer John Ney Reiber, and Lee's wife, colourist June Chung, produced a Transformers/G.I. Joe six-issue miniseries for Dreamwave Productions, which took place in an alternate World War II setting.
Beginning in 2007, Lee worked with artist Richard Isanove and writers Robin Furth and Peter David on Marvel Comics' The Dark Tower comic series, based on Stephen King's The Dark Tower novels. Lee illustrated the first three miniseries in that series, The Gunslinger Born, The Long Road Home and Treachery. He returned for the fifth book in the series, Battle of Jericho Hill. He also provided cover and interior illustrations for the Donald M. Grant edition of King's eighth Dark Tower novel, The Wind Through the Keyhole. At DC Comics, Lee worked on the Before Watchmen project, drawing the mini-series Ozymandias written by Len Wein. He also illustrated Batman/Superman in 2013–2014 with writer Greg Pak.