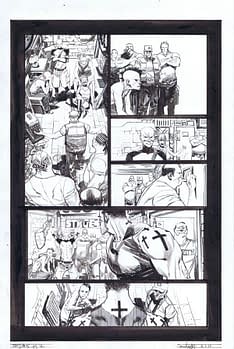 Alex Wilson writes;
I, like many people, collect original art from my favorite comic book artists.
Recently I became aware of a series called Punk Rock Jesus (written and drawn by Sean Murphy) and from the first issue I wanted a page from that book. After reading the fifth issue I logged on to Sean Murphy's website and found a link that brought me to the sale of his art. The company that sells his art is called "Essential Sequential" and pages run from anywhere around $150 to just over $2,000 depending on what page you want.
I found a page that had everything I was looking for, containing Chris (Punk Rock Jesus) and Thomas (his faithful Irish body guard.) The page was $250 and that was about what I was looking to spend so I clicked the "add to cart button" and checked out.
When the page arrived I was greeted with something that I had not expected. At first glance I thought I had been sent the wrong page. The thought of having to go through the ordeal of emailing, calling, and returning swirled through my head. After that initial glance I saw that I had been sent not just the page that I ordered but also another page from Murphy's work.
Added on to the 5th page of the 5th issue of Punk Rock Jesus that I had purchased, Essential Sequential also sent the 3rd page of 4th issue of Outer Orbit as a "Holiday Bonus!" as the invoice read.
I had a chance to chat with Jason Schachter, Murphy's art dealer and agent, and ask a few questions about the art dealing industry, along with what he has planned for his artists and his company in the coming new year.
Alex: What do you look for in artists that you represent?

Jason: One of the great things about the Essential Sequential group is the level of diversity we've been able to achieve. Each artist has his or her own distinct way of drawing or painting. Our artists, and the artwork they produce, represent the best of comics and animation. This is a group of high-caliber talent with a wide-ranging skillset. We've got a little something for everyone – and the happiness of our fans or collectors is something we strive for every day."

Alex: Do you price art or is that up to the artist?

Jason: It all depends. Some artists prefer to price their own work while others allow me to do it (with their final approval of course). Most of time, it's a process we go through together.

Alex: How did you fall into the line of work of comic artist agent?

Jason: It happened almost by accident. I started out as a collector in high school – and I had the high-school budget to match. To continuously improve my collection, I'd buy, sell and trade different pieces and began to understand the many styles, stories and values associated with various pieces. After many years of going to conventions and meeting new people, an artist friend of mine mentioned that he needed some help organizing and marketing his work. I was more than happy to help him in my spare time but when my regular "9 to 5" job ended in 2009, I decided to jump in with both feet, name the group Essential Sequential, and build an actual business out of the side-work I was already enjoying anyway.

Eric Canete was one of the first guys I approached for this new endeavor. As a big fan of his work I couldn't think of a better artist to start with. Thankfully he came on board has been a tremendous influence, advisor and friend ever since."

Alex: Did you always want to work in comic books?

Jason: As far as I can remember, I've wanted to work in the art field– or become a hockey player. Since the NHL never called, working with artists quickly became a very bright alternative. I've always wanted to own a gallery, to showcase my favorite works of art (it's still something I'm working on and will hopefully happen someday soon). During college, I actually worked in an animation gallery and then a comic art gallery closer to home."

Alex: What are you reading right now?

Jason: I'm a little behind! There are just so many great books out there right now that I'm trying to catch up on it all.

Saga
Punk Rock Jesus
American Vampire
Blacksad (I always seem to have that book nearby)
Secret Avengers
I was lucky enough to get the 100 Bullets Deluxe Edition as a gift. So that's about to be cracked open.

Alex: What are you most looking forward to in the coming year?

Jason: We've got a lot coming up in 2013. Andrew Robinson is finishing up the painting of his new graphic album "The Fifth Beatle" which – by the looks of the preview pages – will be simply amazing.

I will be developing and publishing new art books by Fiona Staples, Matteo Scalera and Dave Johnson. We're also doing a behind-the-scenes book by Sean Gordon Murphy featuring Punk Rock Jesus artwork.
Additionally, Essential Sequential has a full 2013 convention schedule. Traveling the world with these guys has been a blast (I consider myself the luckiest fan boy in the world). To watch some of my favorite artists create truly fascinating pieces of art while on the road and surrounded by fans is admirable and inspiring. To help them market the work is even more of an honor. There is a reason the work these guys produce has such a profound effect on our childhoods – and let's face it, our adult years too."
Essentialsequential.com just received an update as well. In Schachter's words, "We'll now be able to accept credit cards, Amazon payments and Paypal. You'll be able to track your packages directly from the site, and you can create gift registries for friends or even buy a gift certificate." The site upgrade will also feature t-shirt lines by artists along with limited prints that will launch in early 2013.
Also, for a limited time (one week), enter the coupon code "bleedingcool" and receive 10% off your purchase.
Enjoyed this article? Share it!