Jeepers Creepers by Marc Andreyko and Kewber Baal, from Dynamite in April
At San Diego Comic-Con last year, Dynamite Entertainment announced a deal to publish a Jeepers Creepers comic book.
We're finding out now that the deal Dynamite signed with MGM to produce comics based on the horror movie Pumpkinhead also gives the New Jersey-based publisher the ability to do comics based on the 2001 horror film Jeepers Creepers. The film starred Gina Philips, Justin Long, Jonathan Breck, and Eileen Brennan and was written and directed by Victor Salva. The film spawned a sequel in 2003 set four days after the events of the first film.
At the time, Dan Wickline reported:
No word on the creative team for the series, but it's likely that the timing of the comics series could coincide with the announced Jeepers Creepers 3 that is in post-production and features the return of Philips and Breck.
Well, that came out in September, with a home release for Christmas, but with no sign of the comic — until now. Instead it looks like it's been scheduled for April, written by Marc Andreyko of Torso, Batwoman and Wonder Woman '77 and drawn by Kewber Baal of the KISS comic book. And if proof were needed, yes, we have artwork.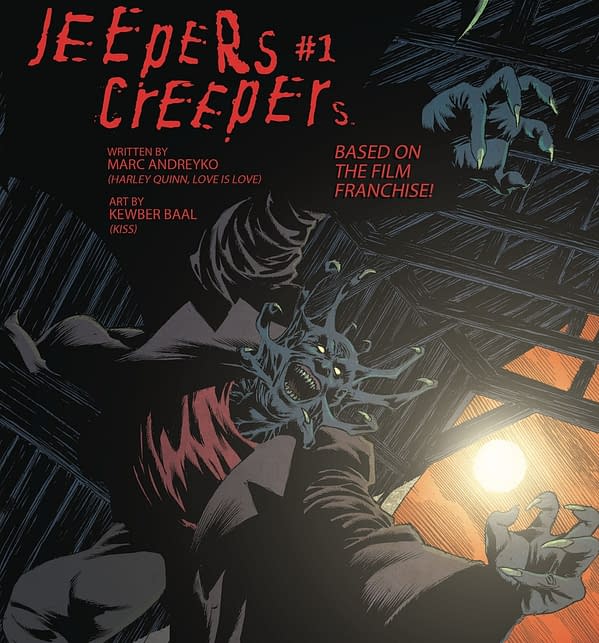 Jeepers Creepers is a 2001 American-German horror film written and directed by Victor Salva. The film takes its name from the 1938 song "Jeepers Creepers" featured in the film. Francis Ford Coppola executive produced. Salva also wrote and directed Jeepers Creepers 2, released in 2003. Again, Coppola executive produced the film. The sequel was followed by Jeepers Creepers 3, which received a limited release in theaters in 2017, 14 years after the second film. Salva wrote and directed the third film, as well, though Francis Ford Coppola did not return to executive produce.