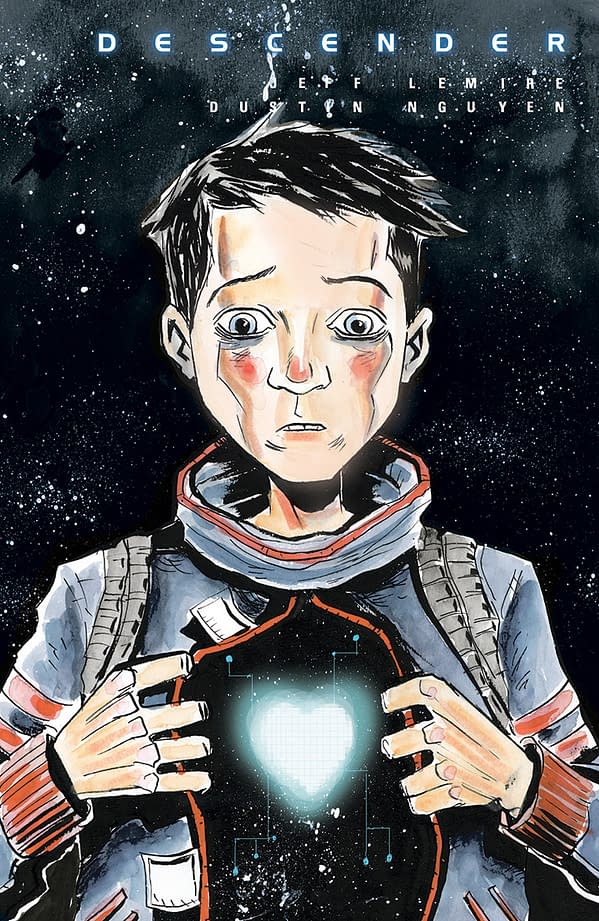 I remember when I laid eyes on the preview for Descender some time ago. I felt so connected to the beautiful artwork and the overall feel of the comic. I couldn't wait to continue that feeling when I picked up the first issue. From Image Comics, Descender #1, written by Jeff Lemire, with art by Dustin Nguyen, is a heartfelt work complete with an in-depth futuristic script, and breathtaking artwork. The story begins on the planet Niyrata, as we experience some background on The United Galactic Council (UGC). We see that the population is currently 5.53 billion. At first, I didn't pay much attention to that number, but it's an important one to remember as you continue reading.
We meet main character Dr. Quon, who is an expert in modern robotics. However, the UGC's recent discover is something that he wasn't prepared for. This leads to an explosive event. Fast forward ten years later, we meet the familiar face, Tim-21, that graces all of the covers of Descender. As a reader, I was surprised when I didn't see him immediately upon turning to the first page because he has been a huge part of the promotion of the book. Anyway, the setting shifts to The Moon of Dirishu-6 where the population is an alarmingly, one. The scenes that feature Tim-21 are incredibly powerful and emotional. We see this young character waking up after being asleep for ten years and now he must figure out where everyone has gone and what has happened. Being able to witness his process in doing so is definitely personally engaging. Dustin Nguyen illustrates detailed facial expressions that elicit a lot of emotion.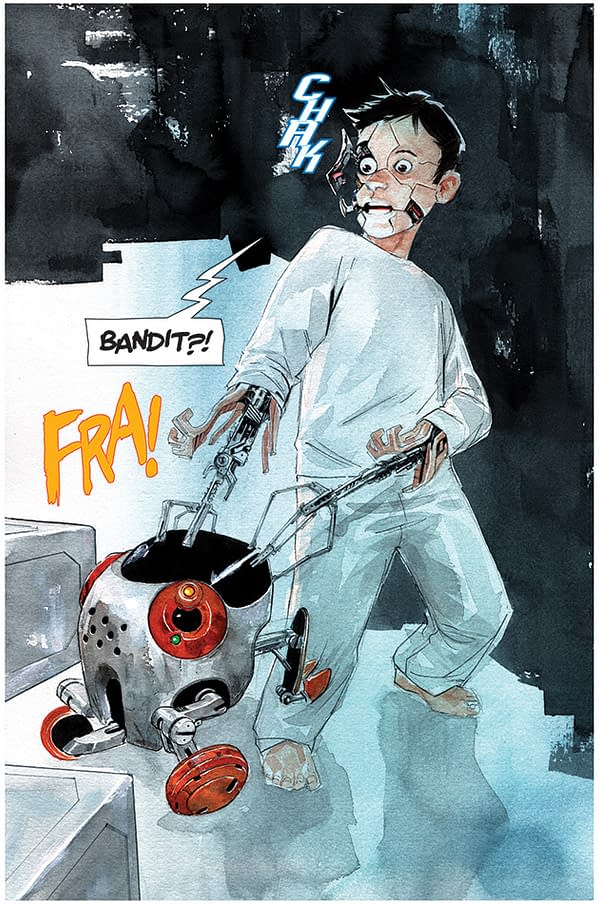 I particularly enjoy the companionship that Tim-21 has with his dog Bandit. It provided me with some comfort as I watched this young boy see the ten years that he missed flash before him on a giant screen. I'm glad that we get to alternate between The Moon of Dirishu-6 with Tim-21, and Dr. Quon in the now changed planet Niyrata. Different perspectives always result in a great reading experience. Overall, I feel absolutely blown away by this book. The world that Jeff Lemire has created is astounding, and when you combine it with Nguyen's alluring watercolor style you realize what a remarkable book this is. Descender #1 truly takes you on a journey that's so gripping, you'll be begging for more.
Christine Marie is a Staff Writer at Bleeding Cool, and bibliomaniac with a love for all things creative. She hopes to one day be a Superhero/Disney Princess/Novelist. You can find her on Twitter and Instagram @AWritersWay or on her blog writerchristinemarie.wordpress.com.
Enjoyed this article? Share it!