Jim Lee Launches New Line of Fashion Backpacks for Comic Book Artists, Collectors
Superstar artist and DC Publisher Jim Lee is branching out into the world of fashion! No, he's not releasing a Nu52 clothing line where everyone has high collars and unnecessary lines on their outfits. But he is teaming up with fashion accessory brand HEX to launch a new line of fashion backpacks. Two backpacks, to be precise, one for comic book artists and one for collectors, both available via Kickstarter.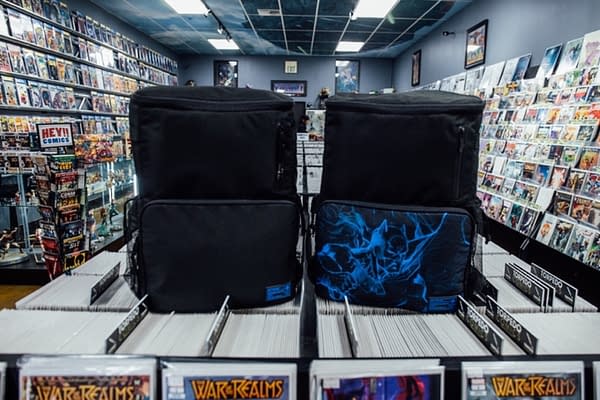 In addition to featuring snazzy touches like batarang zippers and Batman lining, each backpack will be tailored to its specific purpose. For instance, the artist backpack will have a place for portfolios, a waterproof ink pocket, and an art supplies compartment, while the collector's backpack features a locking zipper so nobody can easily steal your comics and a pocket for the Overstreet Price Guide. Yes, technically, you could put all of those things in the pockets of a regular backpack, but is a regular backpack designed by Jim Lee? We think not.
Here's the info on the HEX x Jim Lee Artist Backpack:
The HEX x Jim Lee Artist Backpack was created to allow artists like Jim to carry both art supplies and an art portfolio around safely. The HEX x Jim Lee Comic Collector Backpack was designed specifically for comic convention goers to safely store new and rare comics while travelling.

The Artist Backpack features a removable 11" x 17" portfolio, an art supply organizer including a waterproof section to hold ink and paint, a fleece lined laptop pocket and a padded tablet pocket. The outside of the backpack features a phone and passport pocket and a versatile a mesh side pocket.

While this backpack is focused on functionality, it also carries the unmistakable design signature of Jim Lee. There is a Jim Lee luggage tag and the lining features a subtle nod to Jim Lee's Batman with an electric blue original Batman sketch.

Jim Lee explained that, "the aim was to provide a subtle call out to the origins of the bag without it becoming a Batman bag."

HEX x Jim Lee Artists Backpack Features:

Removable 11" x 17" Artist Portfolio
Art Supply Organizer
Waterproof Ink Pocket
Fleece Lined Laptop Pocket
Padded Tablet Pocket
Mesh Side Pocket
Combo Phone Passport Pocket
Charger Cable Pass Through
Quick Access card/D Pocket
Luggage Pass Through
Custom Jim Lee Luggage Tag
Custom Jim Lee Lining
Water Resistant 400D Twist Dobby Polyester with PU Coating
And the HEX x Jim Lee Collectors Backpack:
The HEX x Jim Lee Collectors Backpack has been created for comic book collectors as a way to safely transport comics. Comic convention goers routinely carry hundreds if not thousands of dollars of comics around in flimsy bags. This backpack provides secure and safe storage for comic book enthusiasts.

Inside the top of the backpack is a file folder with individual sleeves so that multiple bagged and boarded or slab comics can be held securely. Additionally, there's a fleece lined laptop section. It's even possible to lock the top of the files for extra security.

There is an easy access pocket that is the exact size of the Overstreet Price Guide. Plus, there's an expandable mesh pocket on each side to carry poster tubes.

The Collectors Backpack features the same custom Batman lining as the Artists Backpack. There is also a Special Edition version of the Collectors Backpack that extends the Batman artwork to the external pocket. Other unique features include "Batarang" zipper tags.

"These bags have been designed with incredible attention to detail." says Trent Valladares, Co – Founder of Hex. "Jim Lee has put an extraordinary amount of thought into the designs, so each bag is the best in its class without compromise."

HEX x Jim Lee Collectors Backpack Features:

Individual Fleece Lined Comic Carrying Pockets
Padded Laptop Sleeve
Overstreet Price Guide Pocket
Anti-theft Zipper Lock
Poster Tube Holde
Exterior Phone Pocket
Organizer
Custom Jim Lee Batman Lining
Water Resistant 600D Polyester with PU Coating
Limited Edition Only Features
Jim Lee Front Pocket
"Batarang" Zipper Pulls
If you want one, you'll have to head to Kickstarter. The Collectors backpack starts at $120 and the Artists backpack starts at $240.