Fizz One Cola Revealed as Jimmy Palmiotti and Dave Johnson's Pop Kill
Last week Bleeding Cool ran a look at a bunch of comic creators teasing re-made Pepsi ads from the mid-twentieth century, for Fizz Cola, a fictitious cola brand. Well, it has now all been revealed. Pop Kill is a new sex crime-noir graphic novel from Jimmy Palmiotti, Dave Johnson (writers), Juan Santacruz (artist), Brian Reber (colourist), Sean Konot (letterer) and John J Hill (designer). It is launching on Kickstarter today and intended to launch next month, May 2020.
"Imagine a world where the two dominant and competing Cola companies, each worth billions, are owned by former Siamese twins who are now separated and have grown to hate each other so much they hire assassins, saboteurs, and espionage personnel to meddle with each other on a daily basis. This is the story about brotherly love run afoul, and the people they enlist to do their dirty work."
"Meet the beautiful DINA DELUX, a scientist in the Fizz division at POPSO COLA. She's on the verge of creating a formula that will make soda 50% fizzier, keeping it carbonated longer than any other brand on the market. A breakthrough like this would put all the competition out of business in a heartbeat."
"When Popso's main rival FIZZ ONE COLA hear the rumors about the discovery, they activate their best man, JON PYLE, an oversexed mercenary, to take care of the situation. His orders are to convince Dina to switch sides, and if that fails, to eliminate her. However, after they meet the attraction is undeniable and a third option kicks in, one which triggers repercussions from BOTH sides.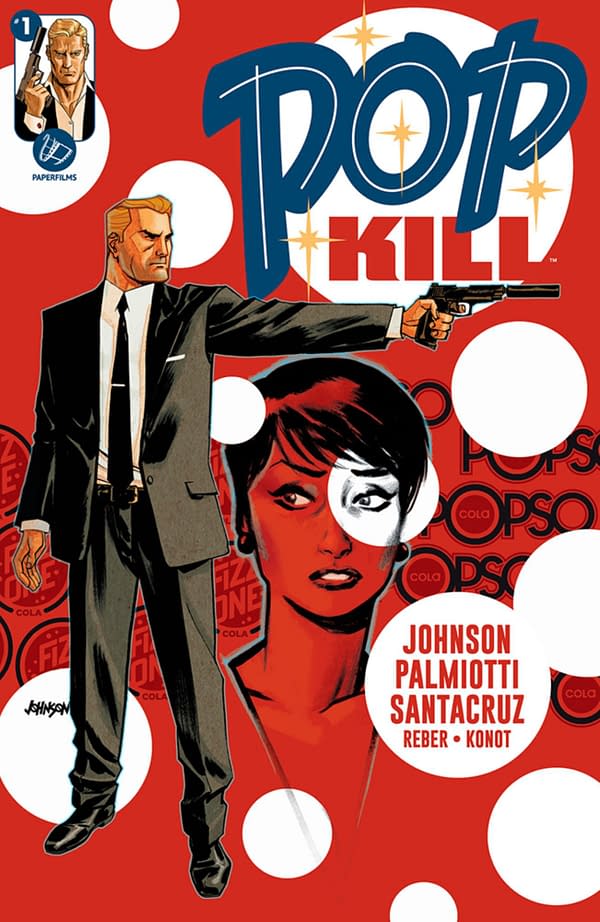 Jimmy Palmiotti and Dave Johnson takes on Pop Kill:
Jimmy Palmiotti on his 13th Kickstarter: I've learned that you can't do these projects half-way or half assed, and you must treat the people supporting your Kickstarters like family. Keep them in the loop of your process, treat them with respect and integrity, and understand they are spending their hard-earned money on your project, so give them the best deal you can, and deliver your promised product on time with 5-star customer service. Unlike a lot of others that give crowdfunding a bad name, I pride myself on my interaction with the supporters and their satisfaction. People need to understand what they are getting into and the responsibility you have to your audience and not take it lightly. These are not easy things to run and deliver, but I love the interaction with the fans.
Dave Johnson on where the idea of POP KILL came from: Not really sure, haha. The idea of what if Coke and Pepsi being wholesome brands, REALLY hating each other to the point of violence just made me laugh. And then there being a 'Fizz Division' sealed the deal for me. The story natural grew from there.
Jimmy on where the idea of POP KILL came from: Dave pitched me the idea about the soda companies and we started building from there, pushing the passion and relationship aspect of the story a bit more. The idea of how greed corrupts people. We started hitting a groove with the characters and kept Going. This is a project that is quite different for me, but in the end, exactly the kind of story we both wanted to see more of in comics.
Dave, on what he finds stressful about his first Kickstarter: The most stressful is worrying about making the goal. A lot of time and effort went into this. With multiple people being involved. But you can only do the work and hope that there's an audience.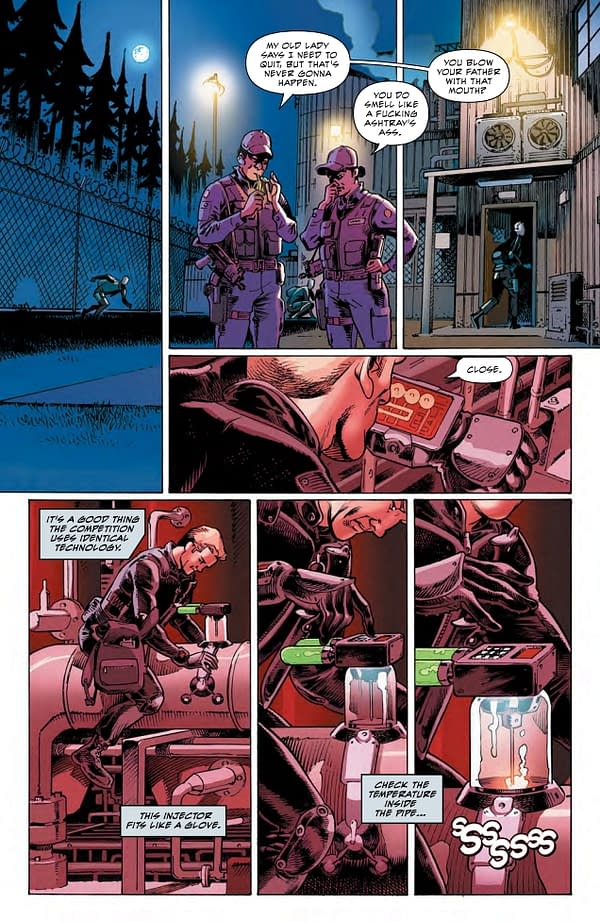 Jimmy, on the new challenges on Pop Kill: Just the usual of getting the story done and finding the right people to do the story. We were lucky to get Juan Santacruz on this. He is one of my favorite go-to guys for illustrating my stories and Pop Kill was the perfect fit for the style we needed to tell this story about two insane brothers and the madness they go through to get at each other. Juan has a real European sense of storytelling where the actual environments the story take place become a character as well. He just did an amazing job on this first issue.
Dave, on the inspiration for the Soda ads he made: The viral ad idea came from seeing work before. Treating a fake product like it's real without any explanation can at the very least get people asking "what the hell is this?". And I think that aspect worked. Now whether or not it gets people to invest in our book remains to be seen. Regardless it was fun to do and I'm thankful that some of my friends in the industry helped me out by sharing it on social media.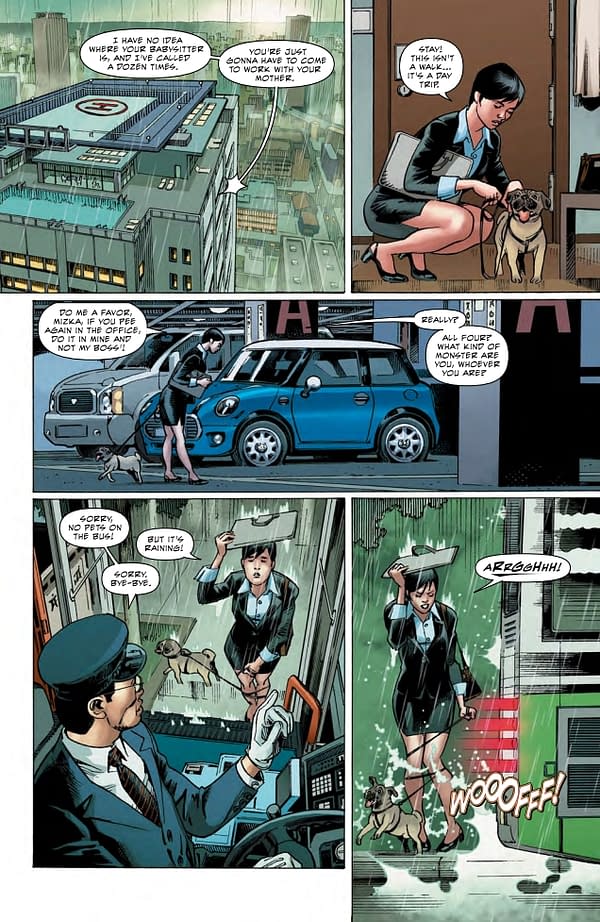 Dave on working with Jimmy: Super smooth. I'm an idea guy. But writing isn't my natural mode of expressing myself. Maybe that'll change someday as I do more, but in the meantime, I really enjoy collaboration. Having another brain to bounce ideas off of can really produce some great stuff. Plus, who wouldn't want to have an excuse to talk to Jimmy more? He's a righteous dude.
Jimmy on the tiers and options of his Kickstarter: The goal is to get the book to as many people as possible, and that is where the digital reward comes in. It is only $5 bucks and we can get this to anyone in any part of the world easily without outrageous shipping costs and delay. The moment the funds are approved at the end of the Kickstarter, the digital reward, which comes with each and every pledge will be in people's mailboxes that day. The other pledge levels are for each kind of collector and focused on what their needs are. Some like the adult Amanda Conner collectors cover, some like the sets, some the single books but in the end, with the physical copies, each will have a signature by me on it and a certificate of authenticity.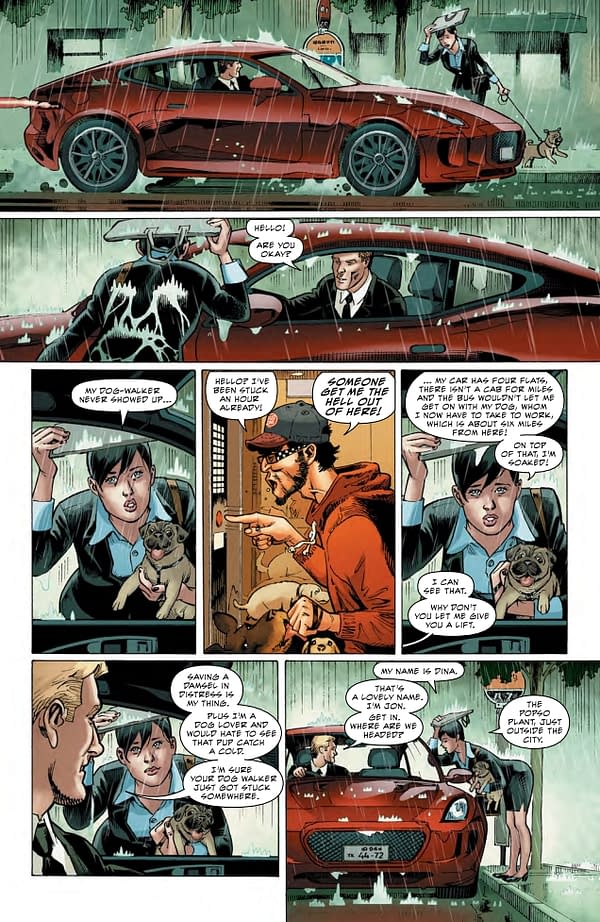 Jimmy, on how his previous projects helped him prepare for Kickstarter projects: It has taught me to understand the needs of the audiences in each and every genre. It also taught me communication skills along the way. My office is in a comic shop so this and having companies before me gave me the bit of insight I need when writing. Experience is applied here.
Jimmy on whether he finds Kickstarter projects liberating: Well, on one level, if things fail, it's all on me and I cannot point fingers at others for lack of push and so on, but in another way, it gives me the freedom to go uncensored. To explore how far I can take a story and subject matter and have no boundaries except the ones I set upon myself. With POP KILL we tried to make a comic book that is fun, weird, sexy and entertaining and I will know within a month with the Kickstarter if we are a success or a failure. That's all part of the excitement of crowdfunding.