Locke And Key/Sandman Crossover Prelude Previewed by Joe Hill
Joe Hill has been talking about his comic book plans on his newsletter this week and there is plenty to share. Especially concerning the Locke & Key/Sandman crossover still planned for later in the year. He confirms that the new story, In Pale Battalions Go, will be a prequel to the crossover. He tells us "Gabriel Rodriguez has already polished off the cover and the first five pages of our new Locke & Key story. "In Pale Battalions Go" is a two-parter and sets up the Locke & Key/Sandman Universe crossover. It's also a key storyline in World War Key 0: The Golden Age, the book Gabe and I put together in spare moments over the last decade (Some of the other Golden Age stories include "Open The Moon" and "Small World")".
But he also talked about reducing his concentration on comic books going forward, as Locke & Key, World War Key, the Hill House imprint and Dying Is Easy all collide. "I'm just going to script one comic at a time and it's only half of my daily writing. I've got a novel to work on (and it's sizzlin'!). I've promised the book the other half of my work day"
"With all that in mind, Locke & Key is my only comic project between now and the end of June, moving from "Pale Battalions" straight into the Sandman Crossover. After that, I've made promises to D.C. to work on this other thing in July and August. And then in September Gabe and I are going to tackle an original that we've been discussing since at least 2012. That ought to be enough to scratch my comic book itch, while still allowing the novel plenty of breathing room."
Here's a glimpse that we got from the recent Book Con online event wth Joe Hill, Gabriel Rodriguez and Chris Ryall.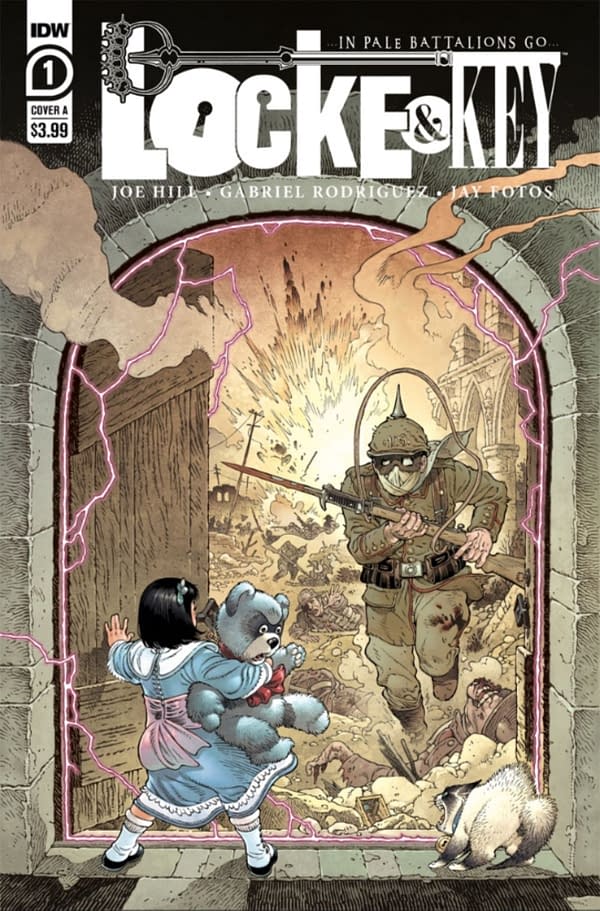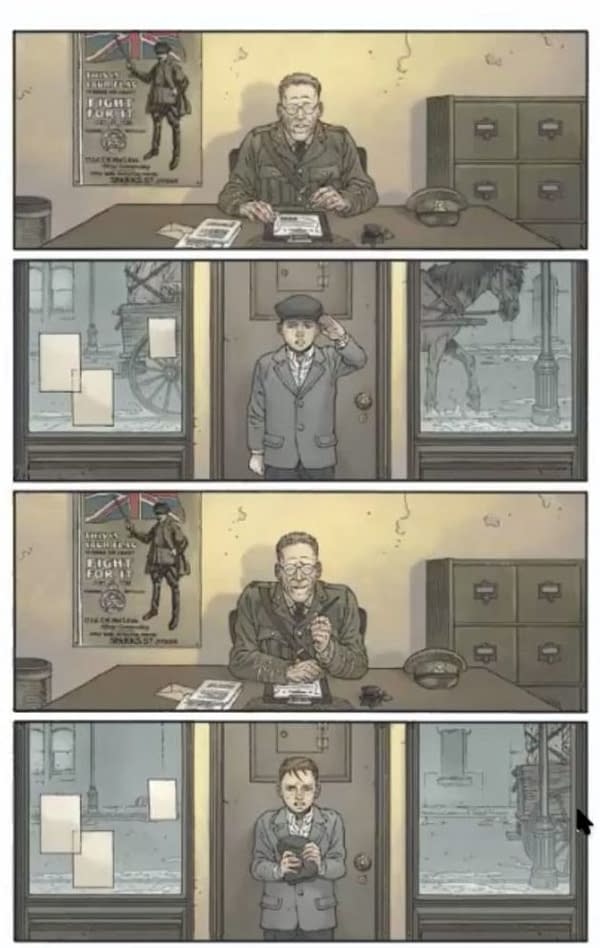 A recruiting office in Toronto in Canada in April of 1916
Jonathan Locke: Sir?
Colonel Q: Are you the kids from the deli? I suppose you want sandwich orders, eh? What's that one you do with the corned beef and tart pickles? That was a humdinger.
Jonathan Locke: No sir no. I'm here to enlist. I'd like to kill some Germans, sir.
Colonel Q: Don't we all. There isn't a day goes by I don't wish I was disembowelling some poor fellow named Fritz instead of pushing paper. And how old are you bub?
Jonathan Locke: Eight… nineteen, sir.
We also have the inside cover shot from Pale Battalions, a look at the front and back covers of the upcoming Locke & Key Omnibus and a remastered Locke & Key Colouring Book. All to come, someday. Locke & Key: Hell & Gone – A Sandman Universe Crossover Event will be out from IDW and DC in October.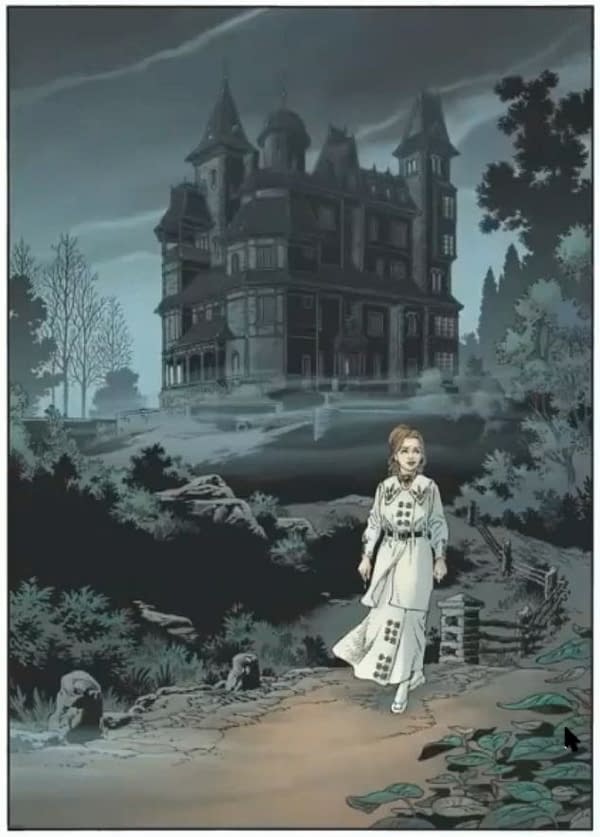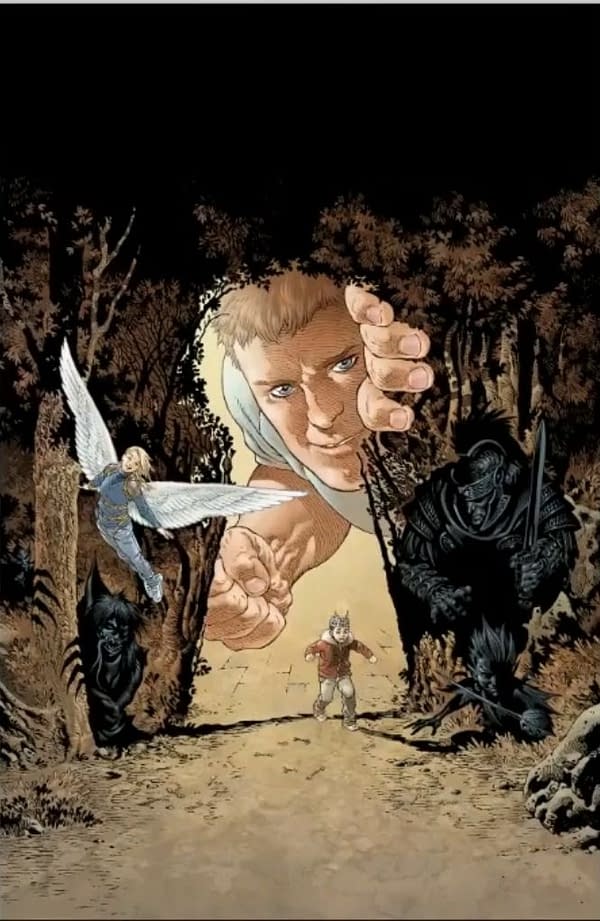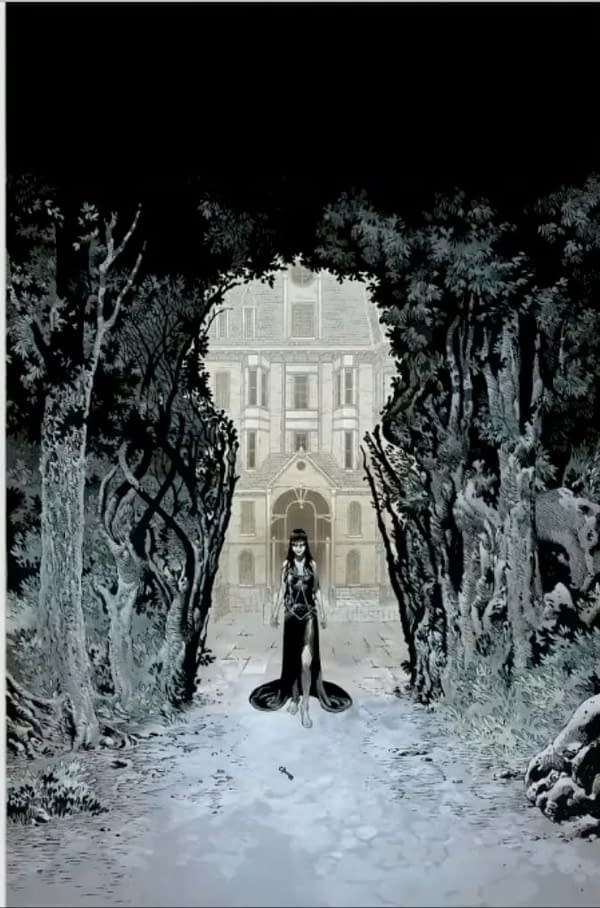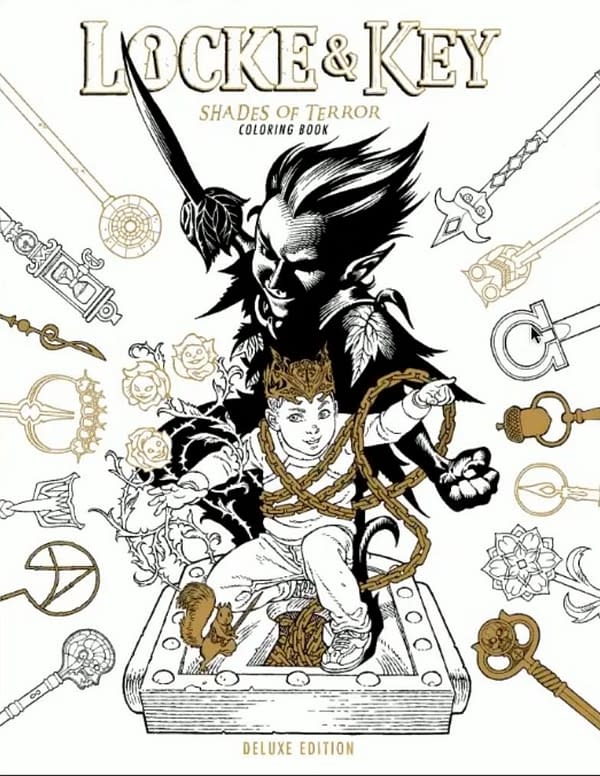 And the teaser image for Sandman/Locke & Key