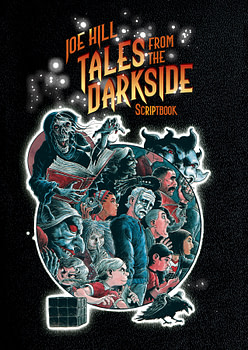 Back in February we told you about a new Tales from the Darkside series from Joe Hill and Garbiel Rodriguez published by IDW. Seems that there was a possible TV revival at the same time spearheaded by Hill. But alas, that series did not happen.
"When I was offered a chance to reinvent Tales from the Darkside, I leapt," said Hill. "This was a landmark show for my generation: our Twilight Zone, our Outer Limits. Right away, I wanted to do something that honored the spirit of the original Darkside… and at the same time I wanted to go bigger, to do something fresh, something with scope. In the end I wrote three scripts and sketched a vision for a whole Darkside universe. I envisioned a series of individual horror stories that would, ultimately, turn out to be connected by a single mythology. I really wanted to do something with the scale of Locke & Key. TV is tough and in the end we didn't quite make it to the little screen. But it's a delight and a thrill to share the scripts alongside Charles Paul Wilson's beautifully sick illustrations. Here's the show that could've been, now playing in your imagination."
So now IDW is taking the scripts Hill wrote for the TV series and combining them with the art of Charles Paul Wilson, his co-creator on Wraith.
The production of the TV revival had gotten a pilot written by HIll and a series order from the CW. It also had Robert Orci and Alex Kurtzman attached. But the new of the series order came out in February of 2015.
Hill is considered one of the new masters of horror and as a writer, I'd love to see his script for the TV series. The additional art by Wilson is a bonus, but getting to see Hill's work directly will be very cool. Tales From The Darkside: Scripts by Joe Hill should hit stores in October.