This morning we pointed out the circumstances that led to John Byrne not being part of Action Comics #1000. But today had the Action Comics #1000 panel at DC Comics. Brian Michael Bendis is following that series with a six-issue weekly series called Man of Steel.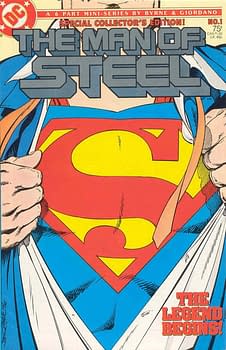 Doing so, he looked back at the original Man of Steel series by John Byrne, noting that his story is very different. However, the naming is a nod to the massive impact that John Byrne made to Superman coming on to the title in the '80s, and that the logo of his version being the same is a tip of the hat as well.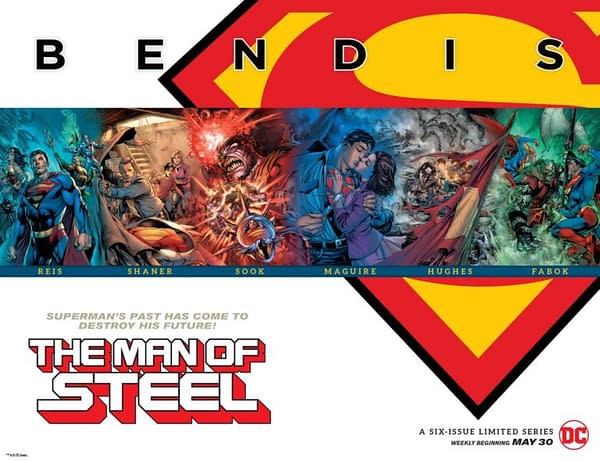 He wants to generate the energy that John Byrne brought to the character and remember what a big deal it was at the time — insane without the internet and even getting the cover of Time Magazine.
Which was all very nice.
Clay Mann asked Tom King why he asked him to draw Superman with a tear in his eye at the end of the world as the sun approaches the Earth. And why wouldn't it evaporate? King answered, enraged, that it he has "Supertears".
Bendis picked up that kind of argument, talking about working in a comic book store in Cleveland, Ohio where fans arguing about how Superman could shave, upset with John Byrne having Superman shave with a mirror reflecting his heat vision. So to shut them up, Bendis agreed to write a letter to John Byrne there and then saying, "Dear John Byrne, what the hell, blah blah blah — give me a real answer, not one of those bullshit DC Marvel answers. If you open up Next Men #8…"
I'll have to go through the collection in the shed tomorrow to find it… or ask on the internet.
I asked on the internet, and Scott Cohn delivered. He a) discovered that Bendis was wrong, it wasn't about Superman at all. There was a similar thing, though, from Next Men, about how Bethany could pull one of her indestructible hairs from her head to use as a cutting tool.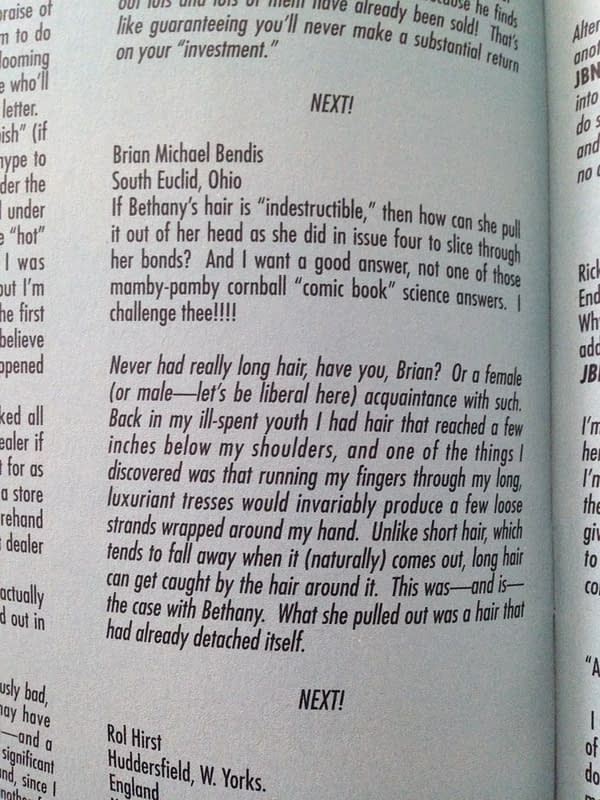 The theme is similar, but the details are very, very different. Maybe like his new Man of Steel? But yes, Byrne did say something shitty back. And I remembered it vividly as well. Just never realised it was Bendis until now. Is this where the feud began?
Moving on, Tom King said that he remembered the comics memoir that Bendis wrote where Bendis was asked how to describe the comics industry to people and his one line was "John Byrne is kinda a jerk."
Bendis denied ever writing a memoir. Fortune of Glory? Total Sell-Out? I'll have to look out for that as well. Can't ask the internet for everything.
Then talking about their definitive Superman artists, Clay Mann mentioned John Byrne.
Jamie Rich turned to Tom King, "Tom, I assume you're not going to say Byrne," to his response, "I was going to say Byrne to make up, but Curt Swan."
Patrick Gleason talked about the trouble about drawing Superman's S on the shield, copying from Byrne's description of two fighting fish, drawing the negative space to get it right every time.
So, it was like John Byrne was there with them. If only DC Comics had called him twice, or given better instructions for calling back…
Enjoyed this article? Share it!