Does Marvel Now Think Hydra Are Nazis, in Today's Powers Of X #2? (Spoilers)
Remember the kerfuffle of Secret Empire at Marvel Comics? In which Hydra rewrote history and reality (or unrewrote it) so that Captain America was a Hydra sleeper agent, became Supreme Commander of Hydra – and of the United States itself, and saw a legal and constitutional takeover of the United States of America by a fascist regime?
It rubbed all sorts of people up the wrong way and marketing for the series was condemned as celebrating fascism – and specifically Nazis. Marvel Comics representatives went out of their way to say that Hydra were fascist but not Nazis – they just worked with the Nazis in the Second World War, a distinction lost by many, especially when, in the midst of all the fuss, Marvel's Agents Of SHIELD went out of their way to state that Hydra were Nazis and not to listen to anyone who said different.
Well, Jonathan Hickman may have been paying attention. And he does like to drop all sorts of bombs on people. So in today's Powers Of X #2, looking across the millennia to a future against the Phalanx, we see a Year One meeting of Moira McTaggert, Charles Xavier and Magneto. With Moira dumping her many lives directly into Magneto's head, as she had with Charles.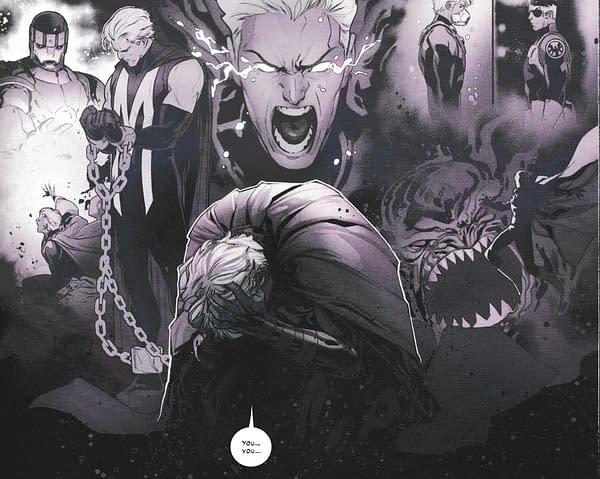 Remember, her doing this is all part of her tenth life, the current Marvel universe timeline, the House Of X. Trying to avoid the conflict between mutants and humanity present in all her previous lives. Which means that all the actions of Moira, Charles and Magneto we have seen, all their thought bubbles we have read, occur after this. Not sure how that works, looking forward to finding out who gets memory erased, or if everyone will be revealed to have been acting out roles in order to get to the right timeline. Or how the Timeline of 90 Years or 990 years in the future is part of that – and we can even see it, given what Destiny told Moira. Is it a Doctor Strange/Avengers Endgame-type event, in which there's only one timeline in billions that work out and Moira is playing for that? Is she still alive a thousand years hence and her death will lead to her final eleventh life and a new reality for all that avoids anything Days Of Future Past-like? And will it all be aimed with the big picture to avoid the Earth and its solar system becoming a source of invasion and succulence for aliens?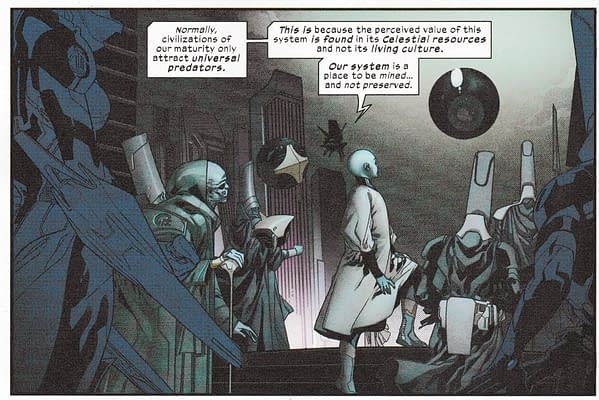 And with Apocalypse now having a big role foreshadowing in Year One Hundred, suggesting what his plans will be in Excalibur, given how he teamed up with Moira in a previous life.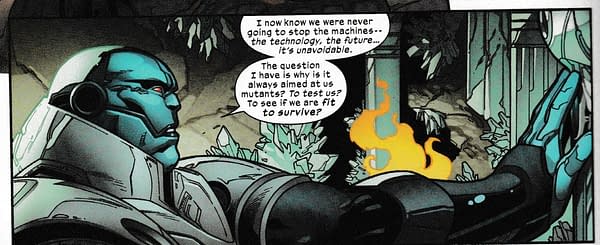 Dunno. But Jonathan Hickman does get to refer to the human resistance to the mutants consisting of former agents of many Marvel bodies joining forces to defend against the mutant threat. And that includes Hydra.
Operation Paperclip being the US policy of recruiting 1,600 German scientists who had worked for the Nazi regime after World War II to work on their own military and space programmes. So maybe Jonathan Hickman sees the Hydra/Nazi parallels more than his bosses do. Or at least Magneto does…
Or course, since there is so much connective tissue these days, I'm just hoping it all ties into what Chip Zdarsky is writing over in today's Invaders, which has Charles Xavier in Year One creating a clear and present danger in Namor now we are in Year Ten…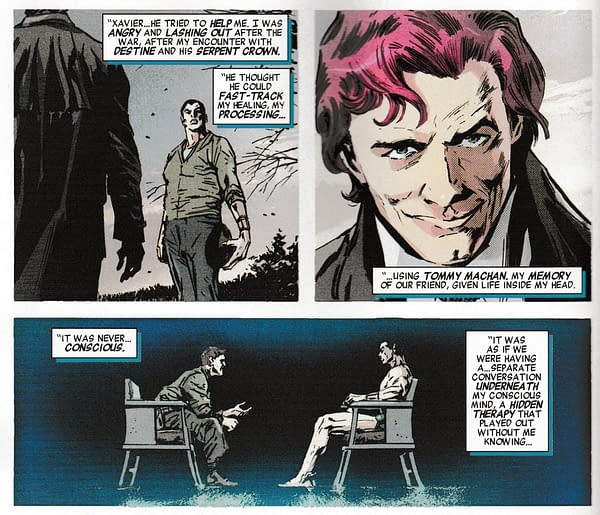 You'd have thought he'd have learned from the various timelines of Jean Grey. What's also scary is that I'm starting to sight-read Krakoan. Here's the THEN: from today's Powers Of X #2…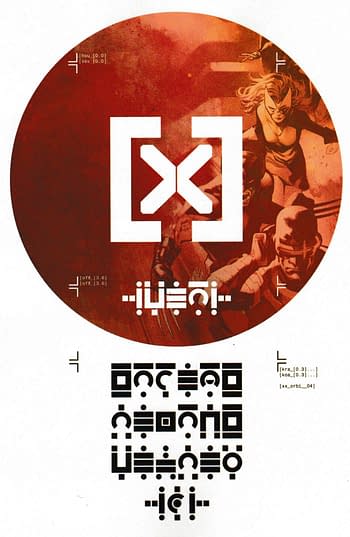 Which reads ONCE MORE BREACH – which presumably means 'once more into the breach, dear friends, once more'… the battle about to commence. Maybe.
POWERS OF X #2 (OF 6)
(W) Jonathan Hickman (A/CA) R. B. Silva
As Xavier sows the seeds of the past, the X-Men's future blossoms into trouble for all mutantdom. Superstar writer Jonathan Hickman (NEW AVENGERS, INFINITY, FF) continues reshaping the X-Men's past, present and future with breakout artist R.B. Silva (UNCANNY X-MEN)!
Rated T+In Shops: Aug 14, 2019
SRP: $4.99

INVADERS #8
(W) Chip Zdarsky (A) Carlos Magno (A/CA) Butch Guice
DEAD IN THE WATER, PART TWO!
How did NAMOR change the world? All is finally revealed here as the WINTER SOLDIER tracks down the world's greatest threat! Meanwhile, the TORCH's life changes FOREVER and CAPTAIN AMERICA deals with the fallout as ROXXON targets ATLANTIS!
Rated T+In Shops: Aug 14, 2019
SRP: $3.99