Jonathan Hickman Says Powers of X and House of X Won't Be Time Travel or Alt-Universe Stories
In July, for better or worse, Jonathan Hickman's House of X (art by Pepe Larraz) and Powers of X (art by R.B. Silva) will kick off a brand new era of X-Men, as the entire X-line is canceled, to be followed up by a new line of books, with Hickman writing the flagship title. But with some of the imagery we've seen so far, some have wondered whether these series will take place in mainstream Marvel continuity. In an interview with Marvel media partner Comic Book Resources, Hickman denied that there are any alternate universe or time travel shenanigans going on here.
Asked about the characters from Mark Brooks' promo art that appeared to feature amalgams of current characters, Hickman would only say:
I will tell you that 'we' are not telling an Alt-Universe story.
And asked about a revived Professor X and characters wearing costumes from different eras, Hickman replied:
I'm not telling a story that deals with time travel.
But that's not all. Hickman also said that House of X and Powers of X will feature extra "data" pages not counted in the previously-revealed page counts:
Anyway, I bring that up because it's what we're doing with House of X and Powers of X. I know for the first issues of both the solicits say 40 pages / $5.99 but that's incorrect. The books are bigger than that because if we can provide good value, then it increases our odds the book will be judged solely on 'is it good?' And that's a challenge we're eager to undertake.

Oh, I should also probably note that we're working with designer Tom Muller on the data pages. Very excited about that. Muller's got some serious game.
Well, for $5.99 each, the comics probably ought to blow us as well. But the extra pages are a good start. Here's betting they contain a lot of charts.
House of X and Powers of X launch in August.
House of X #1
(W) Jonathan Hickman (A/CA) Pepe Larraz
FACE THE FUTURE! Superstar writer Jonathan Hickman (SECRET WARS, AVENGERS, FANTASTIC FOUR) takes the reins of the X-Men universe! Since the release of Uncanny X-Men #1, there have been four seminal moments in the history of the X-Men. Giant-Sized X-Men. X-Men. Age of Apocalypse. New X-Men. Four iconic series that introduced a new era for Marvel's mutants and revolutionized the X-Men. In House of X, Charles Xavier reveals his master plan for mutantkind…one that will bring mutants out of the shadow of mankind and into the light once more.
Rated T+
In Shops: Jul 24, 2019
SRP: $5.99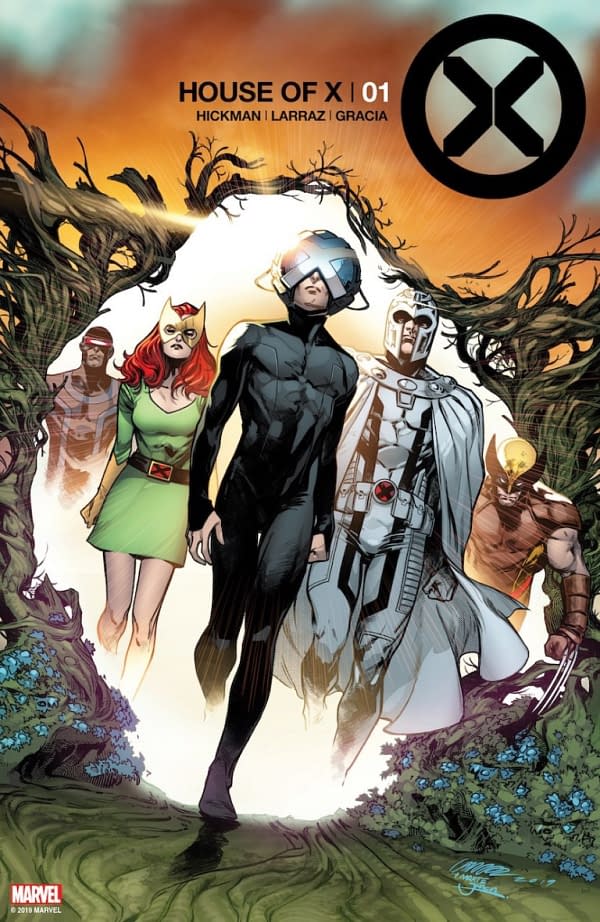 Powers of X #1
(W) Jonathan Hickman (A/CA) R. B. Silva
FEAR THE FUTURE! Superstar writer Jonathan Hickman (INFINTY, NEW AVENGERS, FF) continues his revolutionary new direction for the X-Men. Intertwining with HOUSE OF X, POWERS OF X reveals the secret past, present and future of mutantkind, changing the way you look at every X-Men story before and after. You do not want to miss the next seminal moment in the history of the X-Men!
Rated T+
In Shops: Jul 31, 2019
SRP: $5.99