Justice League of America #23 Review: Long Live the Queen
[rwp-review-recap id="0"]
The Queen of Fables has taken over Happy Harbor and Mount Justice. Caitlin Snow is at her side, and Vixen may be dead. We get a retelling of the Queen's origins and the fate of her sister.
Meanwhile, the Ray and Aztec are chasing down criminals in the City of Vanity. Aztec and Ray's own mother are both convinced that he will return to the Justice League of America soon, but the Ray is more reluctant, even if he comes to understand he may be needed back with the team.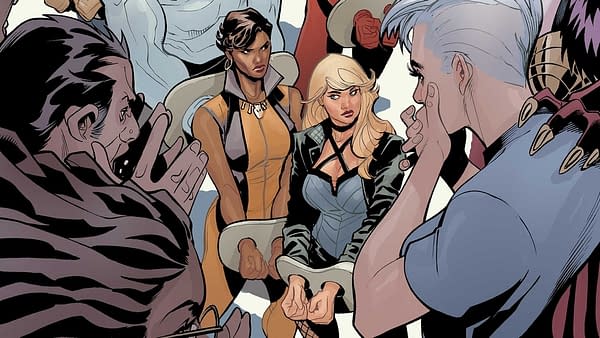 It's a little disappointing to see how impotently Caitlin behaves in this comic. It's understandable to a point; Frost believes that all of the bad can be undone as soon as the Queen of Fables obtains her powers. Plus, Caitlin is still afraid of what her powers would have done to the world. However, much of this comic is Caitlin reacting with horror but doing nothing. That just doesn't feel like Frost.
Also, it's cool to see Aztec. I like Aztec; I don't care that common consensus is that the character was always bad.
The Ray's internal conflicts are interesting given what he's been through with the Justice League of America, and both Ray and Lobo get some cool moments in this issue.
In the end, the Queen of Fables steals the show. She is a great villain. Her grandeur, temper, and moments of sympathy make for a delightful antagonist. You do have to feel for her to a point, and Caitlin's predicament is understandable too in spite of some of my criticisms of her behavior in this comic.
Neil Edwards's art continues to be very good, and he plays with body language expertly in this comic. Aztec's costume update looks great, and the Ray looks awesome, too. The Queen of Fables is given a dominating presence, and the overall comic looks great thanks to he, Daniel Henriques, Andy Owens, and Hi-Fi.
While the pacing and the depiction of Frost does detract this comic somewhat in comparison to the previous issue, Justice League of America #23 is still a good read. The Queen of Fables rocks as an antagonist, and Ray has more than a few moments to shine. This, along with the great art, earns this comic a recommendation. Give it a read.
[rwp-review-ratings id="0"]
[rwp-review-form id="0"]