Kate Leth's First Graphic Novel, Mall Goth, from Simon & Schuster
Three years ago, comic book creator Kate Leth posted on her Patreon "I started babbling on twitter today about my teen years as a mall goth and ended up doodling some of my favourite outfits when I was about 15. I thought I was the HEIGHT of fashion and honestly I'm not sure I was wrong?"
Maybe it began a spark? This week, Publishers Weekly mentioned in one of their rights roundups that Kate Leth's Mall Goth is a new YA graphic novel being published by Simon & Schuster in the spring of 2022. The comic "follows angsty teen goth Liv as she navigates the highs and lows of firsts—first out queer kid at school, first dead-end job as a store mascot, and first love that garners the unwanted attention of her teacher."
Mall Goth was acquired by Liz Kossnar, will be edited by Deeba Zargarpur and Jen Linnan at Linnan Literary Management brokered the deal.
Kate Leth tweeted out, "Oh man, I've wanted to post one of these for a DECADE. I am beyond excited to announce: 𝐌𝐀𝐋𝐋 𝐆𝐎𝐓𝐇 My DEBUT GRAPHIC NOVEL coming at you in 2022." She continued, "YES this is why I've been so busy! YES this is both written and drawn by me! YES it will feature both striped armwarmers and an empathetic look at victims of grooming by predatory adults that will hopefully help young people identify red flags!!! YES IT WILL REFERENCE EVANESCENCE. Extreme thanks to @jenlinnan for believing in this project for the last few years (?!) as we've pitched and prepared. I'm so excited. AAAAH!! There's not much I can share yet, but it's probably okay to post this image from the initial pitch, right?"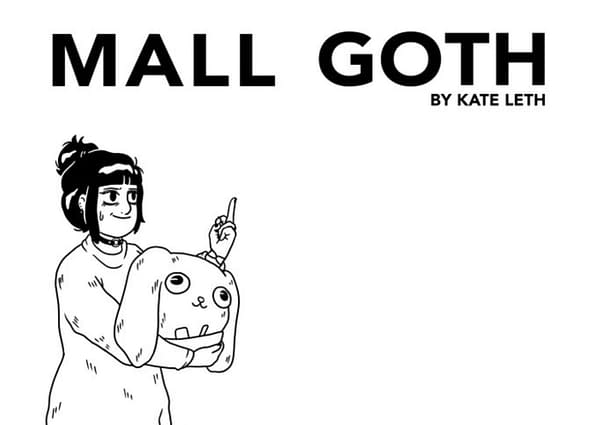 Probably. Kate Leth is a Canadian comic book writer/artist living in Burbank, California, who gained an interest in comics when working at the Strange Adventures comic shop in Halifax. This also led her to organize The Valkyries], a group of women who work in comics stores. She created a webcomic Kate Or Die which was picked up by the news website Comics Alliance and was also picked by Boom Studios to work on their Adventure Time comics. She wrote an original series for Boom, Power Up. She also wrote Edward Scissorhands for IDW, Fraggle Rock for Boom, Vampirella for Dynamite, Patsy Walker, A.K.A. Hellcat! for Marvel and Spell on Wheels at Dark Horse, amongst others. She has also written for TV series including Transformers: Cyberverse, Littlest Pet Shop, Equestria Girls, Craig of the Creek and Bravest Warriors. This will, however, be her first original original graphic novel.