Yesterday, we learned that Kelly Thompson will be the new writer of Deadpool alongside artist Chris Bachalo. But the Mr. and Mrs. X writer still has something to say about the recently-ended series starring everyone's favorite married X-couple, Rogue and Gambit. Specifically, Thompson shared her thoughts with Marvel.com on what she hopes the future of the two characters, and their relationship, will be, going against conventional comics industry wisdom that superhero characters should never get married.
I'd obviously like them to stay together. I don't think married couples (or any couples) in fiction have to be boring. I think that's just a failure of imagination. But especially when you're dealing with Super Heroes who are naturally thrown into so many crazy scenarios – big things are always happening to them – it's fascinating to me to add the beauty and dysfunction of marriage to that tapestry. Independent of that I just hope they do big important amazing things. I love them.
So back off, Mephisto and Joe Quesada… if you aren't the same person! Thompson also revealed that she wished she had more time to spend in the book's final New Orleans story arc, though the oncoming Hickboot didn't leave that option.
If we'd had more time then I would have liked to tell a much more involved New Orleans-focused story. As it was, we only had two issues, so I had to get in and get it out pretty fast. I tried to just do a bunch of fun cool stuff that also really anchored Gambit so it would make it easier for others to pick up on him in a clear and defined character place.
Read the full interview here. The trade paperback of the final volume of Mr. and Mrs. X is in stores today.
MR AND MRS X TP VOL 02 GAMBIT AND ROGUE FOREVER
MAY190970
(W) Kelly Thompson (A) Oscar Bazaldua (CA) Terry Dodson
Can Rogue and Gambit finally relax and enjoy marital bliss? Not likely! Stuck in the Mojoverse, Rogue and Gambit are forced to relive their greatest hits – and moments from their past that they'd rather forget – but this time for the cameras! And when Spiral joins the fray, whose side is she really on? There's a precious object to steal and an army of Mojo's minions to fight off, but can the hottest couple in the Marvel Universe escape their televised nightmare for new adventures back home – or will they be doomed to rerun hell? The Thieves Guild is waiting for the answer – and they're determined to take what's theirs! Don't bet on it! Collecting MR. AND MRS. X #7-12.
Rated T+
In Shops: Aug 14, 2019
SRP: $17.99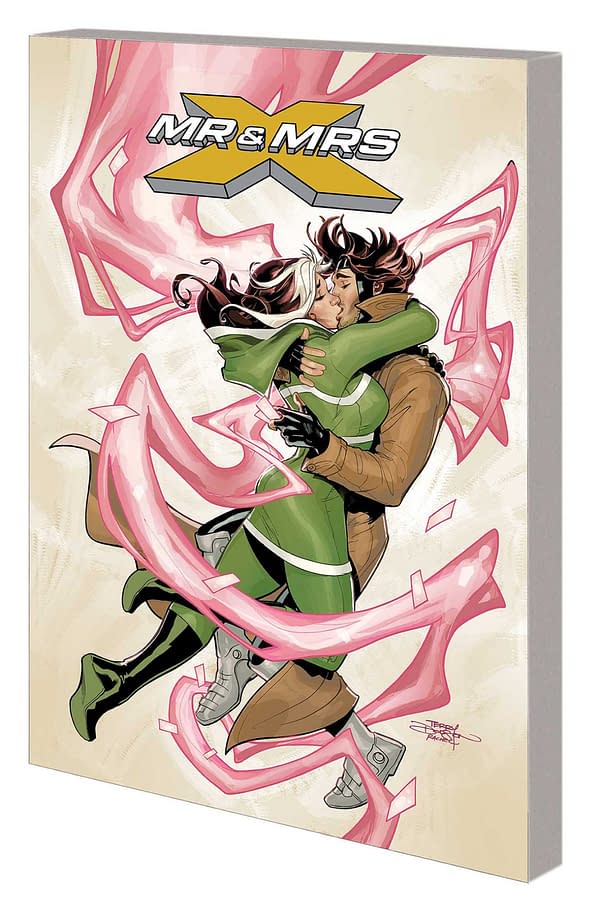 Enjoyed this article? Share it!