Today sees the publication of the final issue of House Of X #6, the penultimate issue of HOXPOX with Powers Of X #6 out in a week's time. And with this issue we start to see more of what Krakoa will be going forward. A nation for mutants, a place apart from the rest of th world, but joined to it politically, culturally and economically but with its own laws.
One of which is suggested by Nightcrawler.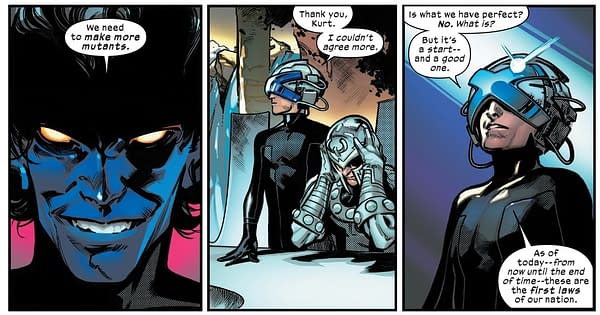 And it gets put into practice.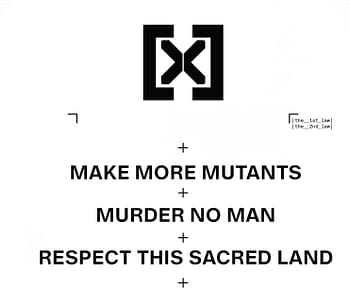 A refutation of No More Mutants from Scarlet Witch, and certainly it ties in with the Professor's plans to revive all the millions of mutants killed in the Genosha holocaust, but also… well. Making mutant babies. Lots of them. Every mutant sperm is sacred, remember. No wonder everyone's smiling. And Wolverine has made a start over in Marvel Comics Presents.
Of course, such a plan may have pragmatic concerns. How do you stop everyone from fighting and start… fornicating instead? Well Wolverine has a plan for that as well.
Beer.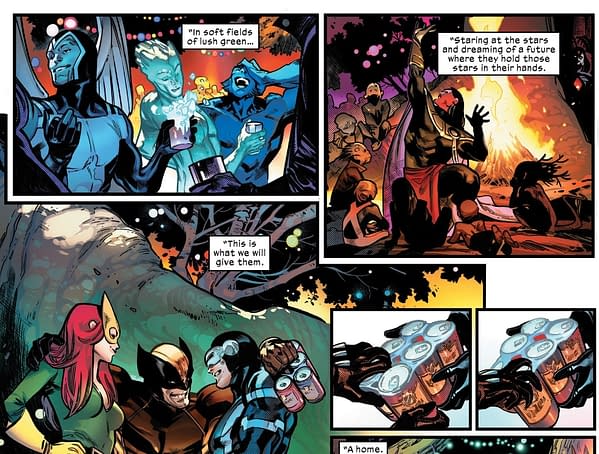 Even a three-some with Logan, Jean and Scott.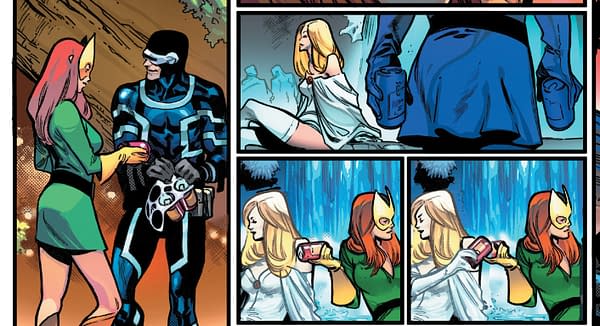 Or maybe Scott, Jean and Emma.
SINISTER SECRET #5: He's the best there is at what he does. She's married with a kid. The husband knows exactly what's going on, but who is he to point the finger? He's up to much the same, and more. Maybe this is just the new normal on the mutant island.
It's a social lubricant for all, it seems. Even for brothers-at-arms.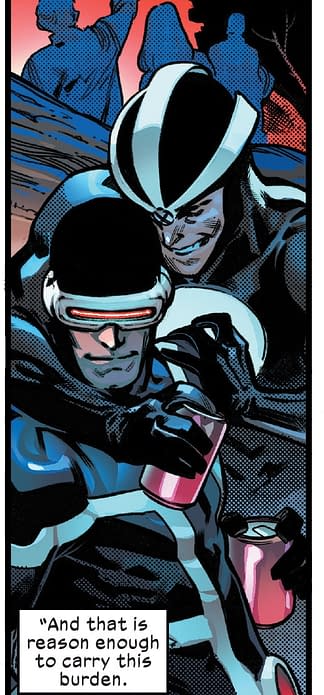 What are the odds it is made with Krakoan hops, yeast and barley? Could these also be children of the corn?

There aren't any alcoholics on Krakoa are there? And no one has any worries about a tanked up Apocalypse, do they?

And which of these places on Krakoa is the best branding for a sex dungeon?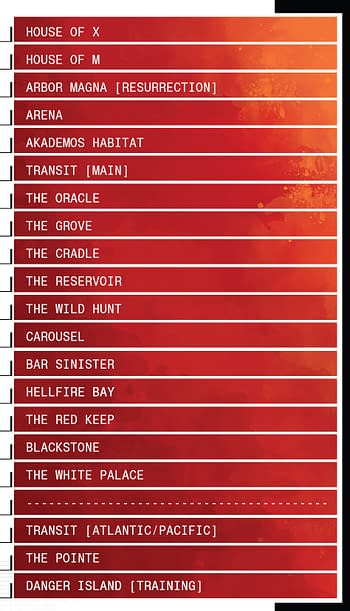 Ooh look, they've got a Danger Island now… and if you think that i am somehow using a dirty mind to see what is not intended by the creators or publisher, I present exhibit A. From back in July.
A group of crows is called a murder.
A group of tigers is called a streak.
A group of mutants is called an orgy.

Final orders for House of X #1 are due today.

— Jonathan Hickman (@JHickman) July 1, 2019
I wonder if X-Men is going to be a little more XXX-Men going forwards? House Of X by Jonathan Hickman and Pepe Larraz concludes today. Powers Of X #6 is published next week.
HOUSE OF X #6 (OF 6)
(W) Jonathan Hickman (A/CA) Pepe Larraz
THE INEVITABLE FUTURE.
The revolutionary tale of Mutantkind's rise comes to a conclusion that will lay the groundwork of the X-Men's stories for years to come! Superstar writer Jonathan Hickman (AVENGERS, FANTASTIC FOUR, SECRET WARS) and Marvel Young Gun artist Pepe Larraz (EXTERMINATION, AVENGERS) wrap the series that changes everything!
Rated T+In Shops: Oct 02, 2019
SRP: $4.99
Enjoyed this article? Share it!