Meet Lee Serrano, a Non-Binary Highschool Character Appearing in Today's Supergirl (Spoilers)
Many superhero comic books run with titles including Man, Boy, Woman, Girl, Lad, Lass, Lady and the like. It seems intrinsic to the genre. We have She-Hulk and Spiderman, Batman and Lightning Lass. While professional titles such as chairman and chairwoman have changed to chair, policemen and policewomen to police officers, firemen and firewomen to firefighters, this was done to equalise the genders within a role. But the X-Men and the Metal Men never went down that road. Superhero comics, referring to individual characters have never felt the need to change the original trademarked branded name, and as a result, have a genderful lineup on the stands.
Which is why it felt interesting that last year DC Comics ran the solicit for Supergirl #19 by Steve Orlando,Vita Ayala and Jamal Campbell, which mentioned that it would introduce a new non-binary character, in a comic book that was actually called Supergirl. It was an interesting choice.
And today we meet Lee Serrano, a character who has interacted with Supergirl during a disaster strike, being interviewed by reporter Ben Rubel, trying to get a better take on Supergirl, in light of resistance to her very existence by some parts of National City.
Which also plays as a parallel to Lee's own life, as a high schooler trying to express their non-binary nature and deal with the reactions of others – and the fear of what that reaction may be. Both at school…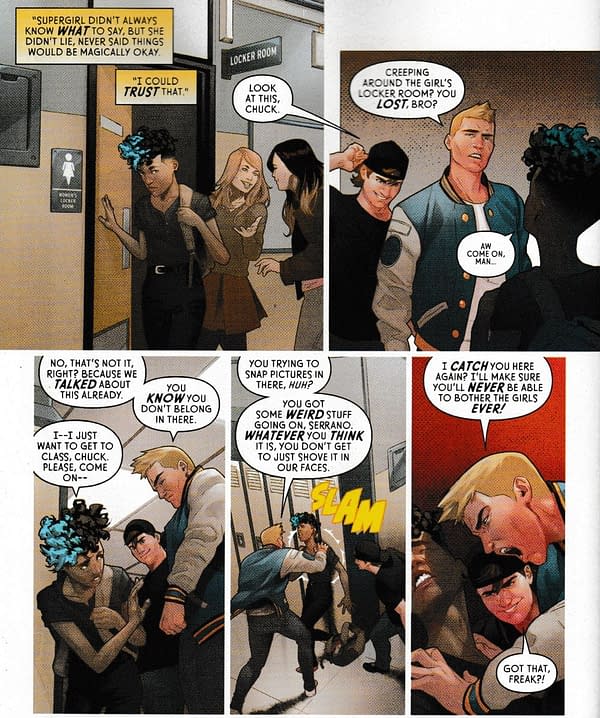 …and at home…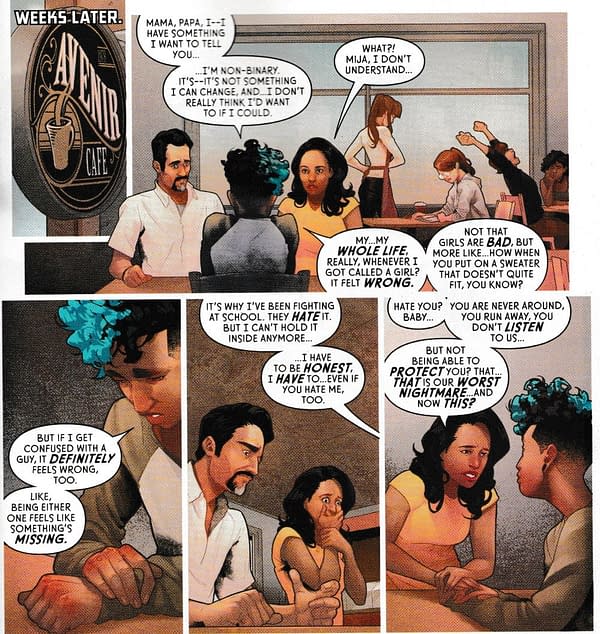 Talking it through, both with parents and Supergirl. And Supergirl… listening.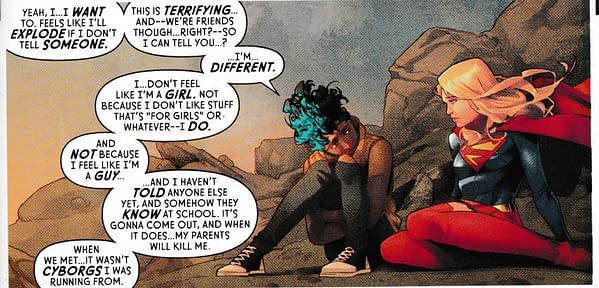 And intervening to prevent violence… but without depowering Lee, indeed, enabling their expression.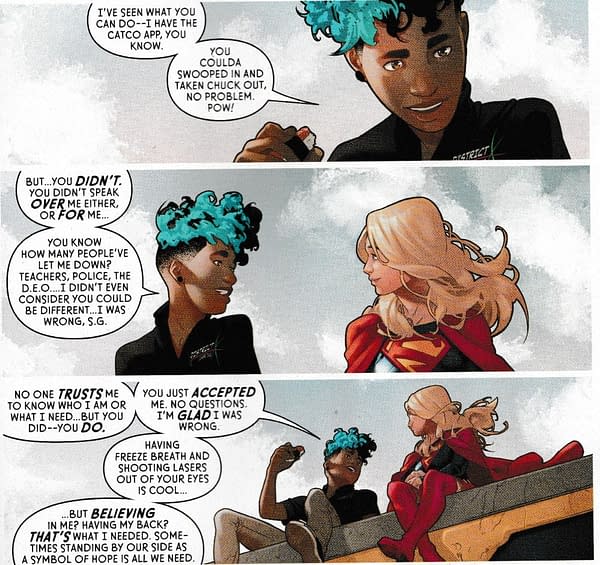 Turns out the emphasis wasn't on girl, but on Super. Yet it's a power that each one of us possesses – if we choose to use it.
SUPERGIRL #19
(W) Steve Orlando, Vita Ayala (A) Jamal Campbell (CA) Jorge Jimenez
In his search to write a CatCo piece on the truth about Supergirl, Ben Rubel interviews a young kid named Lee Serano, who recently became friends with the Girl of Steel. As Lee struggles with their parents and bullies at school for acceptance as non-binary, Supergirl is caught between punching her way through the problem and standing beside Lee as a symbol of hope.In Shops: Mar 14, 2018
SRP: $3.99