Following in the footsteps of other proud symbiotic relationships between publishers and comic book websites such as Avatar Press and Bleeding Cool, Fantagraphics and The Comics Journal, or Marvel and Comic Book Resources, publisher Lion Forge has acquired ComicsBeat.com, colloquially known as The Beat, the longtime home of premiere comics journalist and frenemy of Bleeding Cool Heidi MacDonald. MacDonald, who is so good at comic book journalism that she frequently appears in the Bleeding Cool comments section to helpfully correct our rarely made factual errors, will remain Editor-in-Chief, while David Steward II will become publisher, and the site will fall under the auspices of a newly formed sister company to Lion Forge, Syndicated Comics, LLC. The site sold for $1.5 billion dollars.*
*Correction: it's actually unknown how much the site sold for. In fact, it's referred to as an acquisition and as a strategic partnership, with the terms "bought" or "sold" never used in the press release.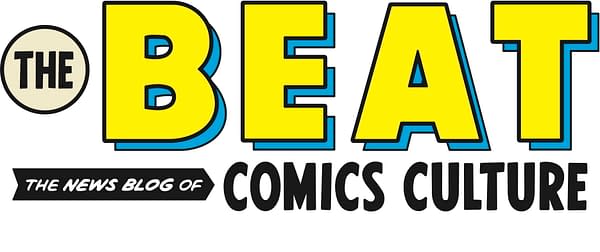 "The Beat has survived many ups and down in both the comics business and the journalism business, and joining Lion Forge is a natural evolution of our mission," said MacDonald in a press release. "The comics medium is more vital, diverse, and groundbreaking than ever, and with the resources we now have, we'll be able to bring these developments to an ever-wider audience. I'm grateful to David Steward and the whole Lion Forge team for their vision in forging this partnership and incredibly excited about what the future holds."
"My personal mission is to see readers all of ages, ethnic backgrounds, sexual orientations, and gender identification reflected in the comics media," added new ComicsBeat publisher David Steward II. "Heidi MacDonald and The Beat have been THE authoritative voice of our industry, presenting insider knowledge in a format that is welcoming to a broad audience. Following the closing down of ComicsAlliance, we all need to work to preserve diverse and inclusive coverage of comics. This partnership furthers my personal desire to see the industry grow and continue to reach new readers."
Here's some more stuff copied from the press release:
Established in 2004, The Beat has been covering the world of comics, graphic novels, comic cons, and pop culture daily to an audience of both fans and industry influencers. It is a two-time nominee for the Will Eisner Award in the Best Comics-Related Periodical/Journalism category and the winner of the Shelf Dorf Award for Best Comics Blog. In 2017, The Beat was added to the Library of Congress's historical archives.
Bleeding Cool would like to congratulate The Beat on joining our exclusive club (one of us, one of us, one of us), and also for not ending up owned by venture capitalists that will shut the site down if the listicles vertical doesn't show adequate quarterly click growth, the other end destination for independent comic book websites. Sure, publisher-owned sites like us have sold out too… but we've done it with integrity.
Seriously though, congratulations to everyone at The Beat.
P.S. Heidi – you forgot to label the news at The Beat an "EXCLUSIVE." There are corporate bean counters to be appeased now, you know.
Enjoyed this article? Share it!