Comics publisher of This Nightmare Kills Fascists, All We Ever Wanted and Kismet, A Wave Blue World has made two senior hires of note. Appointing Lisa Y. Wu as Vice President of Sales and Marketing and Joe Illidge as Editorial Director.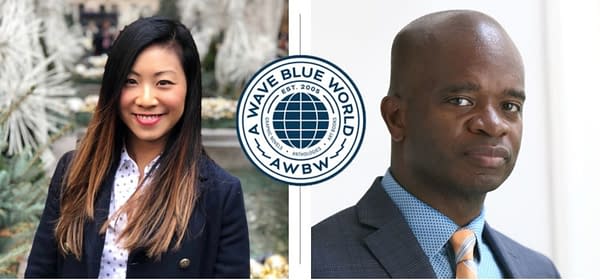 Lisa Y. Wu is best known in comics as Director of Retailer Relations at AfterShock Comics, but also worked in marketing for for Saga Communications and Dave & Busters.
Joe Illidge is well known to comic book folk across decades, for working at Milestone Media, being a Batbooks editor at DC, writing for CBR, having a stint at Archaia, launching the Catalyst Prime Universe at Lion Forge where he was Senior Editor, and jumping to Valiant Entertainment as Executive Editor as the publisher underwent big changes and lost a number of staff, and then leaving in under a year.
Joe states "We're in a renaissance of entertainment! I'm excited to work as a member of A Wave Blue World's team to continue the company's mission, of providing a home where writers and artists create personal and imaginative books that collectively serve as the roadmap for a better world."
"Joe and Lisa have proven themselves as leaders in their respective fields, and they've done it all with a genuine love of comics," said Tyler Chin-Tanner, President/Co-Publisher. "We're lucky to have them work for AWBW as we make the next step forward."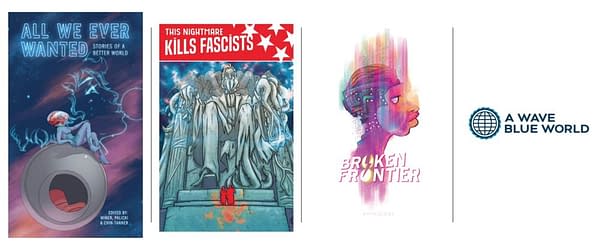 "A Wave Blue World addresses the needs of an evolving market with engaging and resonant stories," Lisa added. "I have enormous respect for the team and look forward to bringing more awareness to a publisher that fits my core values in being a retailer and fan advocate."
"Joe is the kind of person who strives to elevate things to their highest potential, which goes for the projects he works on, others as creators, and ultimately himself. I anticipate him bringing that same drive to AWBW, and I can't wait to see what he does there!" says This Nightmare Kills Fascists contributing artist Vita Ayala.
Steve Orlando says "Working with A Wave Blue World for their Broken Frontier anthology, I saw from start to finish an upstart publisher looking to innovate with impressive, professional content both aggressive and artful. Adding Lisa Wu's own innovation and verve for the comics industry to the team guarantees that content is going to reach more readers than ever before – it's an exciting moment and a great step forward!"
Executive Director/Co-Publisher, Wendy Chin-Tanner states, "Bringing Lisa and Joe on board the AWBW team represents a new era of growth for our company. Their gifts are precisely what we need for marshaling our collective resources towards a future where we can each do what we do best to create visionary comics and graphic novels of exceptional quality and deliver them to new audiences."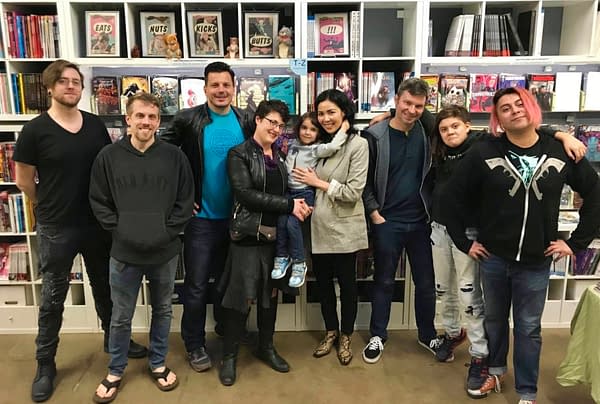 Here's a look at the rest of the crew… from left to right, Eryk Donovan, Robert Ryan, Tyler Chin-Tanner, Katie Proctor, Wendy Chin-Chin Tanner, Justin Zimmerman, Robbi Rodriguez.
And this is what Joe wrote about his post-Valiant future last year:
This is the most exciting time to be in comics!

An industry fueled by grit, imagination, and the need to tell stories has more publishers now than ever before, harnessing the voices of more kinds of creators than ever before, to produce a vast library of stories every week, every month, every year.

Periodicals. Collected volumes. Webcomics. Zines. Digital Comics.

There are no barriers between the consumer and the story that cannot be overcome, no insurmountable obstacle preventing the storyteller from getting their ideas into the world.

We are in the most creatively competitive market of the industry's history, because of the diversity of good stories available.

Comic books are a nucleus for global entertainment and a magnet for companies looking to use the power of personal journeys and myth structure to leave an impression on the world.

At the center of all this possibility, realization of ideas, and life-changing artistic and business endeavors is the Creative Participant.

The people who dare to dream, who face the blank page, the blank screen, and courageously challenge the world with stories.

Stories are created by collaborative communities. Imagination villages. Those who are legion, who avenge, who believe in justice, and ultimately want a better world.

At Milestone Media, we planted a flag on the landscape of comics with the first, truly inclusive superhero universe.

At DC Comics, we brought a new level of variety, quality, and vitality to Gotham City and the world of Batman and his allies.

At Archaia, we fostered the vision of independent creators in ways that were prescient.

At Lion Forge, we created the catalyst for a contemporary vision of heroic drama.

At Valiant, we courageously opened the doors to emerging creators, in order to elevate characters to new heights.

I've been in the hero business for twenty-five years, and it's clear that the best time for comics is ahead of us, so I'm looking forward.

Forward to working with creators to realize unique, crazy, and distinctive visions that run the gamut of genre, style, and format.

Forward to team-building with companies who embrace their power as the caretakers of great and wondrous mythologies.

Forward to using my collective experience and daring ideas to keep pushing the comic book industry in a positive direction.

Forward to being an ally to you, for the better days ahead.

Let's make some great stories.
Enjoyed this article? Share it!