DC April solicitations included a 974 page Lucifer Omnibus Vol 1 paperback for a hundred bucks, scheduled for October 30th. The date hasn't changed – but the nature of the beast has. Someone somewhere decided that a 974-page paperback may be a little much to keep together.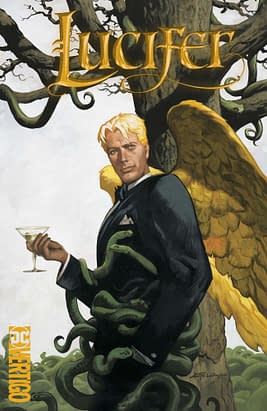 It is now a hardcover, It has at least 26 more pages. But that comes with a buck-a-page additional charge, now priced up at $125. Here is the new solicitation.
LUCIFER OMNIBUS HC VOL 01 (MR)
(W) Mike Carey (A) Peter Gross, Scott Hampton, Others (CA) Christopher Moeller
From the pages of THE SANDMAN, Lucifer Morningstar, the former Lord of Hell, is unexpectedly called back into action when he receives a mission from Heaven. But once he completes his mission, the Prince of Darkness' demand shakes the foundation of Heaven and Hell. Then, the Lightbringer begins work on a New Creation outside the bounds of any authority but his own. And Lucifer must now face the challenge of single combat to the death with his brother, the angel of the Host Amenadiel. This new Omnibus collects THE SANDMAN PRESENTS: LUCIFER #1-3, LUCIFER #1-35 and LUCIFER: NIRVANA #1. In Shops: Oct 30, 2019 Final Orders Due: Jun 24, 2019 SRP: $125.00
In other increases, HITMAN'S GREATEST HITS TP (MAY190489) has increased in price from $19.99 to $29.99 – though no other change to the solicitation.
HITMAN GREATEST HITS TP
(W) Garth Ennis (A) John McCrea (CA) John McCrea
The cult hit from writer Garth Ennis (PREACHER) returns in a brand-new "greatest hits" collection! These tales include the introduction of super-powered gun for hire Tommy Monaghan, his encounters with Superman, Batman and the Justice League of America and more! Includes stories from THE DEMON ANNUAL #2, HITMAN #4-7, #13-14, #34 and JLA/HITMAN #1-2.In Shops: Aug 14, 2019 Final Orders Due: Jun 24, 2019 SRP: $29.99
Enjoyed this article? Share it!