Mark Rahner Talks With Joshua Hale Fialkov About The Latest Devilers
Mark Rahner, writer of the Twilight Zone: Lost Tales one-shot, talks with Joshua Hale Fialkov about The Devilers #4, both on sale Oct. 15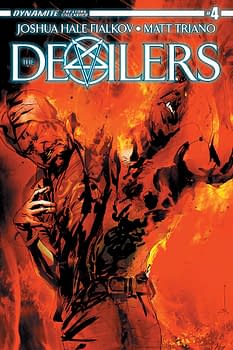 Mark Rahner: I guess a series called "The Existentialists" doesn't sound as exciting. (Still, don't you steal that.) But why's it important to have a skeptic in the mix?
Joshua Hale Fialkov: Part of it was just making sure that all sides were being shown, and, to poke a bit of fun at my own kind, in the atheists. George is all of the worst tendencies of atheists in a lot of ways. But, at the same time, he represents the idea of humanism. That if you act with love it doesn't matter what you believe.
MR: As someone with a background in philosophy, I'm especially curious how the idea for The Devilers came to you.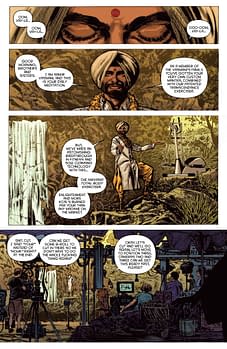 JHF: It started as an idea that the guys at Dynamite were kicking around, and, I think after seeing how I handled morality and heaven and hell in I, Vampire they handed it over. I got to do something I've always loved about movies like The Exorcist and The Omen in that it mythologizes religion, turning it into a fictive universe.
MR: The main character's an Irish priest. Can you explain his power – which is fairly well manifested by this issue?
JHF: Ah, the Demon's Head. Probably my favorite piece of the book is that Malcolm can absorb demons and becomes a sort of super hybrid demon hulk. So, he becomes this powerful, uncontrollable abomination of satanic energy, but, theoretically channeled for good.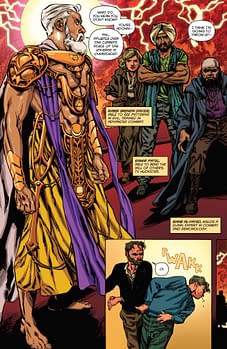 MR: I hear certain people can get just a little upset over depictions of the Prophet Mohammed. So you're putting him in the comic a lot, right?
JHF: He's doing backflips in issue 3, right? Part of what we're doing is trying to not actually be offensive so much as using the religion as a jumping off point for the myth.
MR: What about this issue shows that all bets are off?
JHF: I love issue 4 just because it shows a missing piece of the puzzle that we've been dancing around the whole time. What happens to our 'hero' in this one is going to define the end game that's fastly approaching.
MR: Since it's difficult for me to ask non-spoiler questions about where the series is going, I'll go the Amy Goodman route: Talk about where this series is going.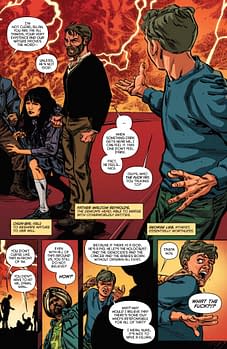 JHF: The apocalypse, of course.
MR: I'm a sucker for anything from Hammer's The Devil Rides Out to The Exorcist to the '90s Brimstone TV series to The Conjuring. Do you have any favorite Satan/demon/possession movies?
JHF: I love Devil Rides Out and To the Devil a Daughter particularly. I'm doing my best channeling of those movies right here.
MR: What else is happening with you as a young mogul with various properties in development?
JHF: Let's see … We've got The Bunker and The Life After from Oni Press kicking along, and Punks from Image which just came out, and the second issue is on its way. And a few more 'seekrit' projects on the way.
For more of The Devilers, click here.