Marvel Announced Many Timeless Projects For 2021 and 2022
Bleeding Cool noted yesterday that there would be some big Marvel Comics news coming today, including for Daredevil with Chip Zdarsky and Marco Checchetto and from Wolverine and X-Force writer Benjamin Percy. And now we have it. Timeless, to celebrate the first publication of Marvel Comics #1 from timely publications 82 years ago today.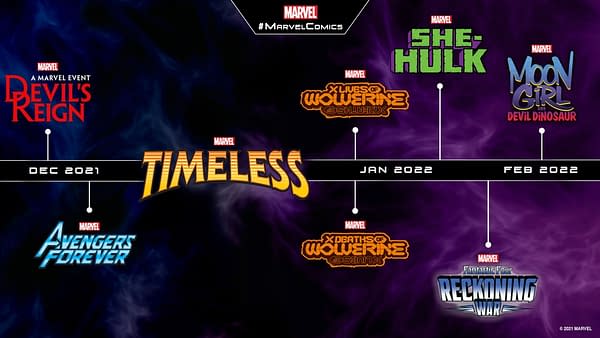 Devil's Reign, the new Daredevil event by Chip Zdarsky and Marco Checchetto following on from the story seen in Spider-Man/Venom Free Comic Book Day in December 2021
Avengers Forever by Jason Aaron and Aaron Kuder in December 2021.
Timeless, a new Kang The Conqueror series by Jed MacKay, Kev Walker, Joe Bennett, and Mark Bagley in December 2021.
X Lives Of Wolverine and X Deaths Of Wolverine by Benjamin Percy, Joshua Cassara and Federico Vicentini in January 2022. And yes, we know just what joke Jude Terror will make which is why I am not making it.
She-Hulk returns in her own title and under that name again, handily considering the TV series is due, in January 2022. By Rainbow Rowell and Roge Antonio.
The Fantastic Four has The Reckoning War in February 2022 by Dan Slott, Carlos Pacheco and Rachael Stott, and Bleeding Cool has run a big break down of that.
And the return of Moon Girl And Devil Dinosaur in February 2022, along with the TV series. Possibly by Lawrence Fishburn.
Today is Marvel Comics' 82nd birthday, since the publication of Marvel Comics #1 from Timely Publications (31st August 1939) and just a few weeks after the 60th anniversary of the publication of Fantastic Four #1 (8th of August, 1961). Wolverine and X-Force writer Benjamin Percy posted "Might be some comics news dropping tomorrow…" could that be the big post-Jonathan Hickman X-Men news? Marco Checchetto tweeted a couple of weeks ago "Make sure to keep your eyes on Marvel's social channels on Tuesday, August 31st as we celebrate Marvel's Birthday by revealing the next chapter of Chip Zdarsky & Marco Checchetto's run on DAREDEVIL along with additional new projects from your favorite creators."
Who knows what else Marvel may have to follow this? Looks like it could be quite a big day for Marvel Comics.