Marvel Comics Announces Upcoming Knull Crossover Event
Last week, Bleeding Cool ran some gossip about upcoming plans from Marvel Comics for 2020/2021. We mentioned that some comic book creative teams had not chosen to be part of the Empyre event, as many were "keeping their powder dry for the Big Knull Super Event, the cosmic sequel to Absolute Carnage led by Donny Cates and Jason Aaron for 2021 which everyone seems to be lining up for."
Today. Marvel Comics published the Empyre Handbook, printed before the shutdown and so still including out-of-date information. Bt that also included this house ad.
Knull is the great god of the symbiotes, the alien creatures that include Venom and Carnage in their numbers. Introduced in Thor, developed in the Venom comic, Knull was behind the great Absolute Carnage event last year. But all that was a tee-up for what is to come – even though it may be a little later than teased today.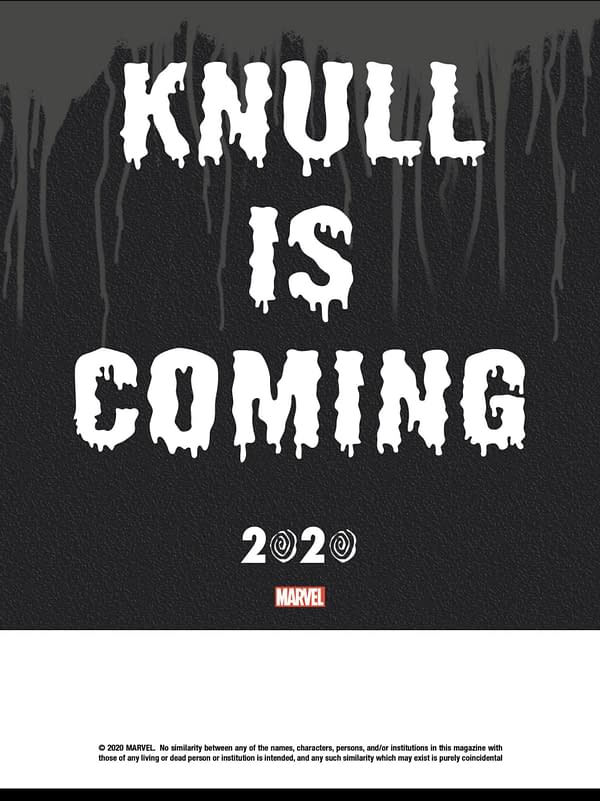 Knull is a primordial deity, created when the First Firmament was shattered into pieces and forced to flee in terror, and was originally content to drift through the endless void of space created by the shattered pieces, until the Celestials arrived and began creating the 7th iteration of the Marvel Universe. Awakened by the "Light of the Creation" and outraged by his kingdom of darkness being despoiled, Knull retaliated by creating All-Black the Necrosword and killing one of the Celestials. Seeing this, the other Celestials banished Knull and the severed head deeper into the Void. He then used the head to forge the symbiote and combined it with the cosmic energies of the head, which would eventually become Knowhere. In doing so, he unintentionally gave the symbiote its weaknesses to sonic attacks and fire. He created a symbiote armor and, with All-Black, started killing the other deities, until he crash-landed on an unnamed planet where Gorr took All-Black and incapacitated Knull. Knull eventually reawakened and discovered he could bond his living abyss to "lesser creatures" and control their new form as vessels. He created an army of symbiotes with himself in the center of the hive mind and uses them to spread over the universe, establishing the Symbiote Imperium and killing the light and creation in the process.
When one dragon-like symbiote composite arrived on medieval Earth to claim the planet as part of the Symbiote Imperium, Thor arrived in aid of the Viking villagers and defeated the dragon, which the villagers called "Grendel", causing the connection between Knull and the symbiote hivemind to break. The symbiotes that were scattered over the universe, now free from Knull's control, began bonding to benevolent hosts and learning about the Light. The Symbiotes rebelled against their god and trapped him inside an artificial planet formed of thousands of symbiotes, which they called Klyntar — "cage" in their language. Thanks to the events of Absolute Carnage, he's out… and coming to Earth.