Speak of the Devil – Is This Marvel Confirming Big Mephisto Plans?
Bleeding Cool has been curious over the place of Mephisto in the upcoming Marvel Universe, with lots of recent appearances in Doctor Strange, Champions, War Of The Realms, Avengers, Deadpool and more.
And suggesting that with Ghost Rider, Helstrom and more coming, there could be more to talk about, especially with an upcoming King Of Hell tease for December.
Well, this new listing seems to seal the deal. A Mephisto trade paperback collecting plenty of his classic appearances.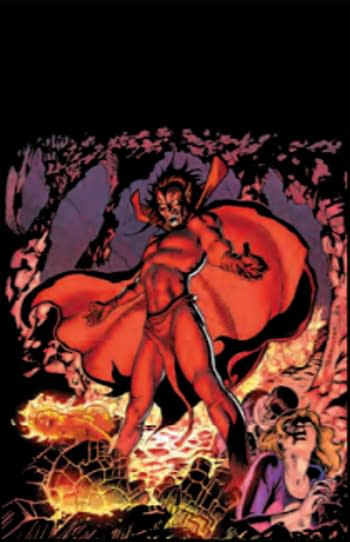 MEPHISTO: SPEAK OF THE DEVIL TPB
Mephisto, lord of the underworld, is the most diabolical entity in the Marvel Universe — and he's put its greatest heroes through hell! Join Mephisto as he claims the Silver Surfer's soul, trades tricks with Loki and Thor, wagers with the Beyonder over Spider-Man and bedevils Daredevil! But what is Mephisto's plan when he targets the Fantastic Four, X-Factor, X-Men and Avengers? Plus, a cosmic clash with Thanos! A tale of torment uniting Doctors Strange and Doom! An unforgettable encounter with Black Panther! And…a date?!
COLLECTING: THOR (1966) 180-181, FANTASTIC FOUR (1961) 276, AMAZING SPIDER-MAN (1963) 274, MEPHISTO VS…. (1987) 1-4, MARVEL GRAPHIC NOVEL: DOCTOR STRANGE AND DOCTOR DOOM – TRIUMPH AND TORMENT (1989) GN, DAREDEVIL (1964) 266, SILVER SURFER (1987) 45, BLACK PANTHER (1998) 4-5, NEW MUTANTS (2009) 37, MATERIAL FROM SILVER SURFER (1968) 3, FANTASTIC FOUR (1961) 277
JOHN BYRNE. TOM DEFALCO. AL MILGROM. ROGER STERN. ANN NOCENTI. JOHN ROMITA JR.. JIM STARLIN. PRIEST. DAN ABNETT & ANDY LANNING ARTISTS: NEAL ADAMS. JOHN BYRNE. RON FRENZ. JOHN BUSCEMA. MIKE MIGNOLA. MARK TEXEIRA. VINCENT EVANS. DAVID LOPEZ & MORE
Published in April, S39.99 Pages 456