Marvel Reprints Facsimile Editions of Pivotal X-Men Issues in July, Ads and All
Marvel has recently announced plans to release facsimile editions of comics such as Howard the Duck #1 and Star Wars #50, amongst other classic comics, and now the X-Men are getting the facsimile edition treatment in July to coincide with Jonathan Hickman's X-Men reboot. Marvel will reprint not one but four classic comics: Giant-Size X-Men #1, New Mutants #98, X-Men #1, and X-Men #137. Each of the comics will be a complete reproduction of the way it was originally released, including with the original ads. Unfortunately, the only thing that's changed is the cover price, with the over-sized Giant-Size X-Men and X-Men #132 selling for $4.99 and the other two going for $3.99.
Check out the solicits below.
GIANT-SIZE X-MEN #1 FACSIMILE EDITION
Written by LEN WEIN with ROY THOMAS,
ARNOLD DRAKE & LINDA FITE
Penciled by DAVE COCKRUM
with WERNER ROTH
Cover by GIL KANE
The issue that changed everything for Marvel's mighty mutants — and introduced the all-new, all-different X-Men! When the original team goes missing in the South Pacific, only Cyclops remains to lead a rescue mission alongside Professor X's new recruits from across the globe! Colossus, Storm, Nightcrawler, Banshee, Thunderbird, Sunfire and — of course — Wolverine are the X-Men's second genesis, heading into action against Krakoa…the island that walks like a man! Can these very different personalities work together to save Jean Grey, Iceman, Angel, Havok and Polaris? From the ashes of the past grow the fires of the future as the X-Men are reinvented for an uncanny new era! It's one of the all-time great Marvel comic books, boldly re-presented in its original form, ads and all! Reprinting GIANT-SIZE X-MEN #1.
64 PGS./Rated T …$4.99
NEW MUTANTS #98 FACSIMILE EDITION
Written by ROB LIEFELD & FABIAN NICIEZA
Penciled by ROB LIEFELD
Cover by ROB LIEFELD
The dynamic debut of Deadpool! It's the beginning of the end for the New Mutants as Cable continues his reinvention of the squad into his own paramilitary force! But their numbers are dwindling — and Rictor's about to be the next member making his exit! Meanwhile, Deadpool makes his entrance — but he's not looking to join. No, he's been hired to kill Cable! With swords, guns, a healing factor and an unstoppable mouth, this merc is set to make a big splash! But who is the new mystery woman riding to the rescue? Cable called, she came: Enter Domino! Prepare for high-octane mutant action from the bombastic 1990s! It's one of the all-time great Marvel comic books, boldly re-presented in its original form, ads and all! Reprinting NEW MUTANTS (1983) #98.
32 PGS./Rated T …$3.99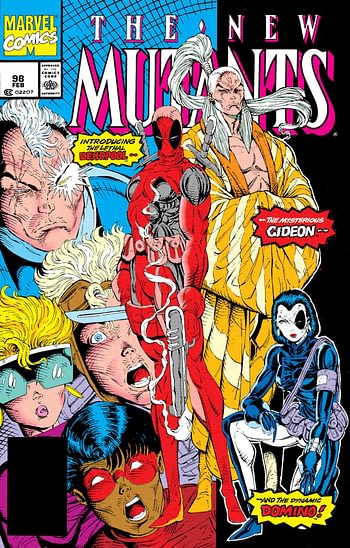 X-MEN #1 FACSIMILE EDITION
Written by STAN LEE
Penciled by JACK KIRBY
Cover by JACK KIRBY
Stan Lee and Jack Kirby introduce the mighty mutants to the Marvel Universe! Training to fight for a world that hates and fears them, they are the Uncanny X-Men! Cyclops! Beast! Iceman! Angel! And their newest recruit, Marvel Girl! Professor Charles Xavier brings together these Children of the Atom to teach them to use their mutant powers to protect mankind — and they're quickly forced into action when Magneto, the Master of Magnetism, strikes! The X-Men are a pop-culture phenomenon, and this is the story that birthed the legend! It's one of the all-time great Marvel comic books, boldly re-presented in its original form, ads and all! Reprinting X-MEN (1963) #1.
32 PGS./All Ages …$3.99
X-MEN #137
FACSIMILE EDITION
Written by CHRIS CLAREMONT
& JOHN BYRNE
Penciled by JOHN BYRNE
Cover by JOHN BYRNE
Jean Grey makes the ultimate sacrifice in the heartbreaking climax of the unforgettable Dark Phoenix Saga! Summoned by the alien Shi'ar to answer for the cosmic crimes of the Phoenix, Jean Grey must stand trial — by combat! The X-Men and the Shi'ar Imperial Guard do battle on the moon to decide Jean's fate! But can she keep her dark side under control? Or will the Dark Phoenix rise against her friends? One of the greatest love stories in all of comics — Jean Grey and Scott Summers — ends in tragedy in an issue that shocked X-Men fans and sent ripples through the entire comics industry! It's one of the all-time great Marvel comic books, boldly re-presented in its original form, ads and all! Reprinting X-MEN (1963) #137.
48 PGS./Rated T …$4.99