Philosophers have long asked the question: if a tree falls in the forest but no one is around to hear it, does it make a sound? But Marvel comics has taken this thought experiment into the modern age of comics, asking: if Marvel publishes an super-mega-crossover event comic but it doesn't inspire 25 variant covers on completely unrelated books, is it truly super or mega at all?
The answer is no, of course, but thankfully, Marvel has ensured the true event status of Absolute Carnage by revealing that "Carnage-ized" variants will be a variant theme throughout the Marvel line in July. In a press release, Marvel revealed that 25 comics will be graced with covers featuring their stars reimagined as a Carnage, naming 19 of the variants in the press release, and showing off 9 of the already-completed covers.
And you get a Carnage! And you get a Carnage! And you get a Carnage!
Will this support from his publisher reassure global entertainment superstar Donny Cates after these now-deleted tweets from last night revealed a fellow comic pro had broken comic pro bro code by trash talking the name of the event?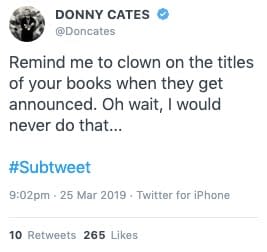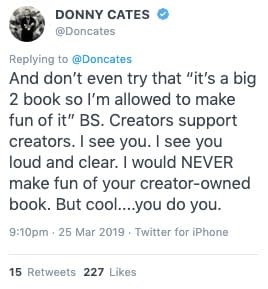 For that, we'll have to wait and see. For now, we'll have to make do with the press release below:
Everyone is a target as ABSOLUTE CARNAGE takes over the Marvel Universe, hooking its symbiote into every hero! To celebrate the release of the epic summer event, Marvel is releasing a series of "Carnage-ized" variant covers that reimagine some of Marvel's iconic heroes as victims of the deadly symbiote!

First revealed at the C2E2 retailer panel this weekend, Marvel is excited to share additional cover art for this variant program, which will consist of 25 covers. Look for the following "Carnage-ized" variant covers on these select books this July, and look for a full list of the remaining variants in the July Previews catalog!

1. AMAZING SPIDER-MAN #25 by TODD NAUCK
2. AVENGERS #22 by JUNGGEUN YOON
3. BLACK CAT #2 by MARK BROOKS
4. BLACK PANTHER #14 by RYAN BROWN
5. CAPTAIN AMERICA #13 by BUTCH GUICE
6. CAPTAIN MARVEL #8 by INHYUK LEE
7. DAREDEVIL #8 by LEE GARBETT
8. DEADPOOL #15 SKOTTIE YOUNG
9. DOCTOR STRANGE #17 by EMA LUPACCHINO
10. FANTASTIC FOUR #12 PATCH ZIRCHER
11. FRIENDLY NEIGHBORHOOD SPIDER-MAN #9 by WOO DAE SHIM
12. GUARDIANS OF THE GALAXY #7 by GUISEPPE CAMUNCOLI
13. IMMORTAL HULK #20 by NICK BRADSHAW
14. SAVAGE AVENGERS #3 by LEINIL YU
15. SPIDER-GWEN: GHOST-SPIDER #10 IBAN COELLO
16. THOR #15 by MIKE MCKONE
17. TONY STARK: IRON MAN #14 PASQUAL FERRY
18. UNCANNY X-MEN #21 by DECLAN SHALVEY
19. VENOM #16 by RON LIM
Enjoyed this article? Share it!