Marvel Two-in-One #6 Review: A Smart Fantastic Four Epic
Our Thing, Human Torch, and Victor von Doom with the Sue Storm and Reed Richards of this other Earth have put together their last and best defense against the approaching Doom/Galactus hybrid of this world. He has consumed the rest of the universe, and this Earth is the last item on the menu. Can what's left of this world's heroes stop this nightmarish fate from coming to pass?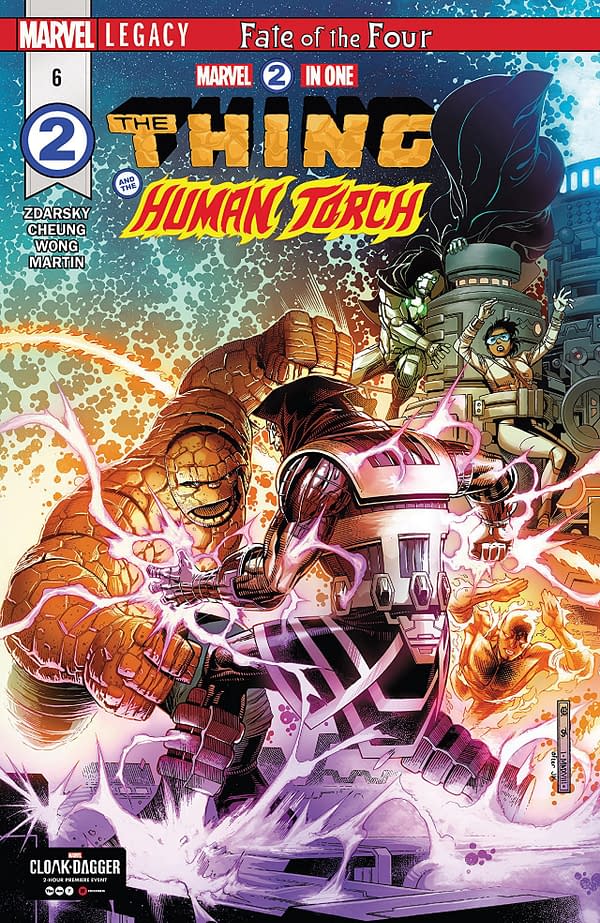 I won't mince words; this comic is awesome. Marvel Two-in-One #6 starts with a simplistically brilliant threat with the Doctor Doom/Galactus attack and just does the coolest things one could think of with it. When a fight starts with Pym Particles being used to grow the Thing to Galactus size for a massive punchout, you know it's going to be a good time.
The comic continues from there with awesome action beats mixed with heart and introspection. This turn of events has left our Victor von Doom, currently the Infamous Iron Man, pondering his own nature. The somber and destitute Reed Richards of this world has an insight into things our Ben and Johnny don't and tries to help them where he can. The comic has a few emotional punches in store for the reader.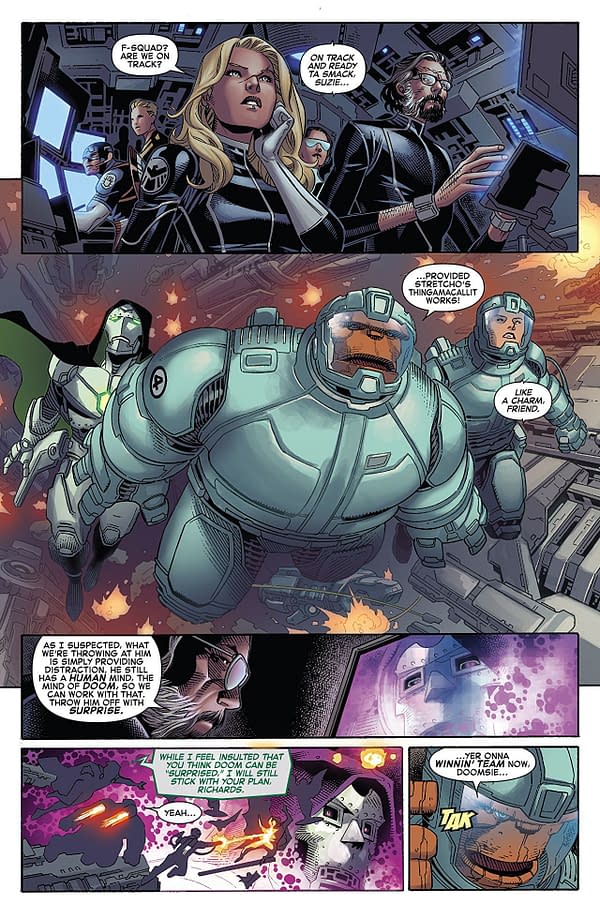 On top of that, we have the return of the ever-excellent Jim Cheung to bring all of this to life. The comic looks as good as it reads, with all these awesome ideas brought to detailed and stylish life for the pleasure of the reader. Walden Wong delivers great inkwork. The color palette delivered by Frank Martin centers around the cosmic purples emitted by Galactus-Doom, and it's balanced well.
Marvel Two-in-One has been able to shatter my cynicism and fly beyond my expectations of the title. This may be the best issue of the series yet, and I was thinking that about the last installment too. This is just a great read, and I hope it's able to maintain this level of quality going forward, even as the Fantastic Four finally returns. Marvel Two-in-One #6 comes highly recommended. Give it a read.