Marvel's C2E2 X-Men Panel – Preview Art for X-Men, X-Force, Wolverine, Cable, Children of the Atom, X-Factor, More
Marvel revealed pages from upcoming X-Men comics at the X-Men panel at C2E2 Friday. We've got photos of the previews and all the other slides Marvel is showing off at the panel (except the newsworthy ones we plan to break out into their own articles). It's almost like you're right there at the show… except with a far lesser chance of contracting the coronavirus from a comic book creator that doesn't wash their hands or cover their mouth when they cough.
First up, some pages from March's X-Men #8, by Jonathan Hickman and Mahmud Asrar, with a cover by Leinil Francis Yu. The Brood will be involved here.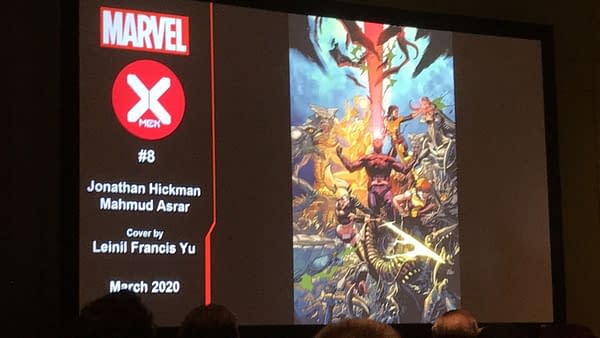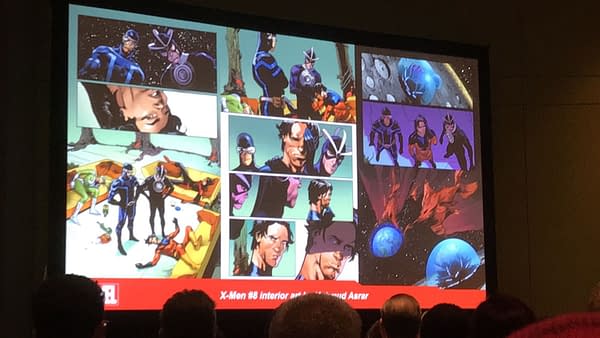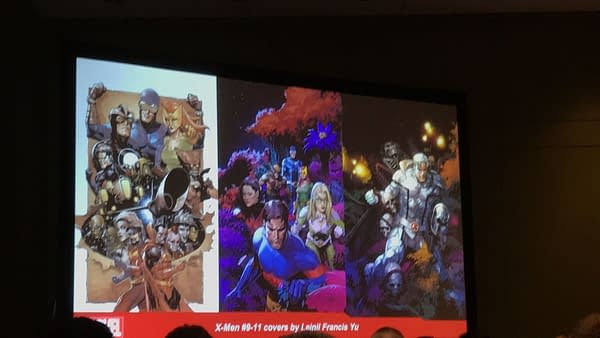 Next, a tease for the previously known Giant-Size X-Men remake: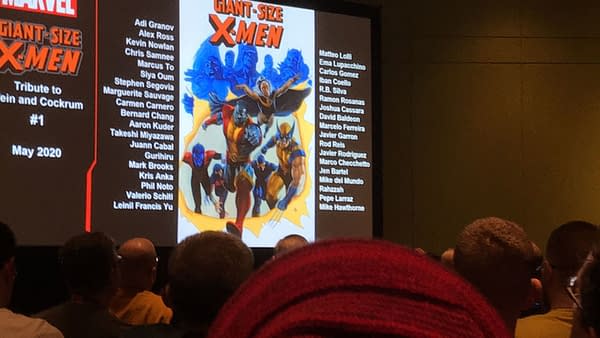 And Marauders #9, by Gerry Duggan and Stefano Caselli, with a cover by Russell Dauterman, with a tease that Forge will join the team.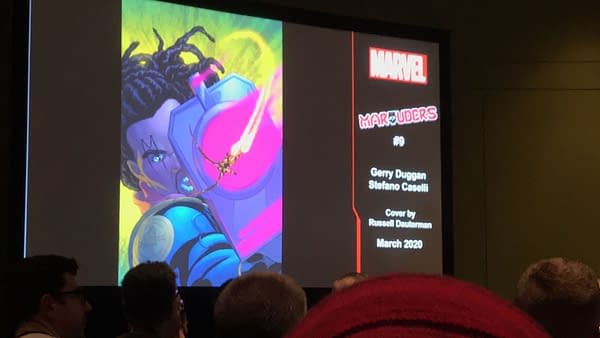 Some Excalibur covers: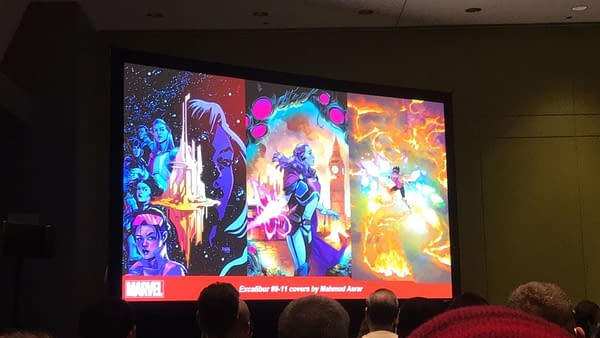 Some art from X-Force #9: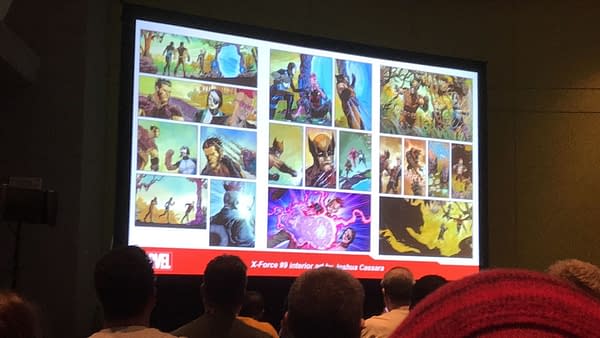 And a cover for June's X-Force #12: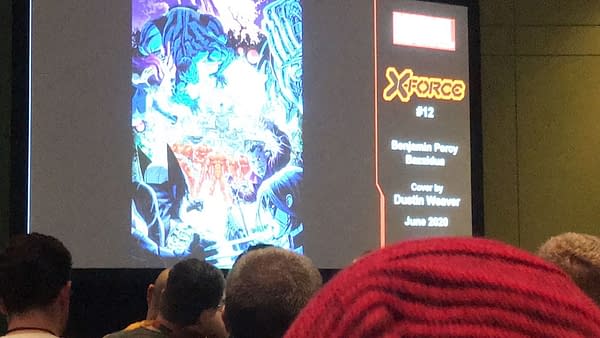 X-Force writer Benjamin Percy also talked about Wolverine, but didn't say anything about his dicks. The cover-up continues! He did say the Wolverine ongoing will switch between a few issues of the drug crime story and a few issues of vampire stuff, with artists Adam Kubert and Viktor Bogdanovic switching back and forth. Here's some art from Wolverine #4: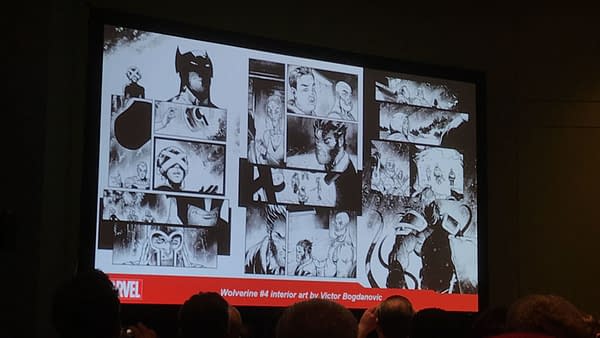 When Gerry Duggan talked Cable, he mentioned the Space Knights (of ROM fame) will be joining the book, along with some other surprises. Here's some Phil Noto preview art: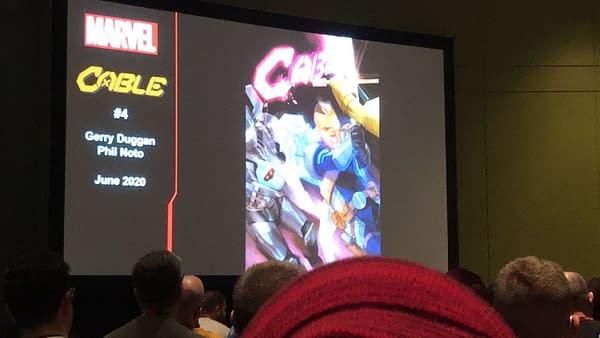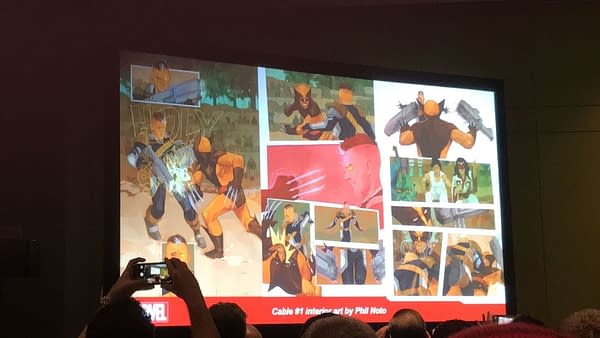 On Hellions, Hickman revealed that his response to Zeb Wells' pitch for the book was: "why?" The same could be asked of a lot of X-traneous Marvel Comics, so maybe don't open that Pandora's box, Hickman!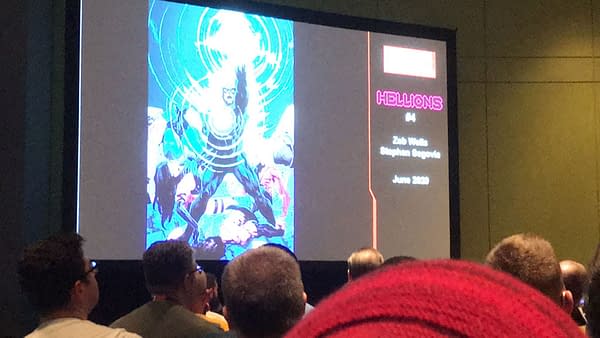 Vita Ayala and Bernard Chang plan to tell a story about fans who become X-Men in Children of the Atom. Hopefully they spend all their time trying to get into the business of the sex lives of the older X-Men, as all true fans do.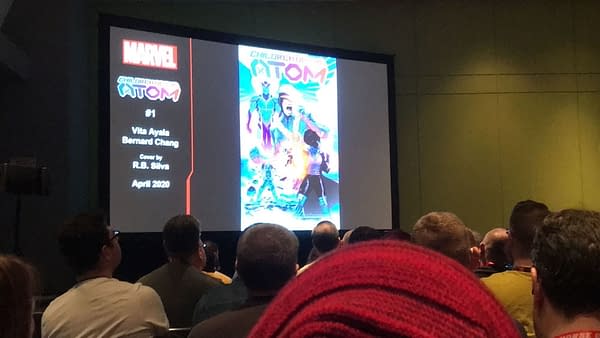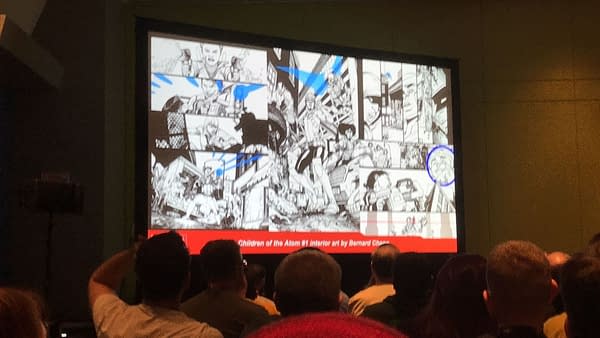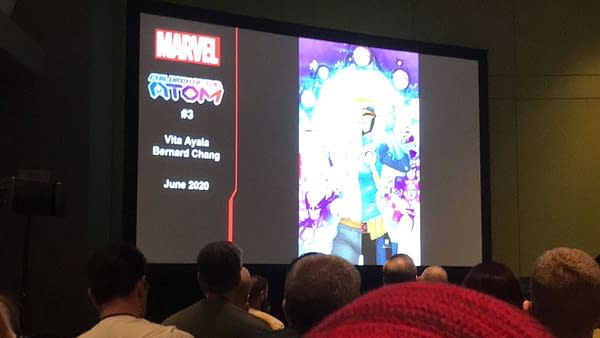 Hey look, preview art from X-Factor by Leah Williams and David Baldeon! Two of our faves!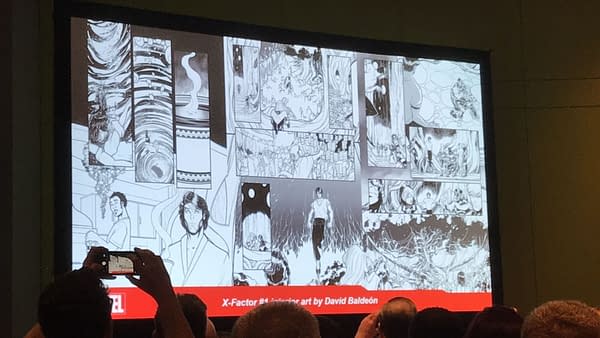 That's all for the previews… which means it's announcement time! Will Marvel announce a big X-event? Check back soon! That will deserve its own article.
---
UPDATE: Marvel has released all of the art from the panel in high res, including some we didn't get photos of. Not to us, of course. We're bad boys and girls here at Bleeding Cool. But they did release them to compliant media partner sites and we know how to download, so… here they are!
---
Bleeding Cool ace reporter David Pierce is on hand at the Marvel X-Men panel at C2E2, sending us breaking news. Jordan White is hosting the panel with Jonathan Hickman, Gerry Duggan, Tini Howard, Benjamin Percy, Vita Ayala, Leah Williams, and C.B. Cebulski in attendance. Pierce has already nailed the most important story of the weekend, asking several x-writers point-blank about how many dicks Wolverine has. Keep an eye on our C2E2 news page and keep checking back for updates as we learn what's in store for the greatest franchise in comics!