Yesterday, Bleeding Cool reported on Rob Liefeld's comments that he will never sign Spider-Man/Deadpool #47, the purported first teeny tiny in-panel appearance of his character Major X, published a couple of weeks before Major X #1.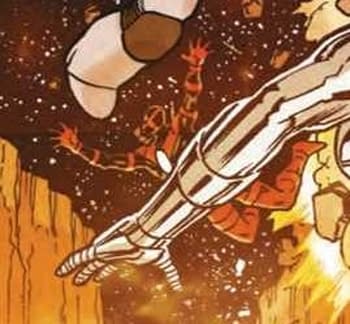 And pointing to his own retailer exclusive editions of Deadpool #10, created for his own online store earlier at the beginning of March, $100 for the pair, and which went openly on sale at ECCC the day after Spider-Man/Deadpool #47 was published.
And saying,
Let me tell you Spider Man/DP #47 is in NO WAY the 1st appearance of Major X. It came out a week after Deadpool #10. I'm giving it notice by mentioning it here but I will NEVER ever sign a single copy. Deadpool #10 came out a week before as I anticipated a clown move like this. pic.twitter.com/mJ2I17HwMz

— robliefeld (@robertliefeld) April 5, 2019
Well, the artist on Spider-Man/Deadpool #47, Matt Horak, who previously worked with Liefeld on The Covenant from Image back in 2015, had a different take.
Not trying to clown, I just liked the design and was told I could use whomever I wanted in our story. I didn't realize it would be in stores before Major X 1. Just wanted to pay tribute honestly, no offense meant

— Matt Horak (@MattHorak) April 5, 2019
I said it elsewhere and I'll say it again here. Not clownin', just liked the character and thought it would be a cool easter egg to throw in. Had no idea it would see print before Major X 1. No harm intended. I love Rob, bummed that anyone would think it was malicious in any way

— Matt Horak (@MattHorak) April 5, 2019
As for the good Major, it looks like issue 2 out in 11 days, is sold out already from Diamond, so expect a second printing announced any day now…
Enjoyed this article? Share it!