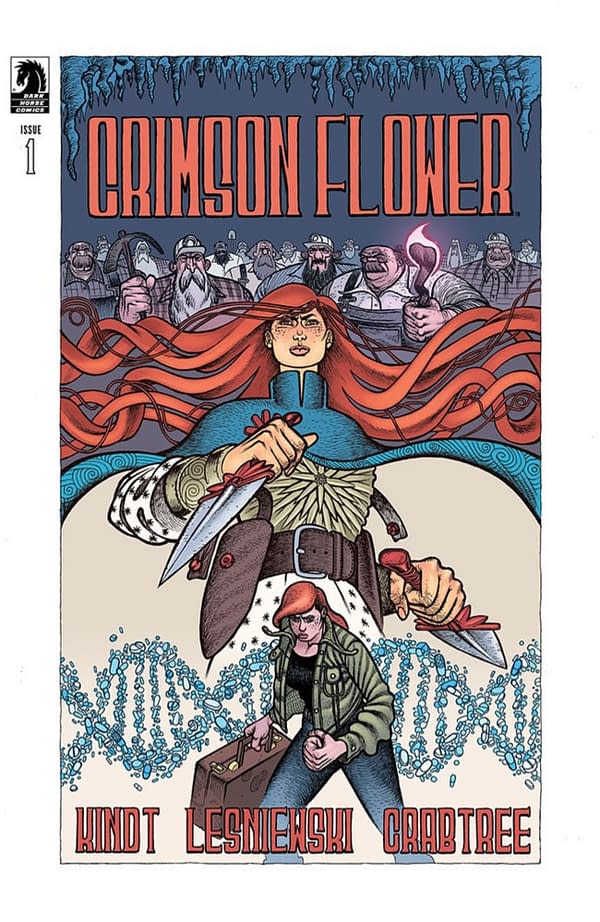 Mind MGMT, BANG!, BRZRKR and Hero Trade co-creator Matt Kindt has created a new comic book series for Dark Horse Comics with The Freak and Static's Matt Lesniewski and colourist Bill Crabtree, Crimson Flower for "a brand-new, mind-altering journey through Russian folk tales, trained assassins, and government conspiracies."
After losing her family in a violent home invasion, a woman uses folk tales to cope. In a blood-soaked journey toward revenge, she tracks down the man responsible for her family's deaths, only to discover a startling government plot—to weaponize folk tales and use them to raise children into super assassins.

"'Cold blooded Russian assassins?' We've seen that before. But assassins trained using Slavic folktales as a brainwashing device? That's something new that really needed a unique visual style. When I saw Matt Lesniewski's book The Freak (nominated for an Eisner) I knew he was going to do something like we've never seen before. Our collaboration was alchemy – turning this book into a brutal, heartbreaking, psychedelic journey of a woman intent on revenge-killing every assassin that ruined her life." –Matt Kindt

"When I first read Matt's idea for Crimson Flower, the entire concept seemed genius. What locked it in for me more was how drawn I was to the character and struggle of Rodion. The whole thing read like it was made for me to draw." –Matt Lesniewski
Crimson Flower will come with variant covers for each issue from artists including Malachi Ward, Patric Reynolds with Lee Loughridge, Marguerite Sauvage, and Tyler Bence with Bill Crabtree. Crimson Flower #1 (of 4) will be published by Dark Horse Comics in comic shops for the 20th of January, 2021.
Look for the rest of Dark Horse Comics' January 2021 solicitations to run later in the week.
Enjoyed this article? Share it!