Censored Michael Turner Superman/Batman Page For Auction At Heritage

Michael Turner was a gifted artist and a very nice man who passed away in 2008. It is a testament to him that his legacy has endured in these twelve years since his death, with a relatively small output compared to others. Part of that output was a run with DC Comics, where Michael Turner made his mark on an arc of Superman/Batman helping reintroduce Supergirl. Up right now at Heritage Auctions is a page from issue 9 of that volume, page 20. This is one of the pages Walmart recently censored in a reprint of the issue sold in its stores. It is currently at $3,600, with bidding ending on July 10th. You can see the Michael Turner page in all its uncensored glory down below.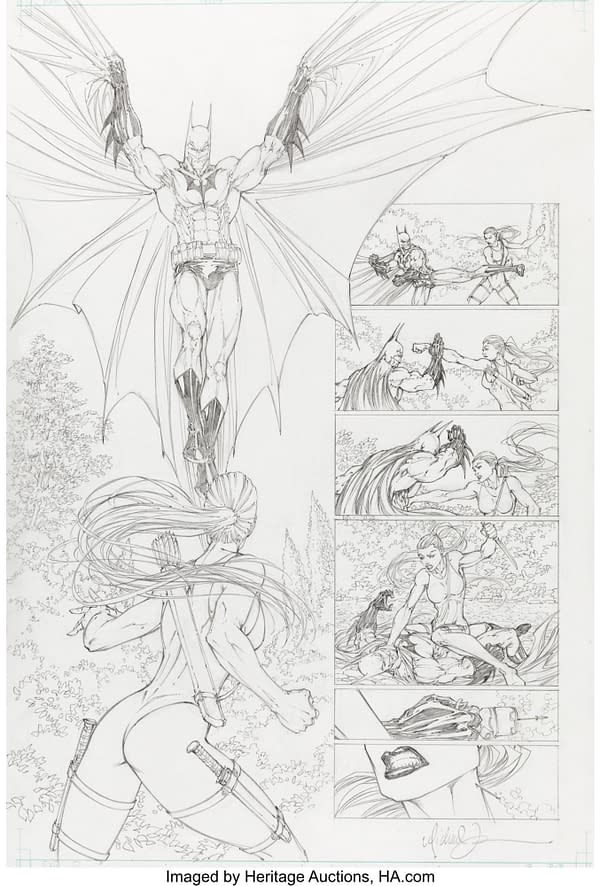 Michael Turner Superman/Batman Art Page
"Michael Turner Superman/Batman #9 Story Page 20 Original Art (DC, 2004). An incredible Michael Turner half-splash page featuring Batman battling Artemis! Even facing one of the best Amazon warriors, the Caped Crusader still finds a way to prevail. This page is printed directly from Turner's detailed pencils, rendered in graphite on Bristol board with an image size of 11" x 15.75". Light handling wear. Signed by Turner at the bottom right. In Excellent condition."
Michael was one of the nicest people in comics when he was alive, as most would tell you. I had the pleasure of meeting him twice, and both times he was very engaging and was so happy just to geek out about comics and artwork in general. He was taken away way too soon before we really got a chance to see what he could flex his muscles and do, and it's a damn shame. This is a wonderful item, and still on the low end for one of his pages at $3,600 with five days to go. Check out the full details here, and all of the other pieces up for bidding right now at Heritage Auctions.