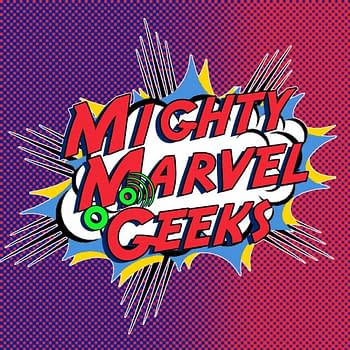 Your favorite agents are back with another issue of Mighty Marvel Geeks. The guys recap and discuss this week's episode of MAoS, "Among Us Hide…". Last week, the guys made their picks on who they thought Lash is. Eric ended up the freakin' genius with the right answer. Even called the bluff shot as well. The Fantastic Flop is in the news again as Rupert Murdoch blames The FF for their less than stellar revenue. Marvel teases Haunted Mansion as the next in the Disney Kingdoms. And how does the rumored news of the retiring of Slave Leia merchandise affect the future of how the character will be treated. All this and more.
Mighty Marvel Geeks NCBD picks for November 11, 2015 are: All-New Hawkeye #1, Spider-Man 2099 #3, Captain America: White #4, Ultimates #1, Black Knight #1, Kanan #8, All-New Wolverine #1, Figment 2 #3 & Darth Vader #12 and this month's Marvel Unlimited botm is: Journey into Mystery #83 (1962).
Subscribe today on iTunes and Stitcher and leave a 5 star review. Leave a voice mail for your outlet of all things Marvel at 321-219-8227. Email us at mmg (at) webegeeks dot net with any news, questions or comments.
Follow us: Twitter: @MarvelGeeks @Uncleservo @bluesman1103
Facebook: Mighty Marvel Geeks
Suport us on Patreon at: www.patreon.com/mightymarvelgeeks
Marvel Geeks Assemble! Mighty Marvel Geeks Podcast is hosted by Mike Ehmcke (@MarvelGeeks) Along with Eric Allen (@UncleServo)and Kylan Toles (@bluesman1103) as Co-Hosts. This podcast is about all things Marvel! You can find us on Facebook.
.
Enjoyed this article? Share it!