Ultimate Fallout #4, the first appearance of Miles Morales as Spider-Man has been a hot book for a while. He has a continuing series, is part of the Champions series and regularly appears in other Marvel comic book titles. he has a film in Spider-Man: Into The Spider-Verse and now has a new Sony game for the upcoming PS5. But in recent weeks, the value of his first appearances have been jumping in value. This may be because of a greater focus on black super heroes at comic book publishers, but is more likely down to people aware that the Sony announcement was coming and driving up demand and the prices people are willing to pay.
The highest price is a slabbed CGC 9.8 edition of the 1:25 Djurdjevic cover variant of Ultimate Fallout #4 signed by artists Mark Bagley and Clayton Crain. That sold for a whopping $4700 and a suggestion that similar copies, maybe one signed by Brian Bendis as well, could top $5000 any day now. An unsigned CGC 9.8 edition sold for $4150. While a raw unslabbed unsigned copy sold for $1600, still a massive sum.
As for the standard cover of Ultimate Fallout #4, a CGC 9.8 slabbed signed version recently sold for $2800 but a raw #1 standard cover recently sold for $960
A second printing of Ultimate Fallout #4, raw has sold for up to $80.
Marvel Previews #95 which previewed the Spider-Man comic and was Morales' first printed appearance in any form has seen a 9.8 CGC sale of $2800 and raw for $500. This is the highest price any such Marvel Previews magazine has ever achieved.
While Miles Morales first comic as the lead, Ultimate Comics: Spider-Man has also been achieving record sales. The retailer incentive version selling for $137 raw, the Sara Pichelli variant for $85 raw, and the raw standard version, which did have a rather large print run, still selling for $30. Might that be the affordable version for collectors to jump on?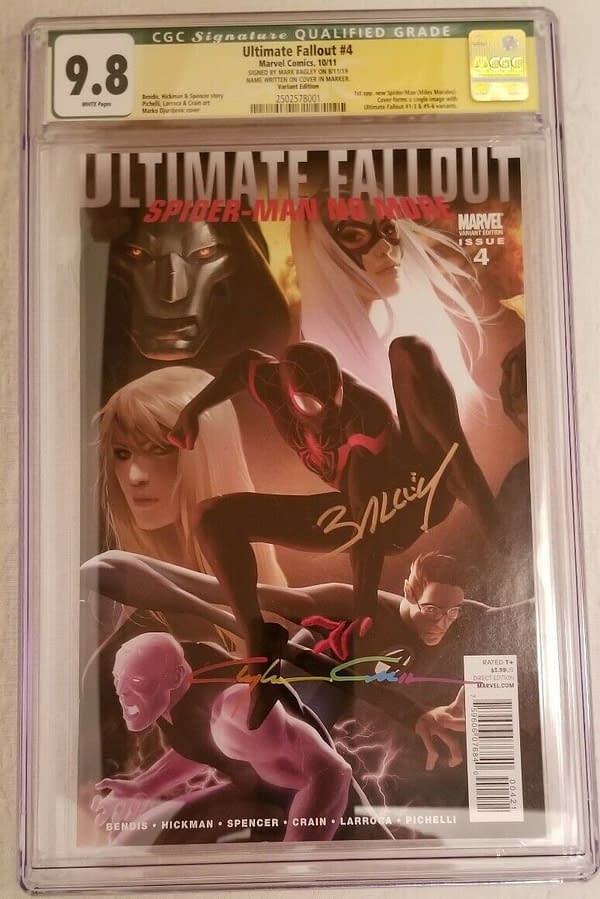 Enjoyed this article? Share it!