Is Doctor Mindbender a Traitor in Tomorrow's GI Joe: A Real American Hero #259?
Cobra mad scientist Doctor Mindbender has had a rough go of things lately. First, his predecessor, the deceased Doctor Venom, used his Brainwave Scanner to overwrite Mindbender's own brain patterns and take over his body. To add insult to injury, Venom wore a wig and dressed up like his old self, surely a major offense to Mindbenders normally unique fashion sense. As if that weren't bad enough, Mindbender was trapped in a Cobra compound while Venom uploaded his psyche into a giant battle android trooper and then tried to kill both Mindbender and a team of invading GI Joes.
So it's understandable that, now that he's back to his old self, Mindbender is feeling a little stressed. But just how stressed out is he? Enough that he's starting to sympathize with the enemy, it seems…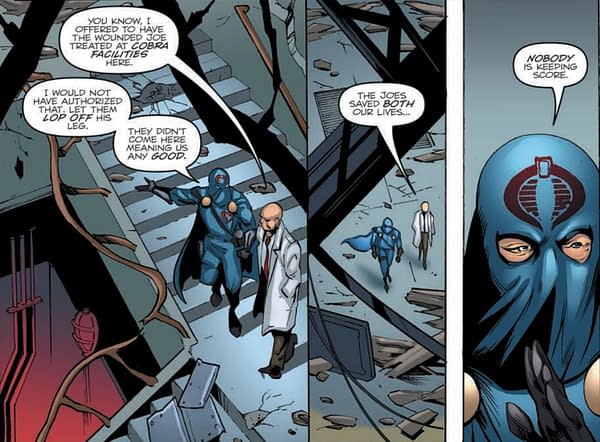 Can Cobra Commander still trust Mindbender after this? Well, he can't really trust anyone. Everyone in Cobra is constantly trying to screw each other over. But sympathy is definitely not a quality the Commander values.
GI Joe: A Real American Hero #259 hits stores tomorrow.
GI Joe: A Real American Hero #259
(W) Larry Hama (A) Brian Shearer (A/CA) Ron Joseph
"The Cobra's Venom," Part 4! Dr. Venom's destructive artificial intelligence campaign continues and nobody is safe-not G.I. JOE and not COBRA! Can anyone stop his insane robotic rampage before it's too late?!
Fourth of five JOE/COBRA vehicle/gear-themed variant covers by Jamie Sullivan!
In Shops: Feb 06, 2019
SRP: $3.99