This is Mindless Speculation. Nothing more.
DC Comics was to have been republishing, recutting and re-collecting the full Hitman series by Garth Ennis and John McCrea, a comedy drama about an assassin in Gotham who had been given X-Ray vision, moderate telepathy – and weird arse eyes, into 5 or 6 bigger volumes.
However, DC Comics has now cancelled Hitman Vol 1, though for a while it was retitled Hitman Vol 1: Ten Thousand Bullets,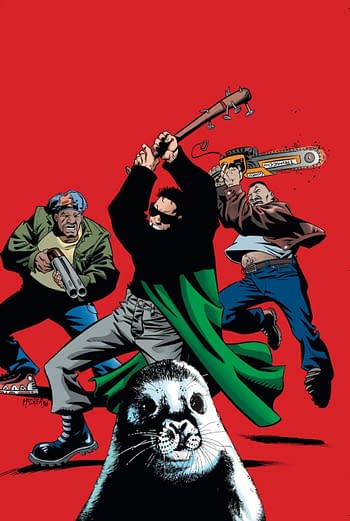 And they have replaced it with this stupid thing:
HITMAN'S GREATEST HITS TP
written by GARTH ENNIS
art and cover by JOHN McCREA
The cult hit from writer Garth Ennis (PREACHER) returns in a brand-new "greatest hits" collection! These tales include the introduction of super-powered gun for hire Tommy Monaghan, his encounters with Superman, Batman and the Justice League of America and more! Includes stories from THE DEMON ANNUAL #2, HITMAN #4-7, #13-14, #34 and JLA/
HITMAN #1-2.
ON SALE 08.14.19
$19.99 US | 320 PAGES
FC | ISBN: 978-1-4012-9963-7
A more one-off friendly 'Best Of' Hitman instead. But hold off the complaints, Hitman fans, could this indicate something more?
Such as an easy to digest Hitman book to put on the market to support a James Gunn The Suicide Squad movie. We've already looked at John McCrea's support of Dogwelder being a character in that film.
Reports had originally indicated that Will Smith was out and Idris Elba was replacing him in the role, but that has been changed somewhat in more recent reports. Could this be a bait and switch? And could Idris actually be playing Tommy Monaghan, Hitman serve the same role as Deadshot – but funnier?
Look, I'm just looking for a silver lining, okay? This is mindless speculation. Isn't it always though?
Enjoyed this article? Share it!