Modern Fantasy #1 Review: Kafkaesque Fantasy Elements
[rwp-review-recap id="0"]
Sage of the Riverlands is an office worker whom shares an apartment with her best friend, Gondra, and the deadbeat Wizard Lizard. Sage longs for adventure, but this world of elves, dwarves, mythical creatures, and magic has gone urban and modern. However, when Wizard Lizard's boyfriend, Fentax, steals from a powerful drug lord, Sage may find the adventure for which she longs.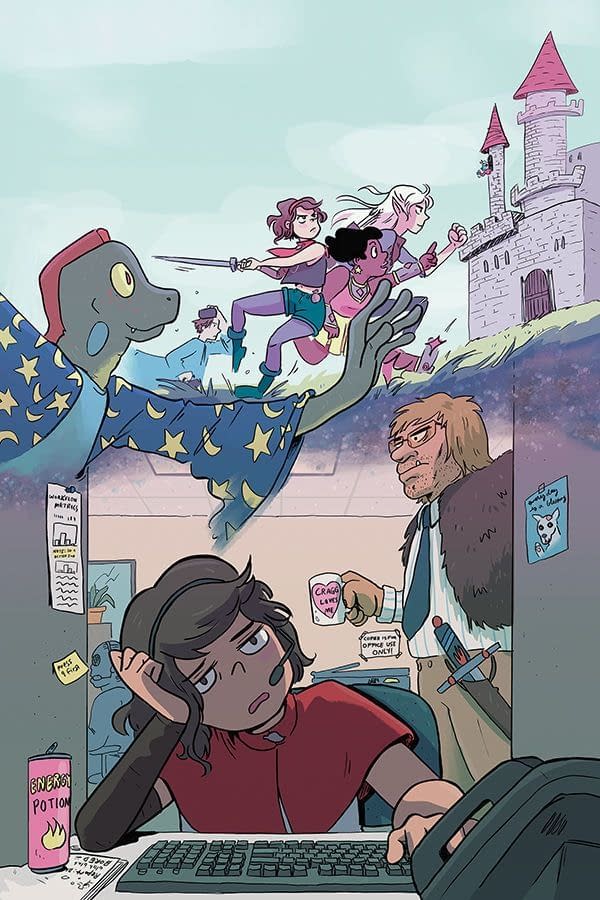 Modern Fantasy #1 gives me an excuse to use the word "Kafkaesque," and that's a victory unto itself.
It's also frigging delightful, and that's debatably more important. It mixes fantasy elements with the banal realities of modern life and sees how they mix. It's sort of like Bright but without the cop drama elements and not awful.
Sage, Gondra, and Wizard Lizard are charming leads. Sage is an optimistic free spirit trapped in a cubicle, Gondra is an energetic and supportive friend, and Wizard Lizard is a deadbeat with potential but no motivation.
There are plenty of site gags, references filling in for expletives, and various other jokes sprinkled throughout the book. It's quite funny, with Bock-Darr being the funniest character. I'm hoping he turns out to be a lead character too.
Modern Fantasy #1 makes the Kafkaesque comedic but still life-draining, and there is little to criticize in its story structure.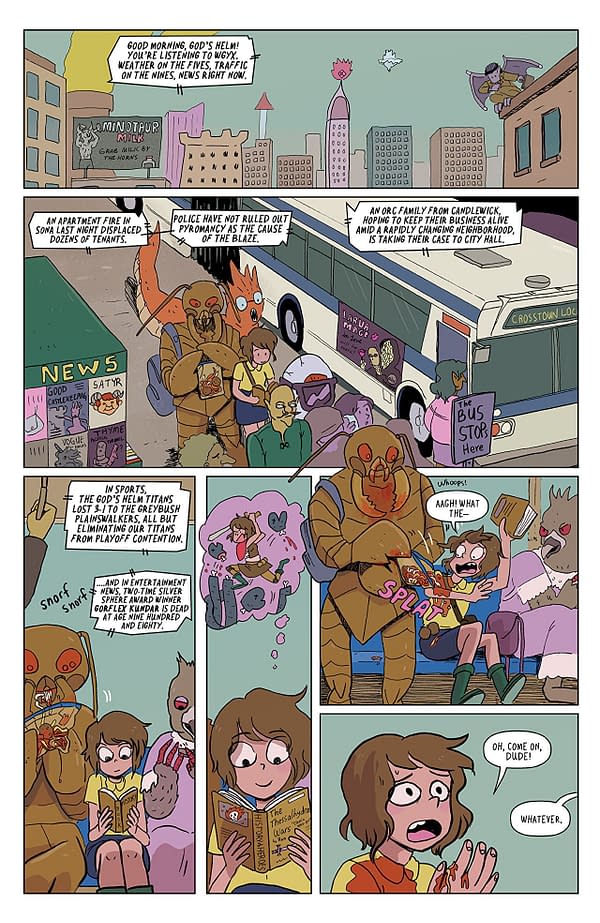 The art may be a make-or-break situation for some readers. It's a messy and often busy style with a lot of characters and background elements thrown into each panel. It's arguably too cluttered, but it strangely fits the energetic leads and tone of the book. Kristen Gudsnuk's artwork works for me, but I could understand if it's just too cartoonish for some readers. Her color work is excellent too, saturating the comic with bright shades that pop off the page.
Modern Fantasy #1 is a charming excursion into a world where the fantastic has settled into the mundane. There is solid world-building, lovable characters, and an art style that matches the energy and charm of it all. This one comes with a recommendation. Give it a read.
[rwp-review-ratings id="0"]
[rwp-review-form id="0"]