[rwp_box_recap id="0"]
The stakes are raised as Maika and Corvo search desperately for their missing friend in the thrilling Monstress #19 from Image Comics.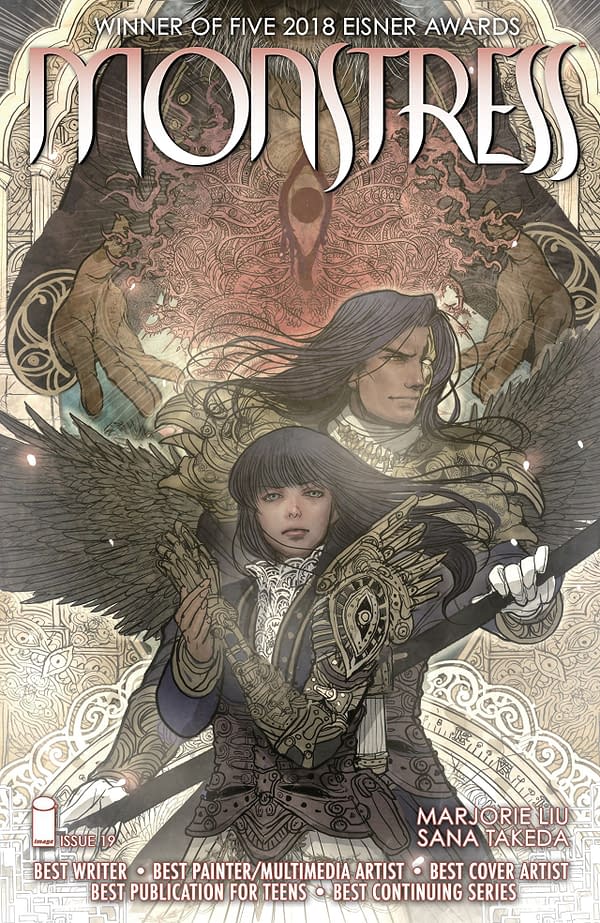 Kippa the fox girl has been kidnapped and is being carried through a region where many of the animal people are being affected by a breach between realities. The people go mad and start killing each other and her abductors find themselves racing against an enraged, unreasoning mob as they try to make it to safety.
Meanwhile, Maika and her escort, the knight Corvin D'Oro, struggle to make their way to Kippa after sealing a rift that kept an ancient menace from making its way into their world. Exhausted and weary, they are ambushed by irrational Arcanics, and find themselves fighting for their lives.
The mythology that weaves through Monstress is unique and incredibly lived in. You can open a random issue of Monstress and find yourself immediately sucked into its mythic landscape. This is epic fantasy, written larger than life by Marjorie Liu, with a mighty assist from Sana Takeda's stunning art.
The storytelling in Monstress feels effortless, at times sparse when the story needs it, other times brimming with dialogue and action. There isn't a lot of fat burdening the narrative, the whole affair is lean and compelling. Takeda's art takes its lead from the script, with beautifully detailed characters that look, at times, like minimally penciled outlines, at others like painstakingly crafted masterpieces. The same goes for the backgrounds–often times they are minimally sketched, but never in a way that detracts from the impact of the story. The color is muted, soft natural mosses and woody hues, accented by lurid crimsons in the battle scenes.
Monstress is epic fantasy done right and is probably suitable for teens (and adults) looking for a break from the standard "tights and fights" genre in comics. There's liberal use of profanity, and the blood spilled in this volume is extraordinary, but that shouldn't deter readers from checking it out. Monstress is the real deal, with compelling, fully realized female protagonists, epic confrontations, and endearing characters.
SUMMARY: Words: Marjorie Liu; Art: Sana Takeda; Letters: Rus Wooton; Edited By: Jennifer M. Smith; Published: Image Comics; Release Date: January 23, 2019; Cover Price: $3.99; 32 pages
[rwp-review-ratings id="0"]
[rwp-review-form id="0"]
Enjoyed this article? Share it!