More Than Returnability in Boom Studios Guarantee 2.023 at ComicsPRO
Announced by Boom Studios at ComicsPRO, retailers who are enrolled in the Boom Guarantee "2.023" program will receive a Boom Guarantee Sales kit.
---
As publisher Boom Studios nears the end of their presentation at ComicsPRO's Annual Meeting in Pittsburgh, the tag team of Vice President of Sales Josh Hayes, Sales Manager Rosalind Morehead, and Retail Sales Coordinator Manny Castellanos turned to more retailer-facing announcements. Namely the debut of the new and improved Boom Guarantee "2.023." We see what they did there.
This after a barrage of Boom Studios announcements including a 15% cut in variant covers, the promotion of both Christopher Cantwell and Germán García's Briar and Si Spurrier and Charlie Adlard's Damn Them All to ongoing series, and the return of Keanu Reeves' BRZRKR, R.L. Stine's Stuff Of Nightmares, C.S. Pacat and Johanna the Mad's Fence, Dan Abnett and I.N.J. Culbard's Wild's End, Dan Panosian and Georgio Spalleta's Alice Ever After, and Si Spurrier and Matías Bergara's Coda.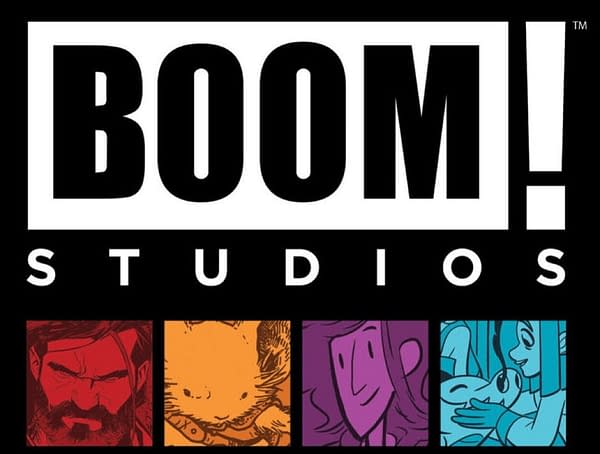 But the one that will probably have comic book retailers buzzing the most are the improvements to Boom Studios' much beloved returnability program – the Boom Guarantee. As part of the "2.023" upgrade, Boom is extending returnability to more series, more issues, and more collections – all of which will still be handled via affidavit through Diamond without any minimums or other requirements. What's more they are adding additional retailer support to the program taking it beyond mere returnability.
First, Boom Studios will roll out a retailer-only, monthly virtual meeting with retailers they are calling "The Pitch With Boom" which promises to replicate the roundtable experience at ComicsPRO. Given that they are promising special guests and announcements exclusively to retailers, you know that we'll be keeping our ear to the ground as "The Pitch With Boom" rolls out.
They're pairing this with the previously announced weekly 2% freight rebate and Diamond's 40% freight cost reduction rumoured earlier in the day at ComicsPRO. Boom Studios also pointed out that their freight rebate could be used to subsidize costs of shipping other publishers' products shipped through Diamond in the same box, which savvy store owners are sure to capitalise on. The combination of savings surely met with some applause as freight costs have been a big source of retailer frustration over the last year.
And finally, retailers who are enrolled in the Boom Guarantee "2.023" program will receive a Boom Guarantee Sales kit featuring durable, reusable point-of-sale items like a branded, customizable counter display, plastic shelf talkers, a customizable windowed counter mat, and a Boom branded short comic box.
And with that President of Publishing & Marketing, Filip Sablik, closed out Boom Studios' presentation at ComicsPRO promising more information about upcoming titles at the retailer roundtables on Friday and Saturday along with an open invitation to Boom's bar tab after hours. Pity the offer doesn't extend to Blacks…
Will other publishers follow Boom's lead and extend retailer support in 2023 with programs like the Boom Guarantee 2.023? Or follow the trend of more sporadic support that seems to be on the decline since the industry-wide support offered during the pandemic in 2020?
You can keep up with the ComicsPRO Retailer Summit on Bleeding Cool right here. It started today in Pittsburgh, Pennsylvania at the Doubletree by Hilton Hotel & Suites Pittsburgh Downtown and will run for two more days, held again in person for the first time in three years. Other companies planning to attend ComicsPRO will include 2000 AD/Rebellion Publising, A Wave Blue World, Anomaly Productions, Bad Idea Comics, Battle Quest Comics, BCW Supplies, BINC, Book County Clearance House, CEX Publishing, Comic Shop Assistant, Comic Hub, DC, Diamond Comic Distributors, Humanoids, IDW Publishing, Image Comics, Lunar Distribution, Mad Cave Studios, Manage Comics, Marvel, Oni Press, Opus Comics, Penguin Random House, ReedPop, Rocketship Entertainment, Scholastic, Skybound Entertainment, Source Point Press, TCG Player, Universal Distribution, Valiant Entertainment, Vault Comics, Visi8 Entertainment, Viz Media, and Yen Press.