Boom Studios Slashes Variant Cover Numbers By 15% At ComicsPRO
Boom Studios have announced at ComicsPRO that they are reducing their variant cover number by 15% this year, compared to 2022.
---
Following Marvel with special guest C.B. Cebulski this morning, publisher Boom Studios kicked off the publisher presentations at the first in-person ComicsPRO Annual Comic Industry Meeting since 2020. As we previously mentioned, the preponderance of variant covers have been an issue expressed among retailers, in terms of increasing market confusion, increasing their workload, and for valuing covers over the content of the comic books within. So Boom Studios certainly got our attention with the announcement that they are reducing their variant cover output by 15% this year compared to 2022.
Boom Studios President of Publishing & Marketing, Filip Sablik, began with an acknowledgment and summary of challenges retailers are facing including a crowded marketplace, too many new series with no clear audience, the fractured distribution landscape bogging retailers down with administrative work, overwhelming and frequently changing product information, and a rapidly changing market all resulting in making it harder to place smart orders. Then he and his direct market sales team turned to what Boom was doing to tackle these challenges head on.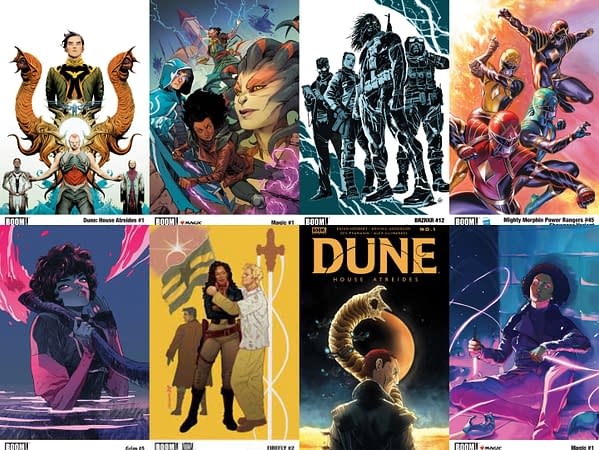 Speaking to the crowded marketplace Vice President of Sales, Josh Hayes, pointed out that Boom has maintained a consistent publishing line since 2020 and used Comichron's recent report to point out that the other Big Four publishers had all increased their output every year for the last three years… and pretty noticeably at that.
That same Comichron reported shows the industrywide explosion of variant covers in that same time period, so Boom's 15% reduction will surely be welcomed by comic book stores. It's a timely announcement given former DC head Dan DiDio's recent pointed criticism of his former employer's publishing practices.
You can keep up with the ComicsPRO Retailer Summit on Bleeding Cool right here. It started today in Pittsburgh, Pennsylvania at the Doubletree by Hilton Hotel & Suites Pittsburgh Downtown and will run for two more days, held again in person for the first time in three years. Other companies planning to attend ComicsPRO will include 2000 AD/Rebellion Publising, A Wave Blue World, Anomaly Productions, Bad Idea Comics, Battle Quest Comics, BCW Supplies, BINC, Book County Clearance House, CEX Publishing, Comic Shop Assistant, Comic Hub, DC, Diamond Comic Distributors, Humanoids, IDW Publishing, Image Comics, Lunar Distribution, Mad Cave Studios, Manage Comics, Marvel, Oni Press, Opus Comics, Penguin Random House, ReedPop, Rocketship Entertainment, Scholastic, Skybound Entertainment, Source Point Press, TCG Player, Universal Distribution, Valiant Entertainment, Vault Comics, Visi8 Entertainment, Viz Media, and Yen Press.