Everyone is either in a storm currently or will be in one someday…
This article is to be accompanied by this face-melting track:
Murder Falcon is heavy metal injected into the comic book medium, with rumors circulating that the ink was infused with the shredded vocal cords of long-haired outcasts and meant to be read while headbanging in the pits of earth's most brutal mosh pits. Opening with a monster ravaging New York city as helpless officers and citizens look on, powerless to its whimsy for chaos and murder. That is, until a long haired rocker named Jake takes it on armed with nothing but a guitar and that sweet, sweet face-melting METAL.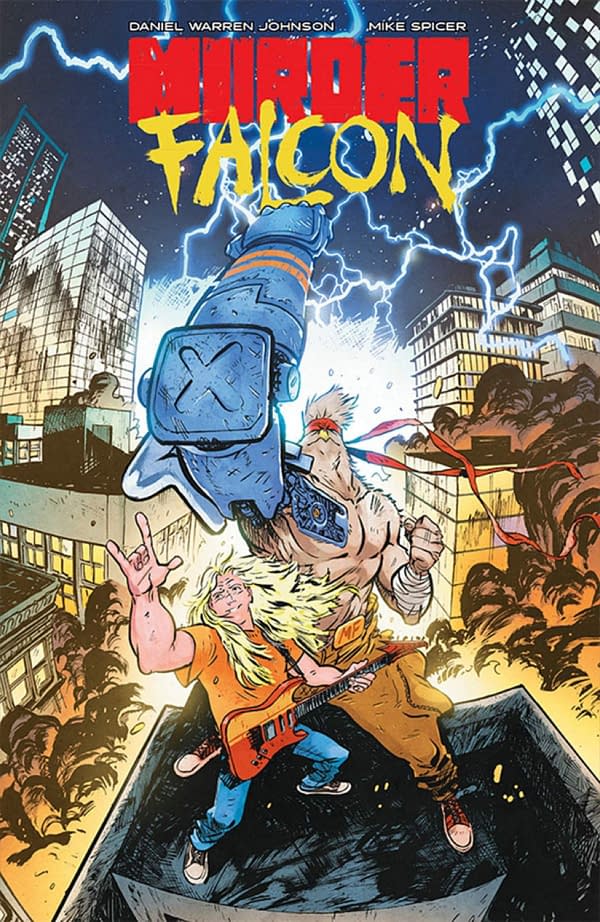 He strums a sick chord to call down the lightning and manifest his ass-kicking name-taking MURDER FALCON, who hits the monster so hard that the entire comic flashes back to two weeks earlier…
Daniel Warren Johnson (EXTREMITY) moves the pace along rather quickly and before we learn why Jake wanted to quit the guitar, he is forced to use it to defend himself from an otherworldly monster who breaks into his apartment, accidentally summoning the Murder Falcon in the process. In this world reality has been cracked open like an egg, where dimensional evils such as the Magnum Khaos are attacking the earth, feeding off mankind's anxiety, cruelty, and any other negatively charged emotions. Jake is one of the select few who possess a linked instrument, harnessing his prowess for music and charging it into his fist fighting familiar. Together, the two join forces to find Jake's old bandmates and pair them up with other linked instruments, hoping to rekindle what they once had to defeat the ultimate evil.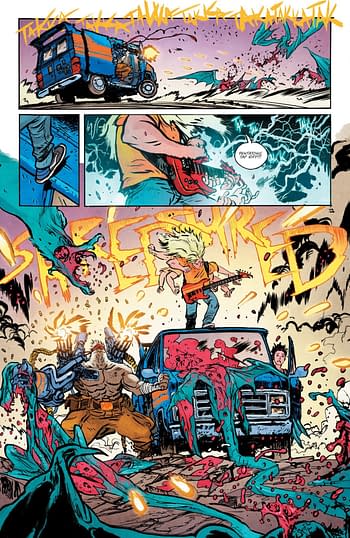 Johnson artfully pieced together an incredibly surprising story, with one side transforming anguish and another exploiting it. The mastery in layering heavy metal culture with insightful cognizance about loss and trauma offered an unexpectedly well rounded comic. Packed with non-stop action and heroics, Murder Falcon is well-deserving of a physical space in any comic fan's collection. The fight scenes felt consistently new, and each character was well developed to harness a real emotional connection to each one, especially the band's animal familiars.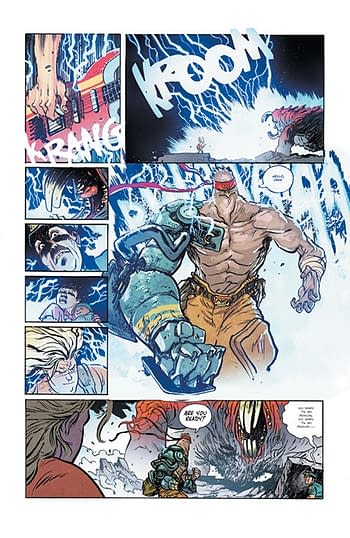 There isn't enough to say about this impactful storyline without spoiling it, so I will just say…face, and heart, successfully melted.
MURDER FALCON TP
APR190061
(W) Daniel Warren Johnson (A/CA) Daniel Warren Johnson
The world is under attack by hideous monsters, and Jake's life is falling apart-until he meets Murder Falcon. He was sent from The Heavy to destroy all evil, but he can't do it without Jake shredding up a storm. Now, with every chord Jake plays on his guitar, the power of metal fuels Murder Falcon into all-out kung fu fury on those that seek to conquer Earth! From DANIEL WARREN JOHNSON-creator of the Eisner-nominated EXTREMITY-comes MURDER FALCON! GET READY TO SHRED! Collects MURDER FALCON #1-8.
In Shops: Jul 10, 2019
SRP: $19.99
Enjoyed this article? Share it!