Dynamite's new summer event Swords of Sorrow hasn't even kicked off yet and we have writer Nancy A Collins talking about the second issue of her Swords of Sorrow: Vampirella / Jennifer Blood miniseries. Byron Brewer asked Collins what readers need to know to jump in on the series. Cover by Billy Tan.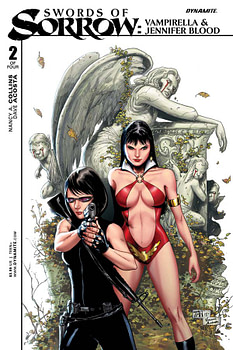 BYRON BREWER: OK, we in June are into the second issue of this great miniseries which is part of Dynamite's salute of its wonderful female heroes. What do we need to know if we are a new reader just jumping on here? (You know how those #1's vanish!)
NANCY COLLINS: Vampirella has been taken from her world and is now trapped in that of Jennifer Blood—which bears a close resemblance to our reality, in that the supernatural does not exist. Both Vampirella and Jennifer are in possession of strange swords given to them by a mysterious figure called The Courier on behalf of an even more mysterious figure called The Traveller, but neither of them have any idea as to what the swords can do or why they have been given them.
BB: Whoever thought that a world WITHOUT monsters would be a problem for Vampi, and yet here it is … as well as where her next meal is coming from. Explain.
NC: Vampirella is defined as a monster-fighter/vampire-hunter. But without such creatures to battle, she's reduced to being a vampire in a world full of humans. All her friends and allies–such as her manservant Coleridge, her lover Tristan, and The Kabal– are back in her world. She is completely on her own for the first time in her life—and in a world that doesn't believe creatures like her exist. As for where her next meal is coming from–Vampirella usually travels with her own supply of bottled blood, which she uses to keep from preying on humans. However, her private blood bank is literally a world away right now, so figuring out how to feed herself is quickly becoming a real problem.
BB: Who are Los Muertos and what do they have to do with Jennifer Blood? And there are copycats lurking about?
NC: Los Muertos is a narco-gang operating out of Los Angeles. They're in the business of manufacturing and peddling meth, among other things. Their leaders are a pair of brothers who go by the names Calavera and Pulque. In keeping with the Jennifer Blood universe—which is firmly rooted in a hyper-violent version of "reality"—they and their followers are brutal and hyper-violent thugs who paint their faces to resemble the decorated sugar skulls that are a part of the Dia de los Muertos celebration. And, yes, there are always Jennifer Blood copycats. Which is to be expected, seeing how she is the most famous killer in the world.
BB: Speaking of Blood copycats, why does one resemble … Vampirella?
NC: Sorry, you'll have to read the series to find that out!
BB: Oooo-kay. Moving alone: What does artist Dave Acosta bring to the table here? How does he rank with all the other Vampi artists with whom you have worked?
NC: Dave is great! He draws both Vampi and Jennifer Blood as bad-ass, powerful heroines who happen to be beautiful, and does so without posing them like Escher-woman. He has a clean line and flare for panel design that is elegant yet uncluttered, which I find well suited for a story like this one, which combines both atmosphere and action.
BB: Is a Jen/Vampi team-up in the cards for this mini?
NC: Definitely—but it won't come easy.
For more on Swords of Sorrow: Vampirella & Jennifer Blood #2, click here.