Doug Murray, co-writer of Jungle Girl: Season 3 #2, talks with writer Nancy Collins about Swords of Sorrow: Vampirella/Jennifer Blood #1, both on sale now. Cover art by Billy Tan.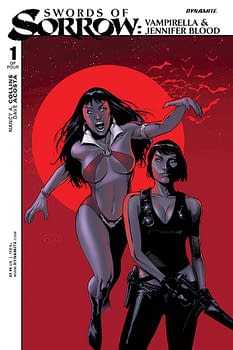 DOUG MURRAY: A hero/killer that targets sleazebags seems very similar. What makes Jennifer Blood different from, say, the Executioner, the Punisher, etc.
NANCY COLLINS: Jennifer Blood, as opposed to the Executioner or the Punisher, comes from a crime family. In fact, she was the daughter of its boss. Her father was murdered by his own brothers when he tried to make their syndicate more 'legit', and one of her uncles was responsible for driving her mother to suicide. While she is motivated by revenge, she is more a rebel insider than an ex-military man or former undercover cop. And, unlike Mack Bolan and Frank Castle, she was still functioning as a wife and mother while exacting her vendetta against her uncles. She eventually lost her husband and children, as well—not to assassins, but as the consequences of her own actions. In fact, she murdered her own husband when he threatened to report her to the cops and divorce her for being a killer.
DM: Tell me more about 'the Kabal'.
NC: The Kabal is a covert supernatural organization run by monsters that polices monsters. Their agenda is to keep the more anti-social members of the supernatural community from doing things that would force the Vatican to mobilize its elite "Witches Hammer" strike-force, as well as prevent anyone from triggering The Apocalypse, as that would upend the power dynamic. Demons tend to possess humans and/or destroy them—and since a good number of the supernatural community (vampires, werewolves, etc) require humans as nourishment, Hell On Earth would spell extinction for them as well. The Kabal isn't a force for Good so much as it is Enlightened Self-Interest—Not unlike the CIA.
DM: Vampi flies several times in the story—twice in full view of various civilians. Is/Would this lead to complications?
NC: Vampirella isn't particularly worried about maintaining a 'secret identity' in her world. If she has to, she uses her hypnotism to wipe out memories. Weird crap happens in her universe all the time.
DM: In the Michael Moorcock 'Elric' books there are only two 'Mournblades'—in this series of stories, three are several—can you explain? Or is it a spoiler that has to be held until the end.
NC: You'd have to ask Gail Simone that question. I have no clue as to what the plot of the main series is—that's Gail's bailiwick. All I know is that Vampirella's sword is modeled on the sickle-sword of Kali and Jennifer Blood has a machete-like blade.
DM: Finally, in what sort of world is it possible for a red light district to form between two amusement parks that pride themselves on 'Family Entertainment'?
NC: Ours. There is notorious hooker strip in Anaheim between Disney World and Knott's Berry Farm called Beach Boulevard.
For more information on Swords of Sorrow: Vampirella / Jennifer Blood #1, click here.
Enjoyed this article? Share it!