New England Comics Launches The Tick #0 For San Diego Comic-Con
With a great TV series starring Peter Serafinowicz and a new season greenlit, it's a good time for Ben Edlund, creator and publisher of The Tick as New England Comics. But for this year's San Diego Comic-Con, they have an exclusive Tick comic that takes a look further back with… The Tick #0.
Here's what will be waiting for you in a month's time at booth 1807-1809
THE TICK #0 SDCC 2018 (REGULAR COVER) $8.99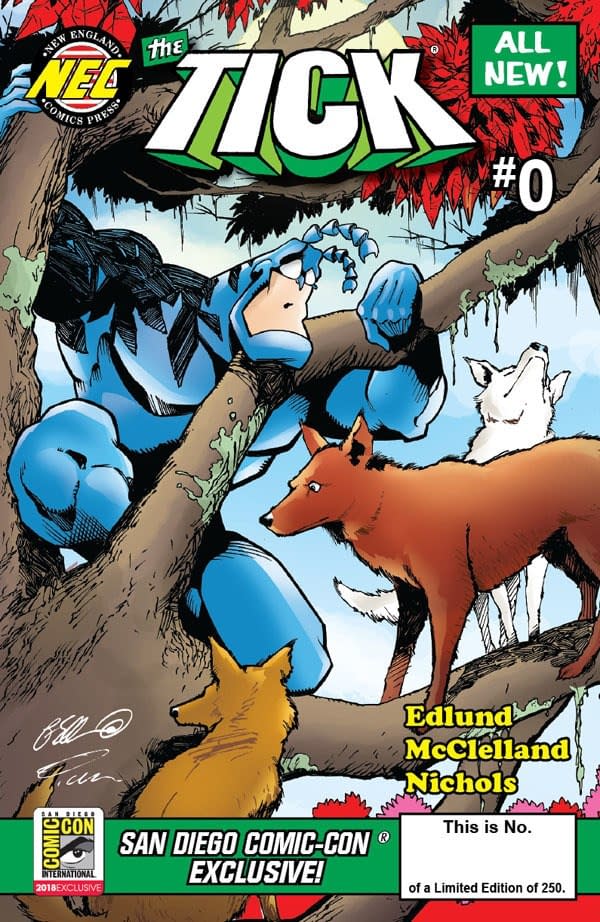 ALL NEW TICK STORY in Full Color! Included is an ORIGINAL 1991 Tick Trading Card the story is based on!
The Tick SDCC 2018 Comic (Regular cover) is a limited print run of only 250 serially numbered comics!
EXCLUSIVELY available at THE NEC TICK BOOTH! (Limit 2 per person)
THE TICK #0 SDCC 2018 (BLANK COVER) $8.99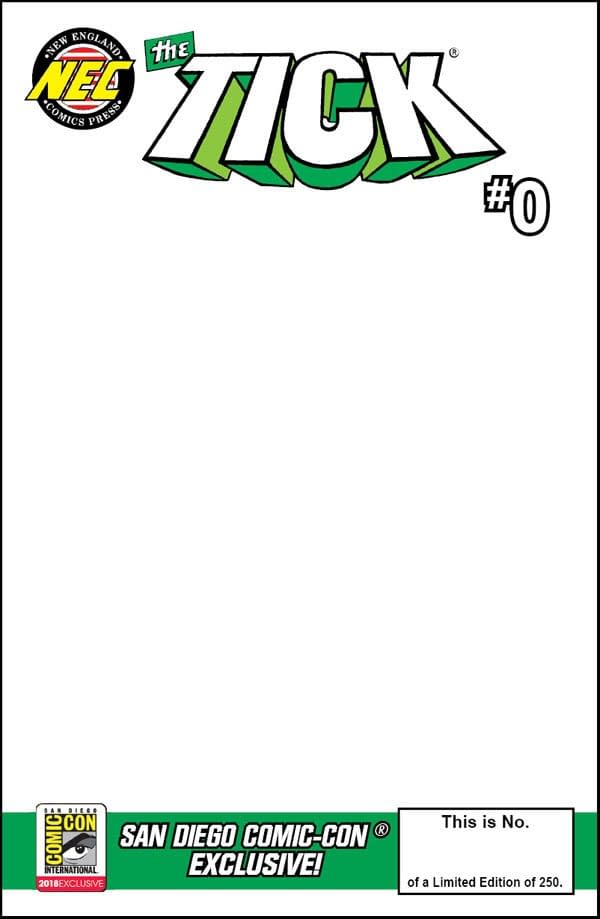 ALL NEW TICK STORY in Full Color! Included is an ORIGINAL 1991 Tick Trading Card the story is based on!The Tick SDCC 2018 Comic (Blank cover) is a limited print run of only 250 serially numbered comics!
EXCLUSIVELY available at THE NEC TICK BOOTH! (Limit 2 per person)
THE TICK SDCC 2018 LIMITED PRINT #7 $6.99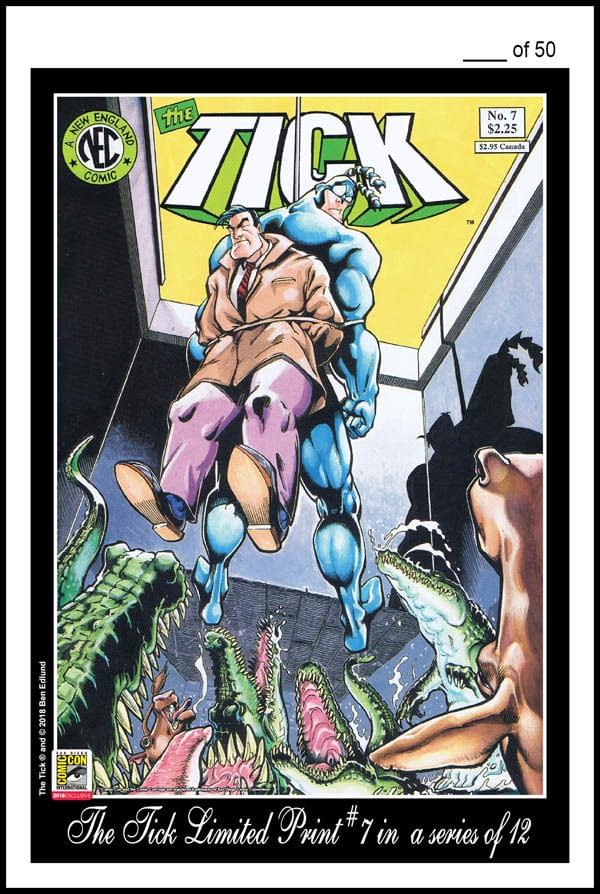 This FULL COLOR print is the 7th in a series of 12 prints, serially numbered and is EXCLUSIVELY
available at THE NEC TICK BOOTH! (Limit 2 per person)
THE TICK SDCC 2018 LIMITED PRINT #8 $6.99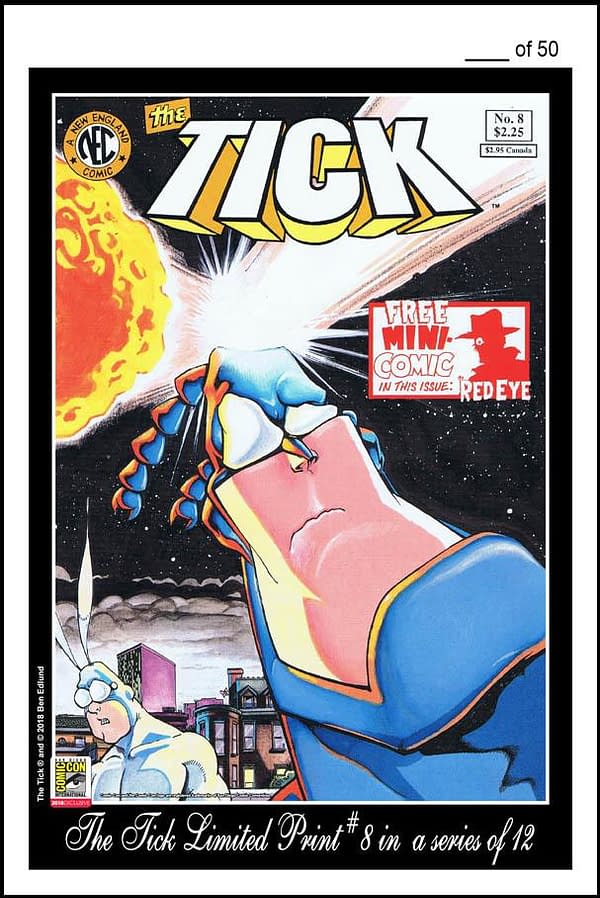 This FULL COLOR print is the 8th in a series of 12 prints, serially numbered and is EXCLUSIVELY
available at THE NEC TICK BOOTH! (Limit 2 per person)
THE TICK SDCC 2018 COLORING COMIC BOOK (& ACTIVITIES) $9.99

THE TICK SDCC 2018 COLORING COMIC BOOK is a limited print run, serially numbered,
64 pages and is EXCLUSIVELY available at THE NEC TICK BOOTH! (Limit 2 per person)
ART DIRECTOR'S SDCC 2018 LIMITED PRINT #1 $4.99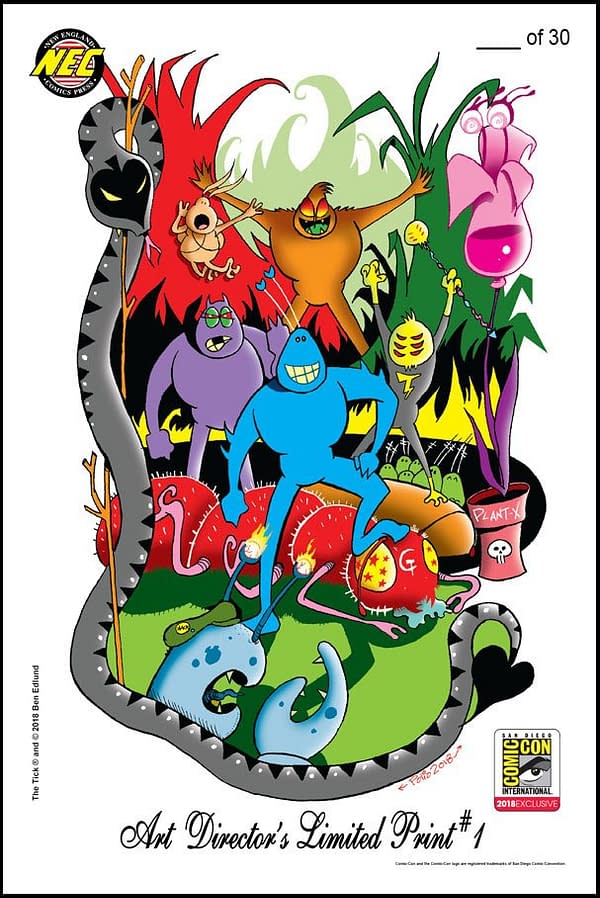 The Art Director's SDCC 2018 Limited Print (Based on Tick & Artie back-up stories)
is Full Color, serially numbered and is EXCLUSIVELY available at THE NEC TICK BOOTH! (Limit 2 per person)