Nightwing #75 Will Restore Dick Grayson's Memory This October
Whether you call him Grayson, Ric Grayson, or Dick Grayson, there's one thing that Nightwing fans have to agree on: it's amazing that DC Comics has continuously been able to publish Nightwing decades after "Dick" stopped being a name that sane parents consider for their newborns. Whatever you call him, the man known as the second most famous hero in Gotham with the most famous posterior has big changes coming in his title. Nightwing is about to emerge from The Joker War with some new energy, which draws the attention of the villainous KGBeast in Dan Jurgens continuing run. Does this spell trouble for Nightwing? While Batman deals with his own drama over on his own title, Nightwing #75 is expected to introduce major changes to the eponymous hero while also answering big questions.
Today, in their solicits, which included the landmark Batman #100 and Batman #101 from the writer who can't be knocked down, James Tynion IV, the text for Nightwing #75 gave fans of the black-and-blue clad thiccboy a mighty teaser. DC Comics wrote:
NIGHTWING #75
written by DAN JURGENS
art by TRAVIS MOORE and RONAN CLIQUET
cover by TRAVIS MOORE
variant cover by ALAN QUAH
ON SALE 10/20/20
$5.99 US | 48 PAGES | FC | DC
In the wake of "The Joker War," Nightwing is back—but is he back for good? And does he remember Bea? With the help of Batman, Batgirl, his Teen Titans friends, and even Alfred, Nightwing must decide for himself which path to take. Then, when KGBeast discovers Nightwing is still alive, his street credibility is on the line if he doesn't go to finish the job he started when he tried to kill Nightwing…and missed! Nightwing better watch his back is he wants to be back for good!
Nightwing "better watch his back is he wants to be back for good" indeed.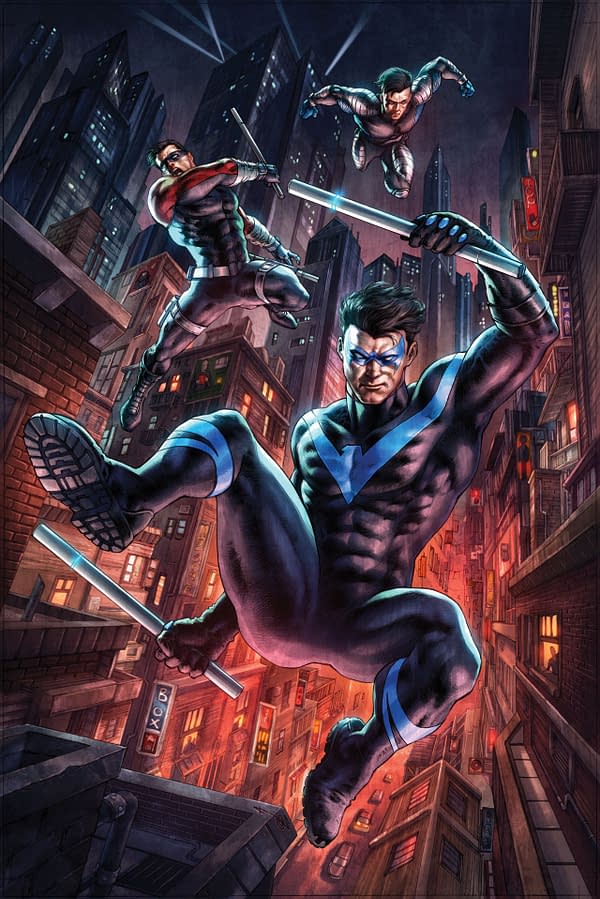 Dan Jurgens, who recently guested on The Geek of Steel podcast to discuss his DC work and affinity for Superman, has been writing Nightwing since he swooped in to save the day with #59. This isn't the first time Jurgens has written for the hero, though. The comics writer scripted Nightwing stories in Teen Titans back in the mid-1990s, so it makes sense that a superhero veteran with a storied history like Jurgens would be the man to give Dick Grayson his memories back.
Dick emerges soon, in Nightwing #75.