New Batman #1 Scrapped, James Tynion IV Continues to Batman #101
Some stories, alas, will never be told. This, confirmed today by DC Comics, includes one particular Batman story that Bleeding Cool has been reporting on for the better part of a year. Before we dive into the timeline, here's what you have to know: DC Comics has announced that James Tynion IV will pen Batman #100, closing out his "The Joker War" arc with an "extra-sized" finale, and will continue as an ongoing writer with Batman #101. Now, "Writer Who Is Already Scripting Batman Will Not Stop Doing So" may not be a compelling headline, but there's more to this tale than meets the eye. Journey with me through a montage of Rich Johnston-penned scoops, all which culminate in a story of a brand new, ill-fated Batman that would never come to fruition.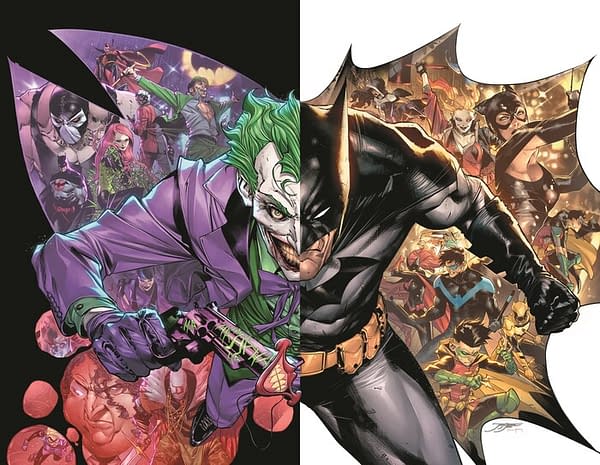 In news that surprised essentially no one, James Tynion IV signed on as the main Batman writer after Tom King moved on from the title. He'd written many stories in Gotham, including bonus tales and spinoffs of Scott Snyder's celebrated run. He seemed like the natural pick… but would it last?
December 2019: Bleeding Cool reports that Luke Fox will take the Batman mantle in a new #1 penned by John Ridley IV
Bleeding Cool received work, as Bleeding Cool does that a significant change was coming for Batman. As a part of Dan DiDio's 5G initiative, multiple heroes would leave behind their superhero mantles. With these geriatric heroes aged out, there would be younger characters continuing their legacies, including Luke Fox, son of Lucious Fox, who is currently Batwing.
John Ridley IV, screenwriter of 12 Years a Slave and showrunner of American Crime, would join the title with the anniversary Batman #100 issue and continue his run with a new Batman #1 the following month. A new writer, a new Batman.
5G would go on to be incorrectly blamed for the COVID-19 pandemic by conspiracy theorists and uncles in their sixties everywhere… but 5G wasn't guilty of that. It was guilty of something sinister, though…
Overpromising.
Dan DiDio, who had reportedly hand-picked John Ridley IV to craft the story of Luke Fox's ascension to Batman, was fired. "Brutally" fired, even. The grand sacking of one Dan DiDio led to a number of internal changes at DC, with 5G work put on the back burner and creators being paid kill fees, which confirmed that much of the stories and teams he'd assembled would never come to light.
A tweet from James Tynion IV gave credence to all of this, as he confirmed that he has plans — "lots of them" t0 stay on Batman past #101.
Today: Batman #101 announced.
Alas, the tale of the Batman Who Could've Been ends with cold, corporate solicitation copy. Here's DC's solicits for Batman #100 and #101.
BATMAN #100

Written by JAMES TYNION IV

Art and wraparound cover by JORGE JIMENEZ, GUILLEM MARCH, CARLO PAGULAYAN and DANNY MIKI

Card stock variant cover by FRANCESCO MATTINA

1:25 card stock variant cover by JORGE JIMENEZ

On sale OCTOBER 6, 2020

In this extra-sized finale issue, "The Joker War" comes to a city-shattering conclusion as Batman battles The Joker in a brutal, no-holds-barred final duel! This is a fight 80 years in the making, and its outcome won't just change Batman's life—it will change Gotham City for years to come!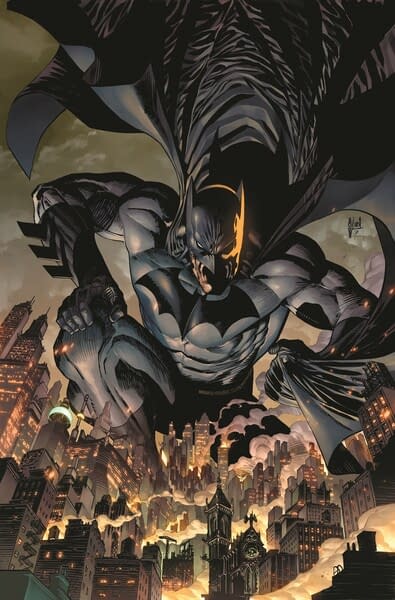 BATMAN #101

Written by JAMES TYNION IV

Art and cover by GUILLEM MARCH

Batman/Grifter card stock variant cover by FRANCESCO MATTINA

1:25 Grifter card stock variant cover by JORGE JIMENEZ

On sale OCTOBER 20, 2020

A new day dawns in Gotham City, and the horrific aftermath of "The Joker War" is only starting to unfold…how has The Joker's rampage affected the citizens of the city? What legacy did the Clown Prince of Crime leave, and how it will hit the Dark Knight? And why does Cole Cash—a.k.a.—Grifter, now work for Lucius Fox?!
It looks like James Tynion IV does, indeed, plan to be on Batman for the long run. Only time will tell how that will turn out. While we may never get the story John Ridley IV would have told, it was a compelling saga to follow.